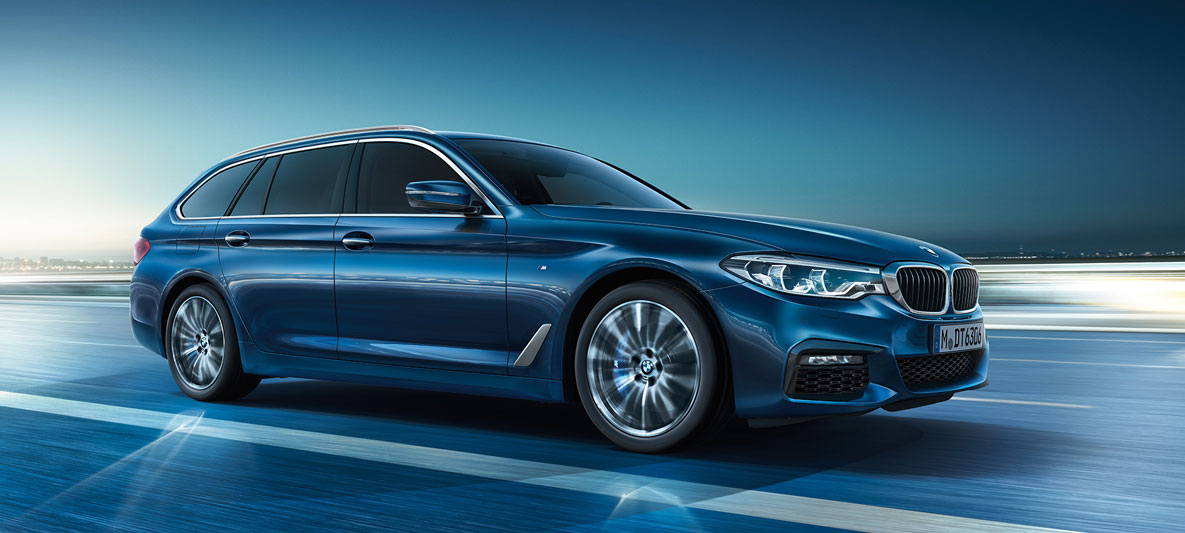 SPORTING, ELEGANT AND EXCITING.
THE ALL-NEW BMW 5 SERIES TOURING.
No other vehicle blends practicality with dynamism like the all-new BMW 5 Series Touring. With the arrival in New Zealand of the latest model, drivers now have the opportunity to enjoy BMW 5 Series performance with the added stability of xDrive.
The electronically controlled xDrive system continuously varies the power split between the front and rear wheels as conditions require, providing effortless traction and optimised stability across all driving situations. xDrive also enhances the agility of the BMW 5 Series Touring during dynamic cornering. The intelligent all-wheel drive system for the new BMW 5 Series Touring models can now be combined with Integral Active Steering and lowered M Sport suspension as well.
It's no slouch on the open road either. The BMW 540i xDrive Touring features an in-line six-cylinder petrol engine that produces 250kW of power and 450Nm of torque, while also offering remarkably low fuel consumption and CO2 emissions of just 7.5 l/100km and 172 g/km respectively. The BMW 530d xDrive Touring is equipped with a six-cylinder diesel engine that generates 195kW of power and 620Nm of torque, with a frugal fuel consumption of 5.5l/100km and CO2 emissions of just 144 g/km.
Reviewing the new all-new BMW 5 Series Touring for Stuff.co.nz, David Linklater had this to say:
"Arguably, xDrive is still the most sophisticated all-paw drivetrain in the premium market: it's completely in synch with all of the vehicle's driver-assistance systems and can proactively distribute torque to a wheel before it loses traction, based on information from the steering and chassis electronics.
"It works beautifully on all surfaces, but if you really want to be convinced, go and try it on a gravel road: you'll experience a virtuoso drivetrain performance."
This is a car that combines pragmatism with excitement. The best way to discover what that feels like is to take it for a drive.


Read more