CHOOSE YOUR LOOK FOR THE NEW BMW X6.
BMW X6 xDrive40i M Sport Pro
ESSENCE
BMW X6 xDrive40i M Sport
BALANCE
BMW X6 xDrive40i M Sport
SIGNATURE
WATCH AND EXPERIENCE THE EXTERIOR DESIGN OF THE NEW BMW X6.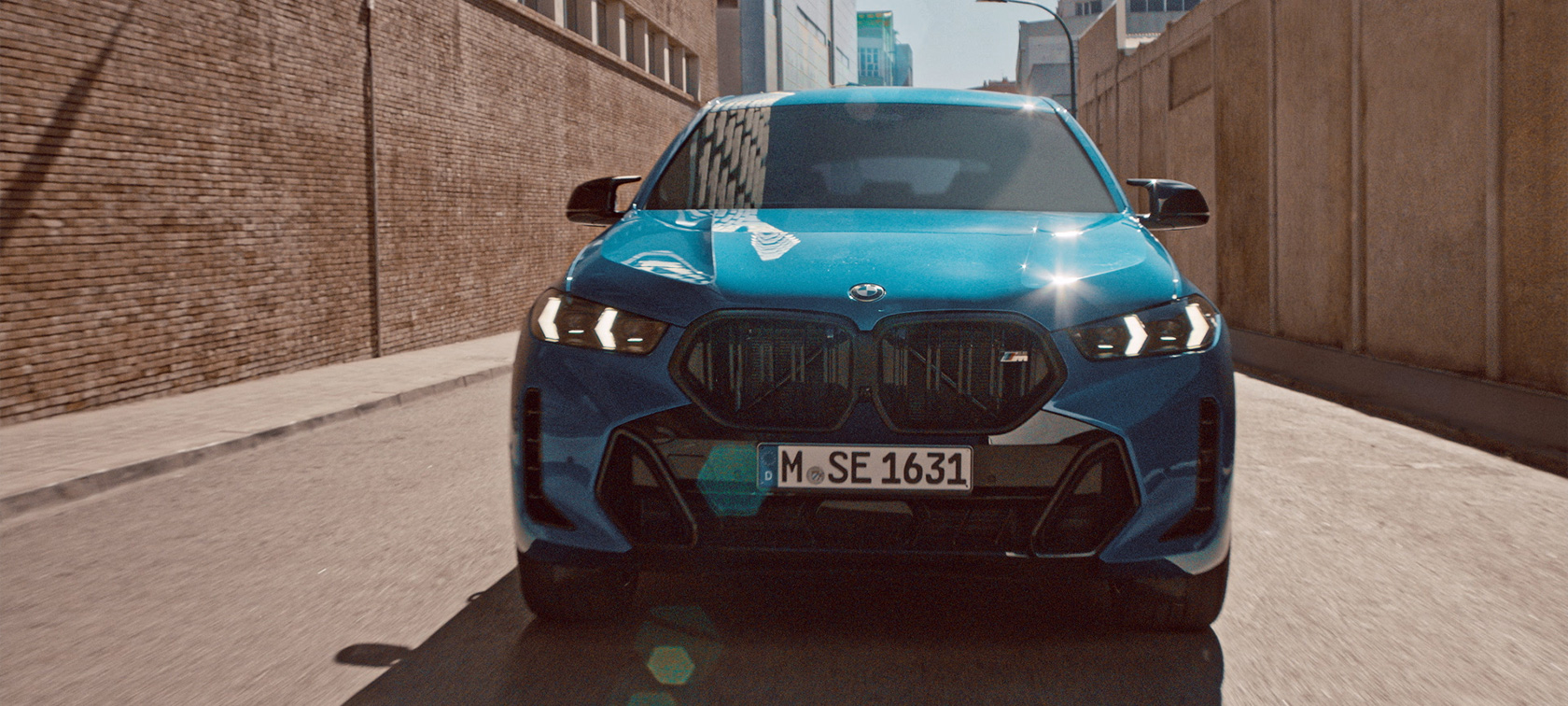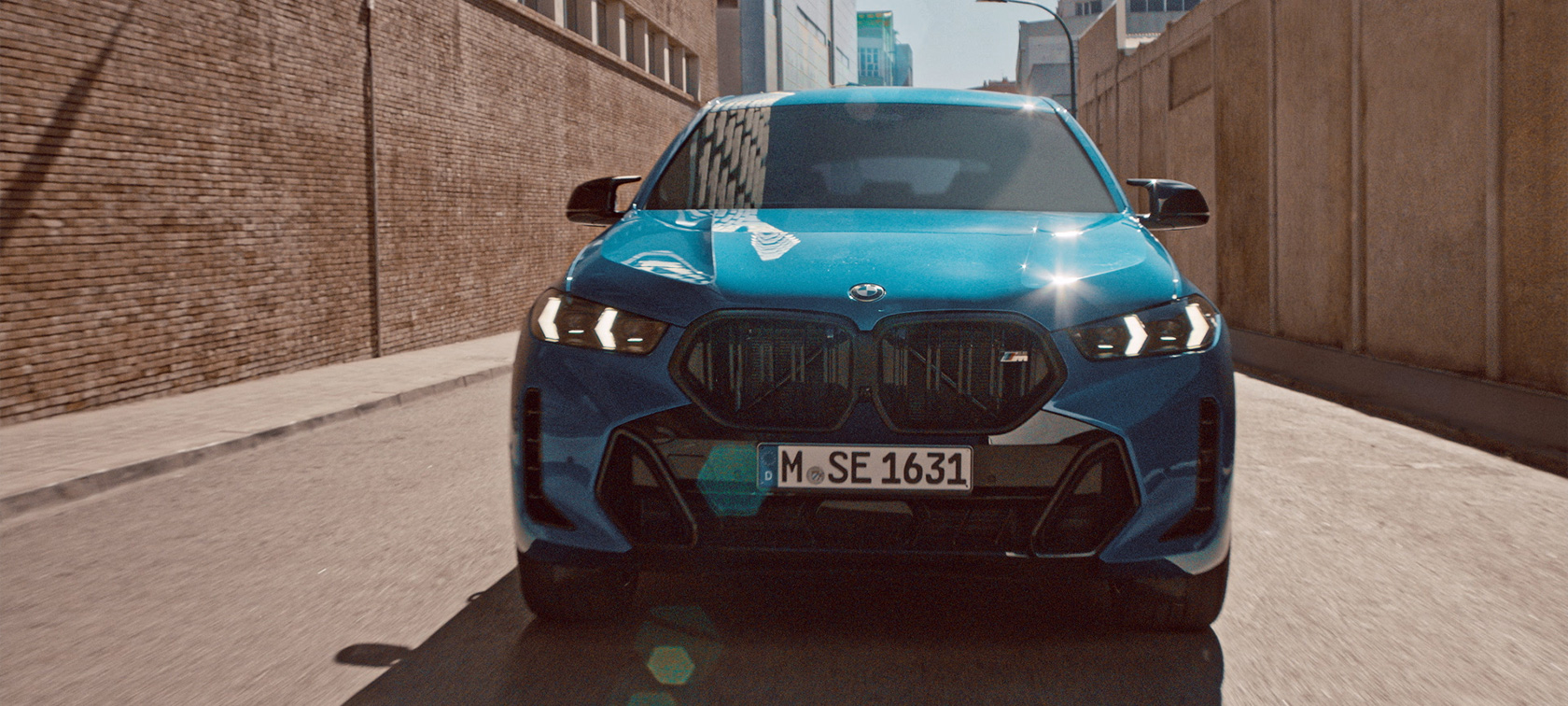 EXTERIOR HIGHLIGHTS OF THE NEW BMW X6.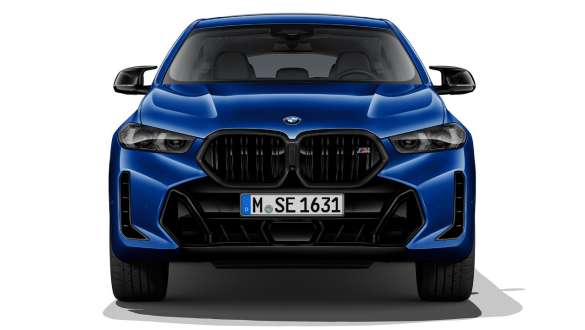 Front design.
The clear design language emphasises the striking front, where the dynamic LED headlights with arrow-shaped daytime running lights and the "Iconic Glow" kidney lighting stand out impressively.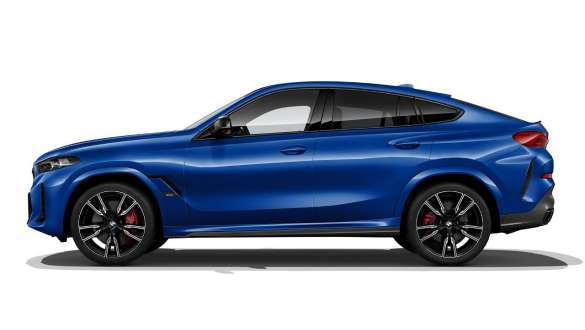 Side view.
The new Atlantis metallic paint finish combined with the optional 22" BMW Individual light-alloy wheels makes a particularly athletic statement.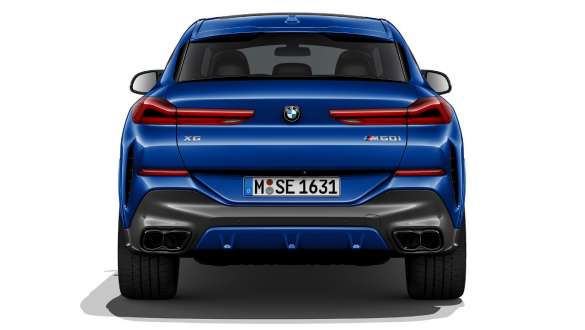 Rear design.
The M-specific, black tailpipes in double-sided and double-flow design, together with the three-dimensional LED rear lights, spread a powerful presence.
WATCH AND DISCOVER THE INTERIOR DESIGN OF THE NEW BMW X6.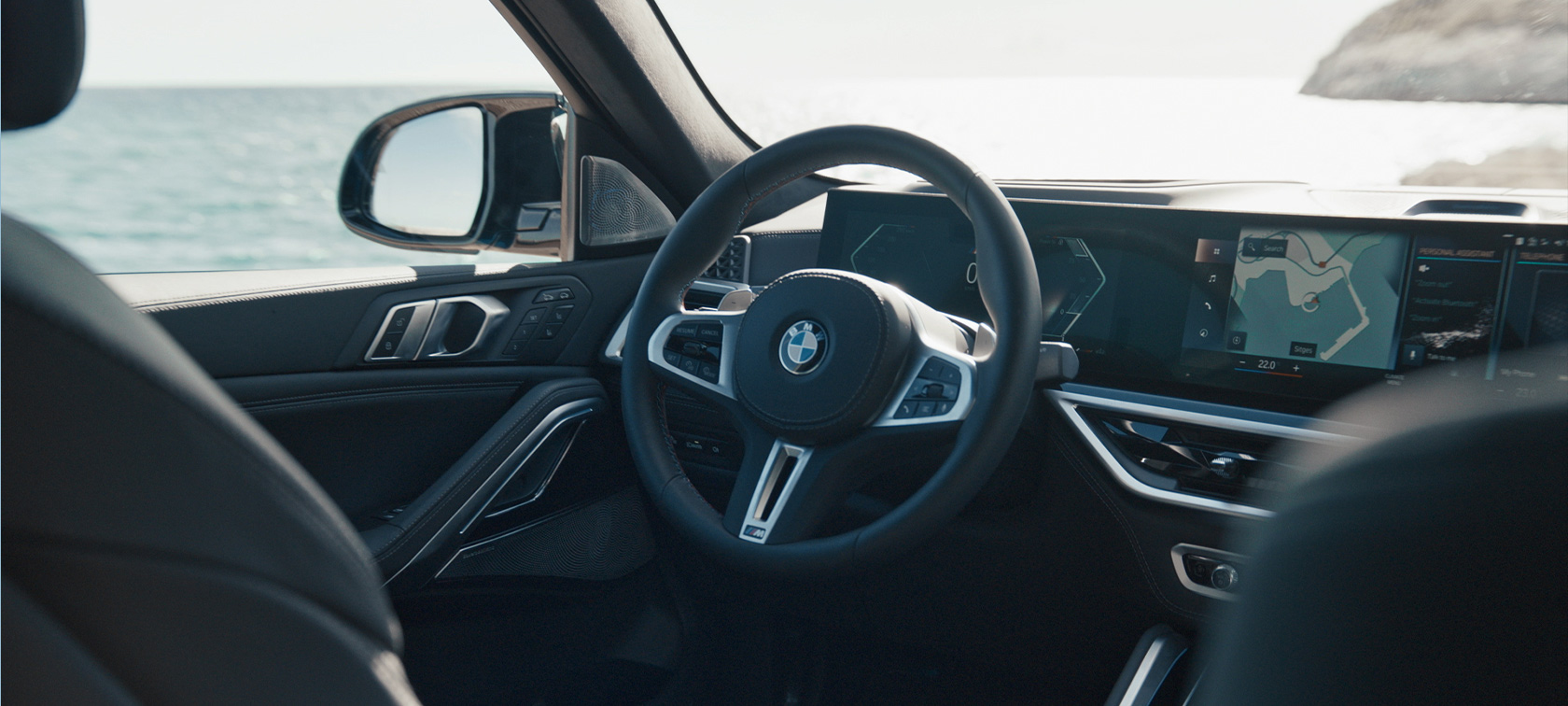 INTERIOR HIGHLIGHTS OF THE NEW BMW X6.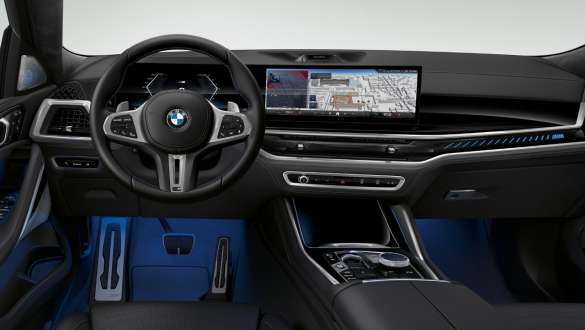 Innovative control element.
The ambient lighting strip and the large BMW Curved Display serve as multifunctional controls and turn every interaction into a multimedia experience.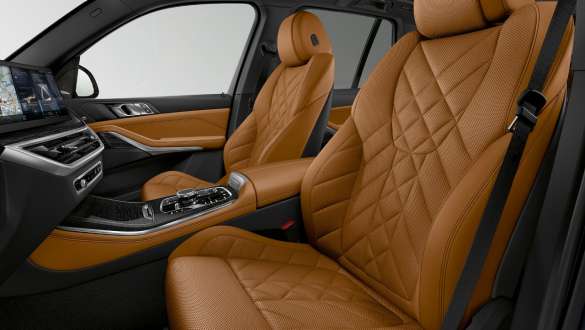 Highest quality in standard equipment
Ergonomical sport seats with lumbar support ensure maximum comfort. Like the dashboard, they are upholstered in high-quality, decor-quilted Sensafin artificial leather. 

(Image shows the new BMW X5).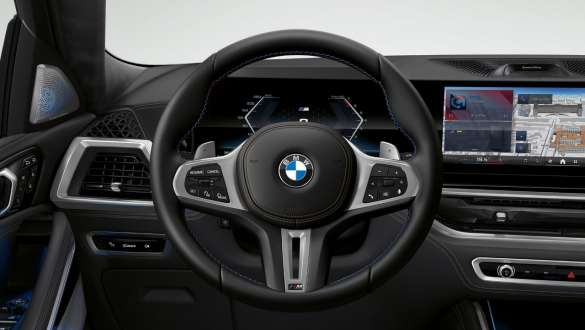 M leather steering wheel.
Direct, sporty steering feel: the M leather steering wheel with multifunction buttons, black 'Walknappa' leather steering wheel rim and shaped thumb rests.
WATCH THE DRIVING DYNAMICS OF THE NEW BMW X6.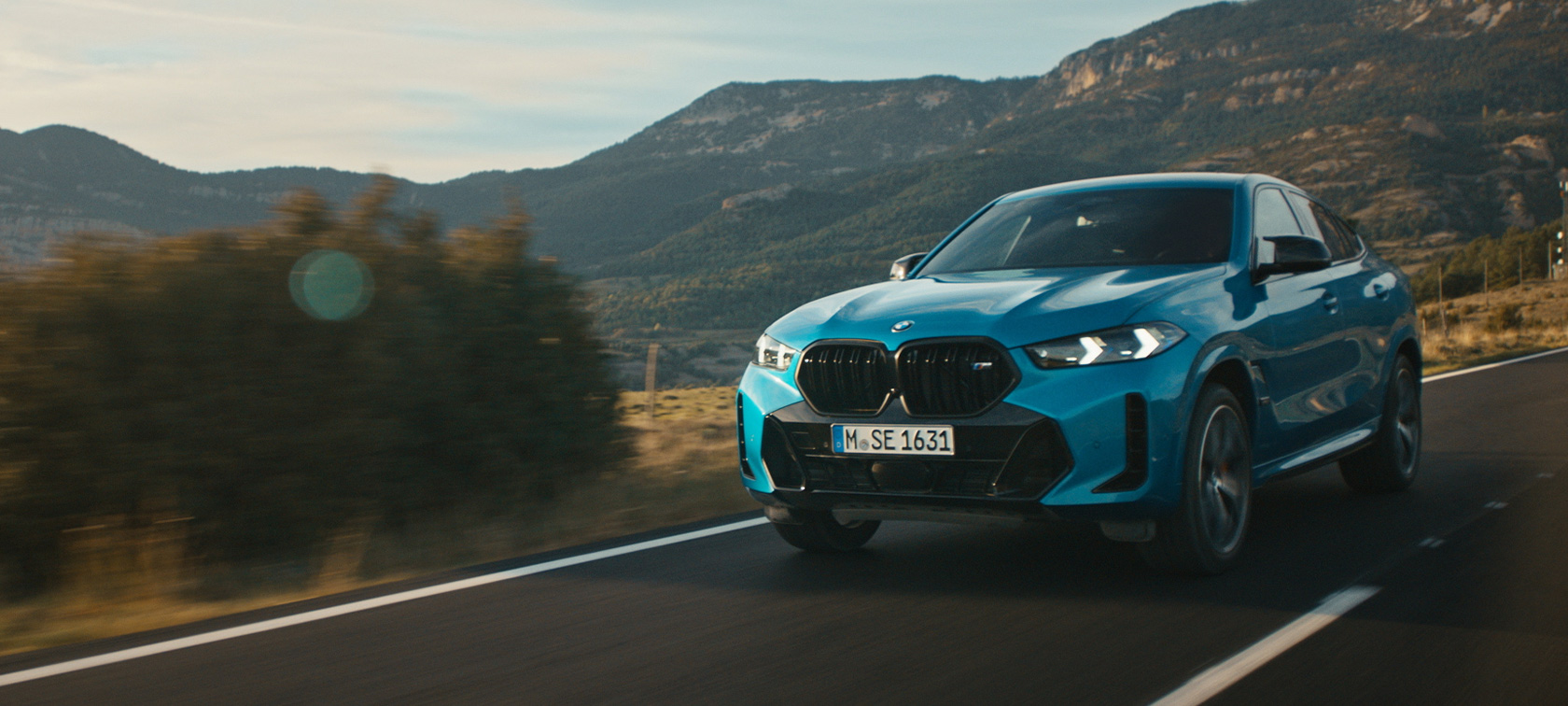 DRIVER ASSISTANCE IN THE NEW BMW X6.
ALL THE HIGHLIGHTS AT A GLANCE.
xOffroad package: optimally adjusted to any terrain with four offroad modes.
The BMW Trailer Assistant: easy manoeuvring with a trailer
Driving Assistant Professional: driver support for increased safety
Parking Assistant: automatic parking even in difficult situations

Generic vehicle depicted is not available for purchase. For feature demonstration only.
Read more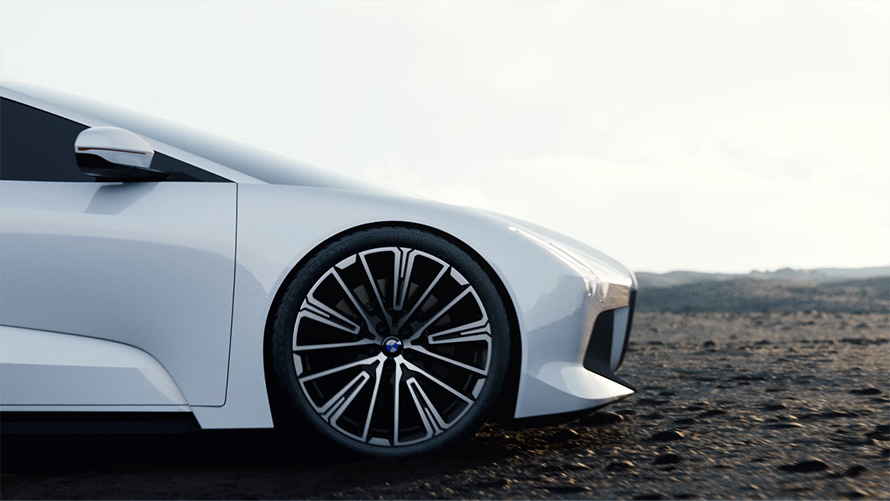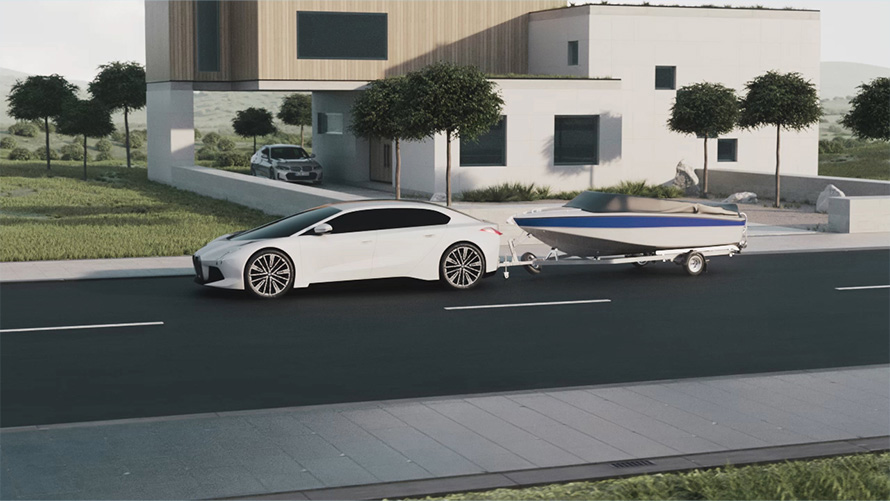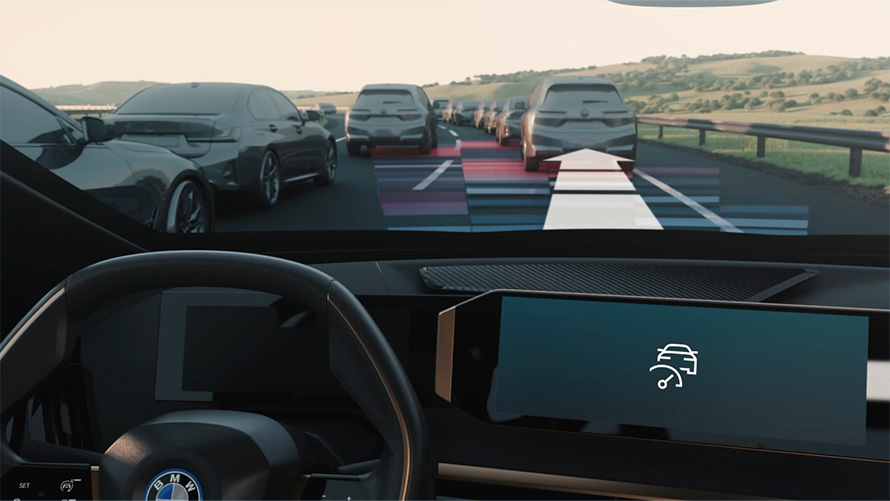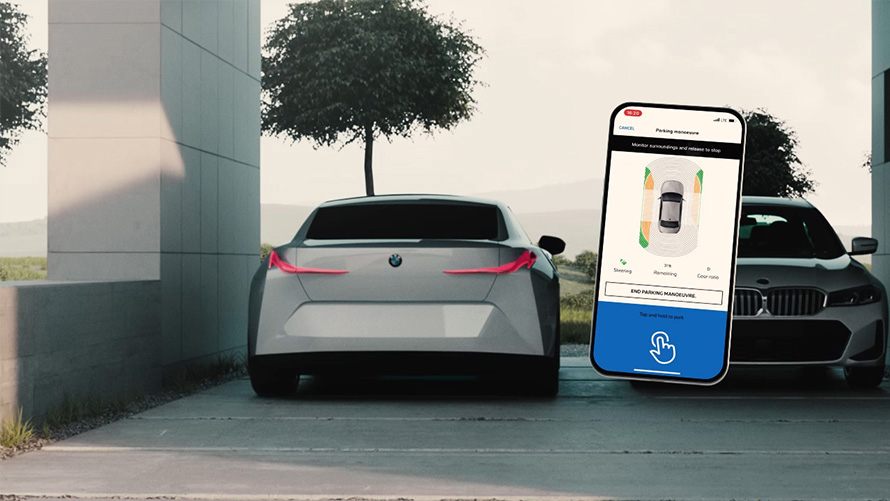 The BMW Trailer Assistant.
Driving Assistant Professional.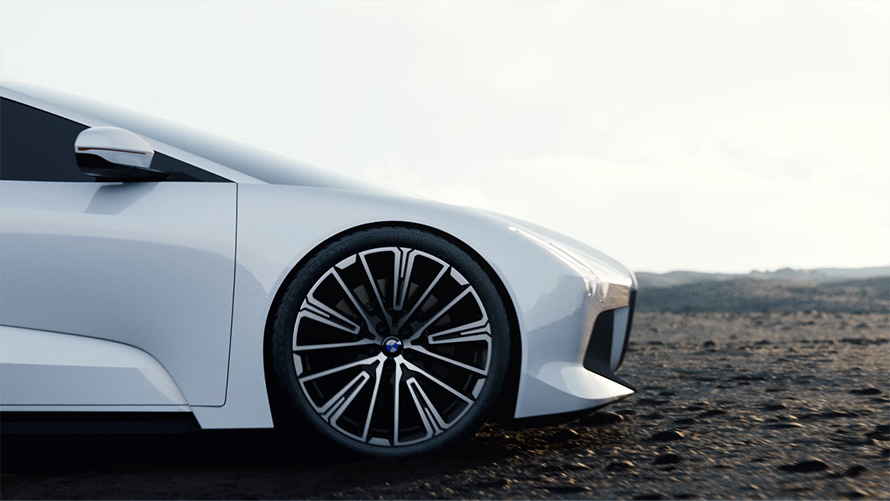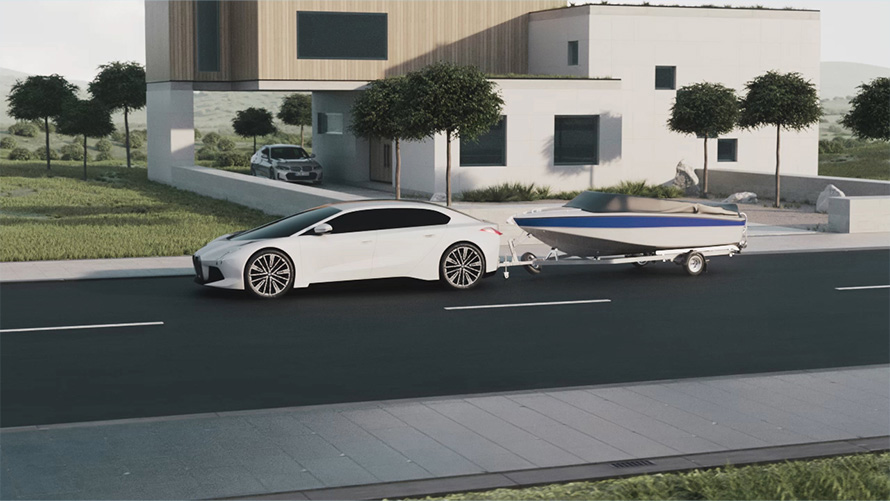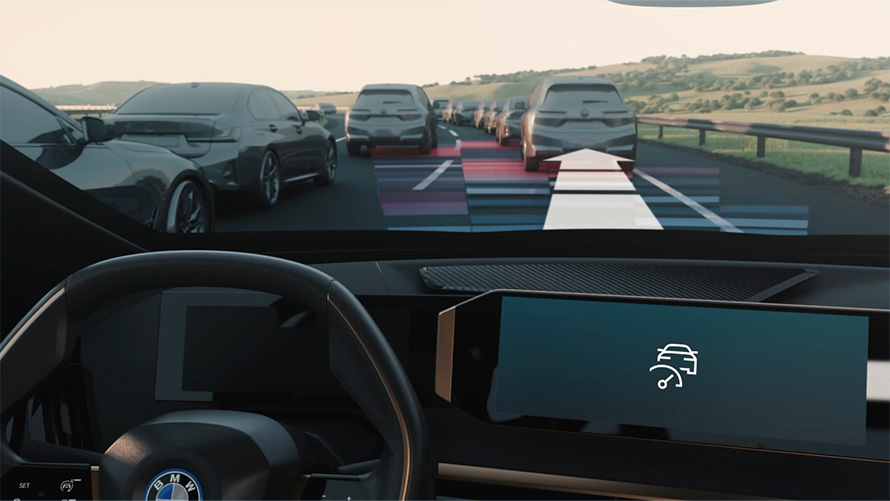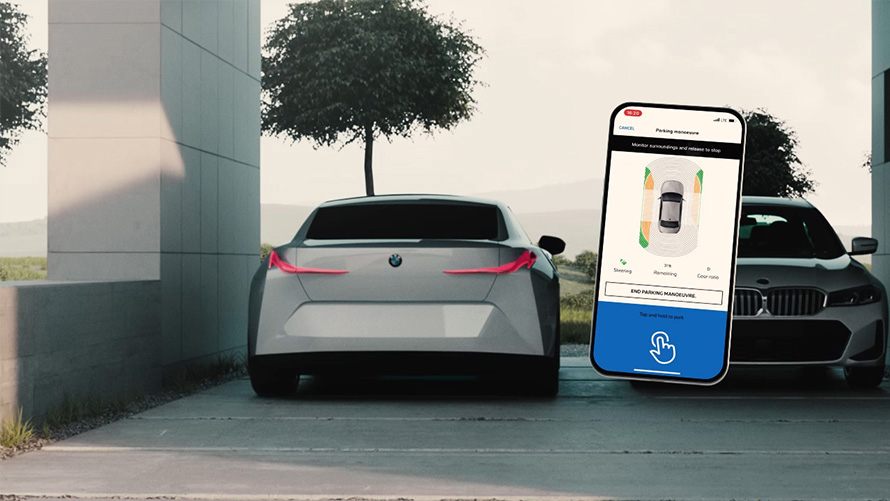 DIGITAL TECHNOLOGIES IN THE NEW BMW X6.
ALL THE HIGHLIGHTS IN THE VIDEOS.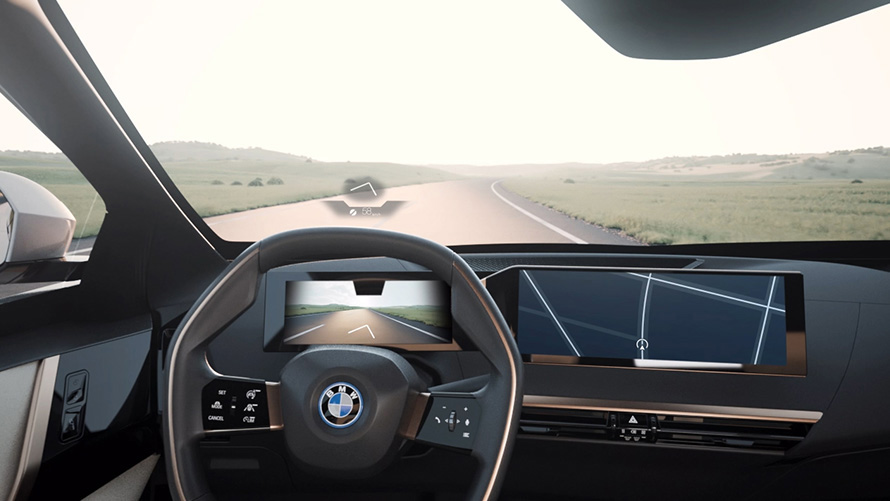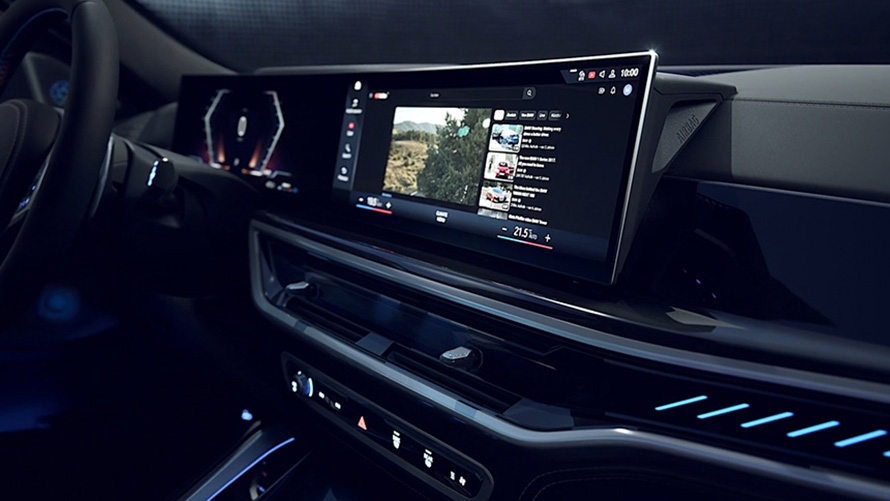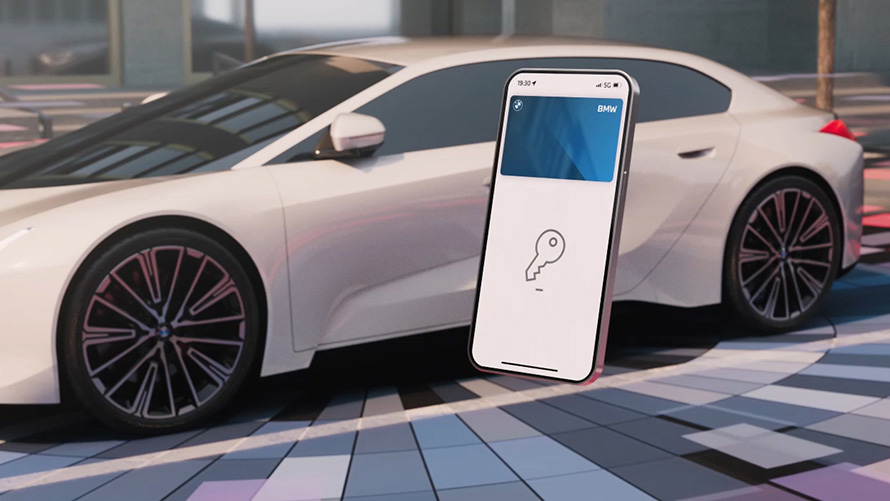 BMW Live Cockpit Professional.
Fully integrated video streaming.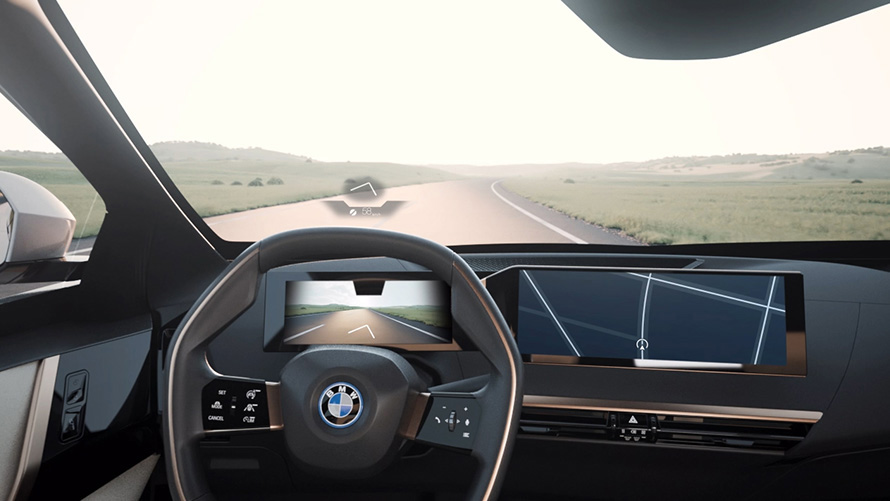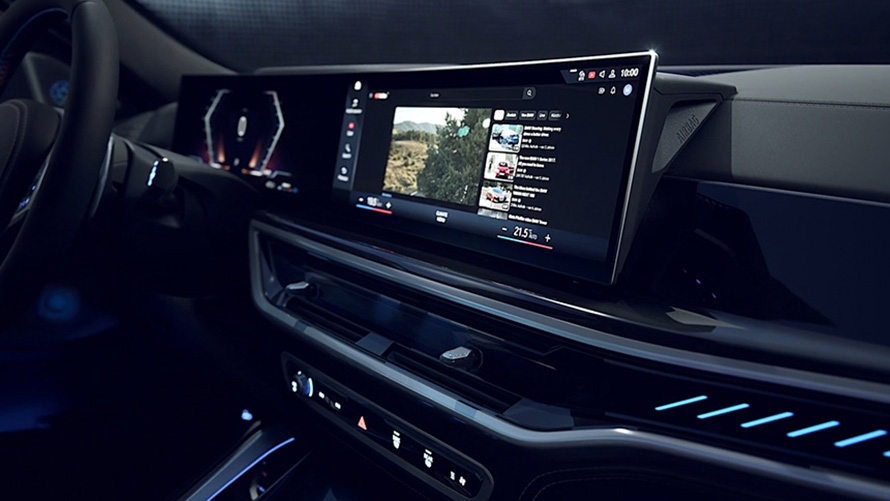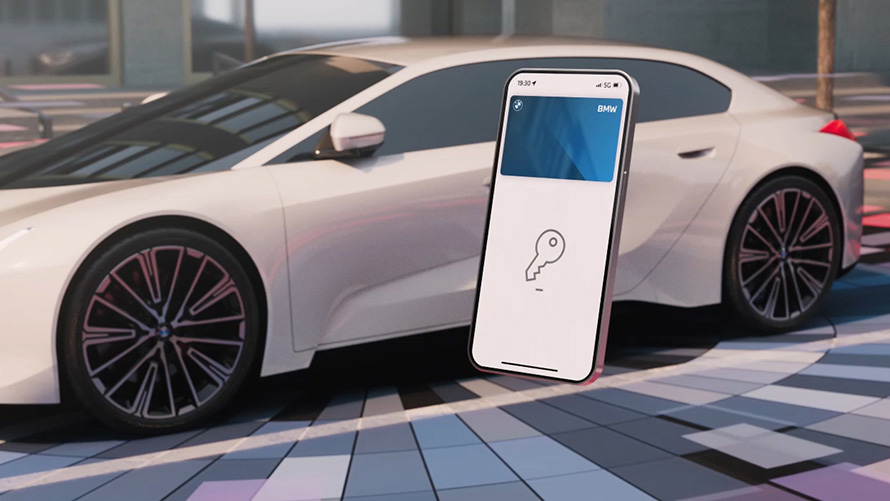 COMFORT HIGHLIGHTS OF THE NEW BMW X6.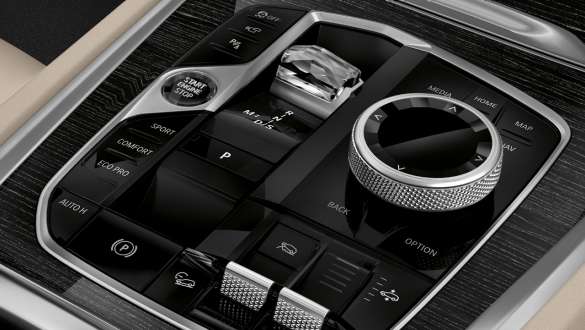 Fine crystal glass elements.
The cut crystal glass of the "CraftedClarity" glass application gives controls such as gear lever, start-stop button and iDrive Controller a particularly high-quality feel.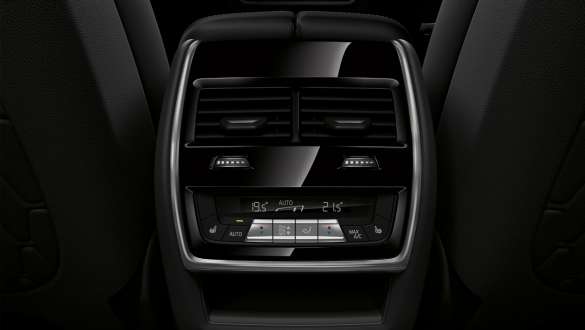 Automatic air conditioning with 4-zone control.
The automatic air conditioning with 4-zone control guarantees individual climate comfort on the front seats and on the right and left rear seats.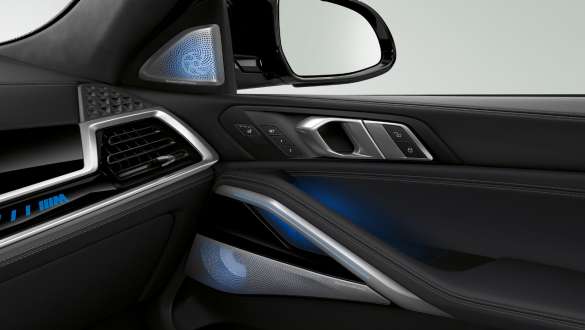 Bowers & Wilkins Diamond Surround Sound System.
With the Bowers & Wilkins Diamond Surround Sound System, you'll enjoy an outstanding studio-quality sound experience in every seat in the car.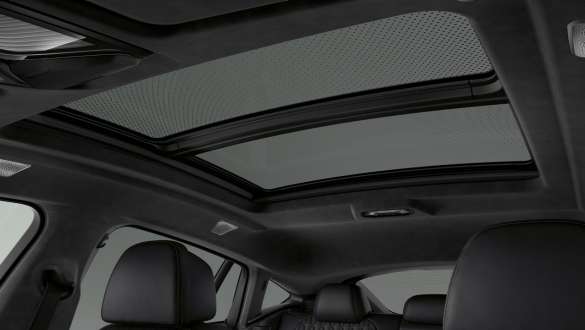 Sky Lounge panoramic glass sunroof.
The Sky Lounge panoramic glass sunroof creates a spacious feeling and, in the dark, an atmospheric ambience thanks to LED-based light graphics.
ORIGINAL BMW ACCESSORIES FOR THE NEW BMW X6.
With Original BMW Accessories, you can adapt your BMW to your personal wishes: The products are perfectly matched to the new BMW X6 in terms of quality, design and performance.
Accessories
M Performance Parts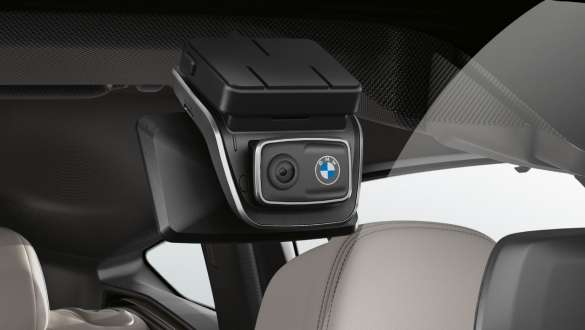 BMW Advanced Car Eye 3.0 Pro.
The QHD and full HD cameras of the BMW Advanced Car Eye 3.0 Pro automatically record what is happening in front of and behind the vehicle when an incident takes place. 
To the product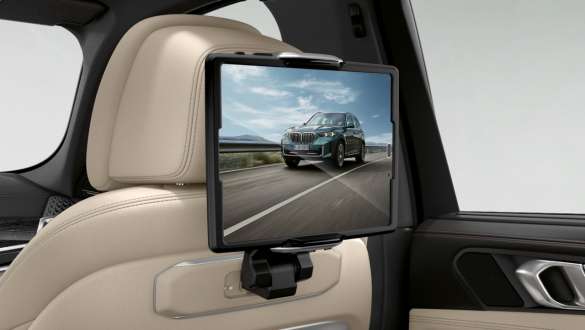 BMW tablet holder Pro for Travel & Comfort System.
Secure hold for tablets with BMW safety case (protective sleeve). The holder, which can be adjusted to different positions and angles, is attached to the optional "Travel & Comfort" optional equipment or to the basic carrier.
To the product
BMW rear box.
Travel more comfortably with the BMW rear box: benefit from a load volume of 300 litres and easier loading and unloading compared to a roof box.
To the product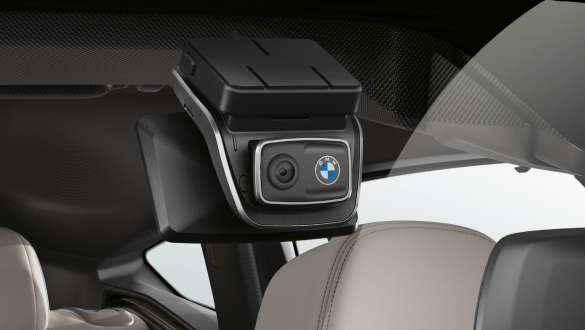 M kidney grille black high-gloss.
Strong character: The kidney slats and surrounds in high-gloss black exude power and dynamism. 
To the product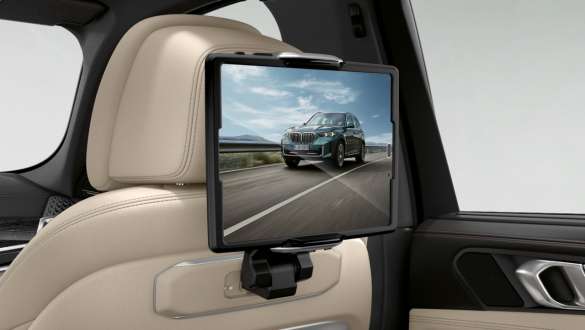 M Performance exterior mirror cap carbon fibre.
The striking M Performance exterior mirror caps from carbon fibre underline the vehicle's high-tech pedigree, adding an individual athletic touch.
To the product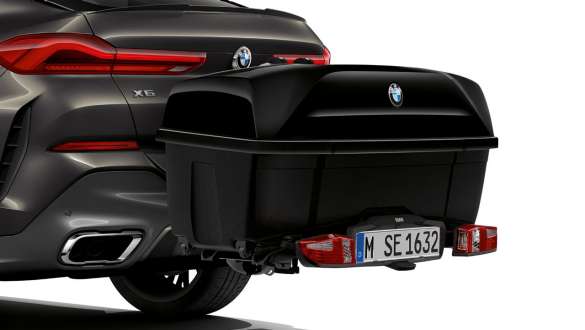 BMW rear spoiler carbon.
The BMW carbon rear spoiler enhances the car's premium-quality, sporty appearance and ensures optimised aerodynamics.
To the product
BMW FINANCIAL SERVICES FOR THE BMW X6.
CHOOSE FINANCE DESIGNED EXCLUSIVELY FOR YOUR BMW.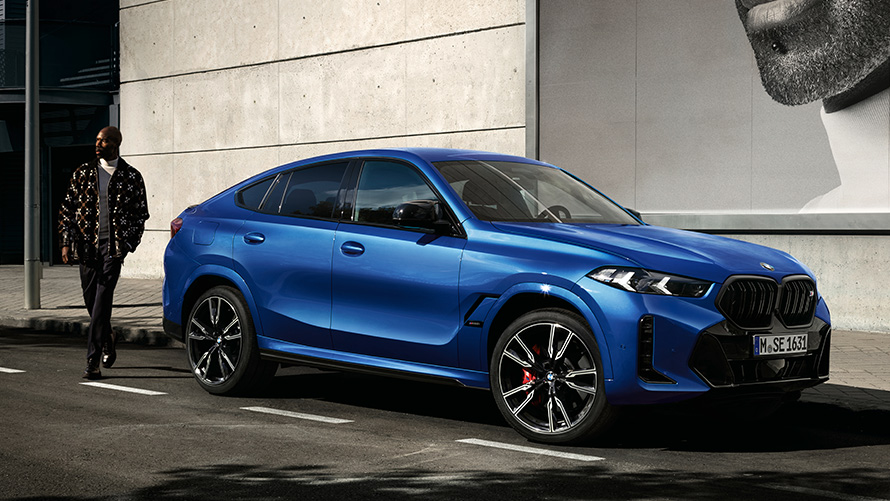 Whether for financing or leasing – each of our offers is individually adapted to your needs and desires.

BMW SERVICES.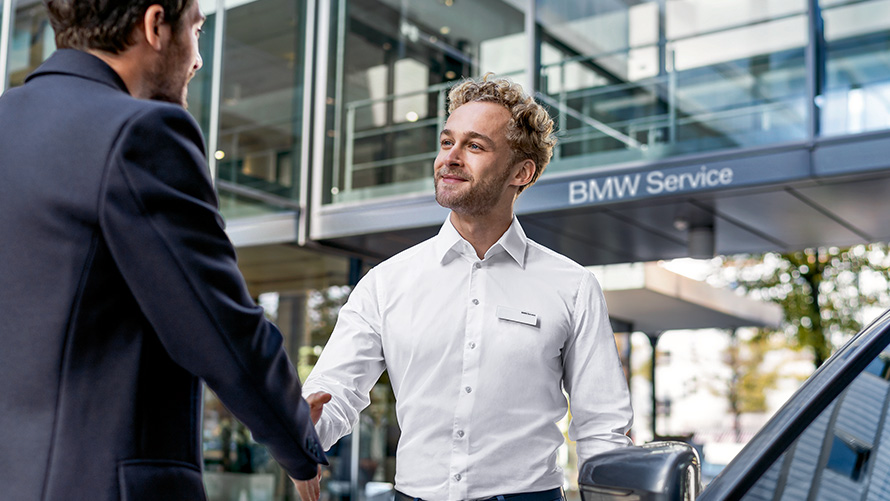 BMW Services ensure you remain completely carefree when you drive:

With BMW Service Inclusive you enjoy 100% transparency thanks to services such as vehicle check, microfilter or brake fluid check at a fixed price

The Teleservices from BMW ConnectedDrive provide your BMW Service Partner with all the relevant vehicle information when a service is required

The assistance provided by the BMW Breakdown and Accident Services is available to you free of charge, around the clock and 365 days per year
​
Fuel consumption and CO2 emissions.
BMW X6 M60i xDrive:
Fuel consumption, combined WLTP in l/100 km: -–-
CO2 emissions, combined WLTP in g/km: -–-

The values of fuel consumptions, CO2 emissions and energy consumptions shown were determined according to the European Regulation (EC) 715/2007 in the version applicable at the time of type approval. The figures refer to a vehicle with basic configuration in Germany and the range shown considers optional equipment and the different size of wheels and tires available on the selected model.

The CO2 efficiency specifications are determined according to Directive 1999/94/EC and the European Regulation in its current version applicable. The values shown are based on the fuel consumption, CO2 values and energy consumptions according to the NEDC cycle for the classification.

When charging times are shown they can be affected by a number of factors such as type of charger, voltage supplied to the charger/car and type of current (AC or DC) supplied to the charger/car. The car also plays a role in charging times as it can be set by the driver to accept various different amperage and should preconditioning be used to heat or cool the vehicle while charging this will also affect the charging time.

The basis for the calculation of the charging times for 100 km range is the electric consumption of the vehicle based on the use of a high-Powered Charging station (HPC) or charging type and current as indicted in the literature above. The testing procedure measures are based on a 23 degrees Celsius battery start and ambient temperature with certification values excluding additional auxiliary consuming devices and systems within the vehicle such as seat heating, displays, air conditioning.

Individual consumption (fuel economy) may differ due to driving profile, vehicle load profile, auxiliary consumer usage, temperature, and ambient conditions. Consumption is based on WLTP or NEDC (whichever is indicated) best case conditions and is independently tested for BMW Group. If you are comparing this range with other models or brands make sure they are stating the same WLTP or NEDC testing regime. These results can be used to compare vehicles on a close to "like for like" basis but are unlikely to be achieved in real world conditions for reasons including temperature variation, driving conditions and the use of the auxiliary systems referred to above.

Information provided and images displayed on this site include overseas models and may show some features not available in New Zealand. Please contact an authorised BMW dealer for specific information on vehicles and features available in New Zealand. Product changes may have been made since production of this content.

Note: To obtain NZ CO2 figures for vehicles imported by BMW Group NZ in relation to the NZ Clean Car discount or "FeeBate" you will need to contact your preferred dealer. The Clean Car discount figures sourced from your dealer will differ from those listed in the BMW owner's handbook and reported figures as they have been converted by the NZ government to WLTP3 from figures derived through one of the following testing procedures: WLTP4 or NEDC or Japanese JC08 mode or Japanese 10-15 mode or CAFE test cycle.

For all vehicles not imported by BMW NZ (Used vehicle imports) you will need to contact the source market for these CO2 figures as BMW Group NZ has no access to and cannot source this CO2 data.

For more information on the New Zealand Clean Car Programme, please visit https://www.nzta.govt.nz/vehicles/clean-car-programme/


FUEL CONSUMPTION AND CO2 EMISSIONS.
BMW X6 xDrive30d:
Fuel consumption, combined WLTP in l/100 km: 7.9-7.0
CO2 emissions, combined WLTP in g/km: 208-184

The values of fuel consumptions, CO2 emissions and energy consumptions shown were determined according to the European Regulation (EC) 715/2007 in the version applicable at the time of type approval. The figures refer to a vehicle with basic configuration in Germany and the range shown considers optional equipment and the different size of wheels and tires available on the selected model.

The CO2 efficiency specifications are determined according to Directive 1999/94/EC and the European Regulation in its current version applicable. The values shown are based on the fuel consumption, CO2 values and energy consumptions according to the NEDC cycle for the classification.

When charging times are shown they can be affected by a number of factors such as type of charger, voltage supplied to the charger/car and type of current (AC or DC) supplied to the charger/car. The car also plays a role in charging times as it can be set by the driver to accept various different amperage and should preconditioning be used to heat or cool the vehicle while charging this will also affect the charging time.

The basis for the calculation of the charging times for 100 km range is the electric consumption of the vehicle based on the use of a high-Powered Charging station (HPC) or charging type and current as indicted in the literature above. The testing procedure measures are based on a 23 degrees Celsius battery start and ambient temperature with certification values excluding additional auxiliary consuming devices and systems within the vehicle such as seat heating, displays, air conditioning.

Individual consumption (fuel economy) may differ due to driving profile, vehicle load profile, auxiliary consumer usage, temperature, and ambient conditions. Consumption is based on WLTP or NEDC (whichever is indicated) best case conditions and is independently tested for BMW Group. If you are comparing this range with other models or brands make sure they are stating the same WLTP or NEDC testing regime. These results can be used to compare vehicles on a close to "like for like" basis but are unlikely to be achieved in real world conditions for reasons including temperature variation, driving conditions and the use of the auxiliary systems referred to above.

Information provided and images displayed on this site include overseas models and may show some features not available in New Zealand. Please contact an authorised BMW dealer for specific information on vehicles and features available in New Zealand. Product changes may have been made since production of this content.

Note: To obtain NZ CO2 figures for vehicles imported by BMW Group NZ in relation to the NZ Clean Car discount or "FeeBate" you will need to contact your preferred dealer. The Clean Car discount figures sourced from your dealer will differ from those listed in the BMW owner's handbook and reported figures as they have been converted by the NZ government to WLTP3 from figures derived through one of the following testing procedures: WLTP4 or NEDC or Japanese JC08 mode or Japanese 10-15 mode or CAFE test cycle.

For all vehicles not imported by BMW NZ (Used vehicle imports) you will need to contact the source market for these CO2 figures as BMW Group NZ has no access to and cannot source this CO2 data.

For more information on the New Zealand Clean Car Programme, please visit https://www.nzta.govt.nz/vehicles/clean-car-programme/
Read more