Equipped with new technologies for more safety and maximum driving dynamics on every surface, the BMW X5 knows where it's going.


Read more
SELECTED CONFIGURATIONS FOR THE BMW X5.
BMW X5 xDrive25d
ESSENCE.
BMW X5 xDrive25d with 170 kW (231 hp)
HiFi loudspeaker system
Aluminium running board
BMW X5 xDrive45e
BALANCE.
Plug-In-Hybrid
xLine
Adaptive 2-axle air suspension
BMW X5 xDrive40i
SIGNATURE.
Modell M Sport
Extended Shadow Line
Bowers & Wilkins Diamond Surround Sound System
EXPERIENCE THE DRIVING DYNAMICS OF THE BMW X5 IN THIS VIDEO.
The BMW X5 offers driving pleasure on any terrain thanks to the enhanced BMW TwinPower Turbo power unit and the outstanding traction of BMW xDrive all-wheel drive. The optional xOffroad package provides finer tuning: four selectable off-road modes adjust the all-wheel drive precisely to the current ground conditions.
Read more
BMW X5: EXCELLENT TRACTION WITH xOFFROAD PACKAGE.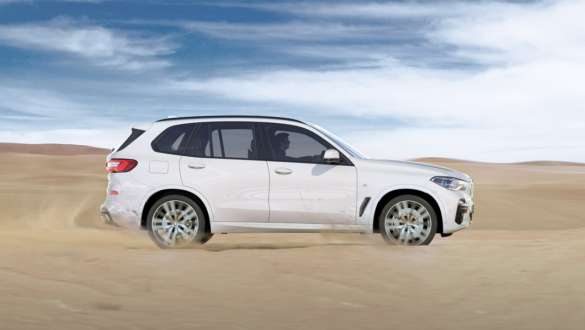 xSand.
The following parameters are preset with the off-road mode "xSand": additional ground clearance 20 mm, off-road ABS can be activated from a speed of 10 km/h, readily controllable response from the accelerator pedal. The result: optimum traction even on unsurfaced roads.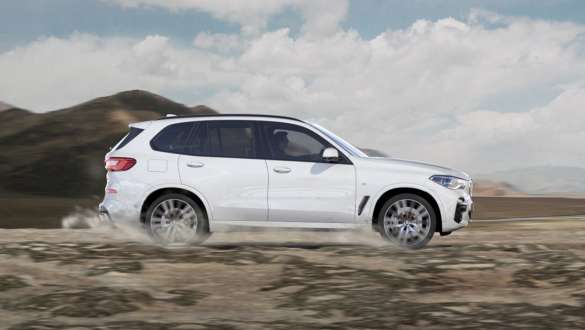 xGravel.
If you activate "xGravel" mode, the following parameters are preset: additional ground clearance 20 mm, off-road-ABS can be activated immediately, comfortable response from the accelerator pedal. The result: perfect balance of smoothness and safety on loose, stony ground.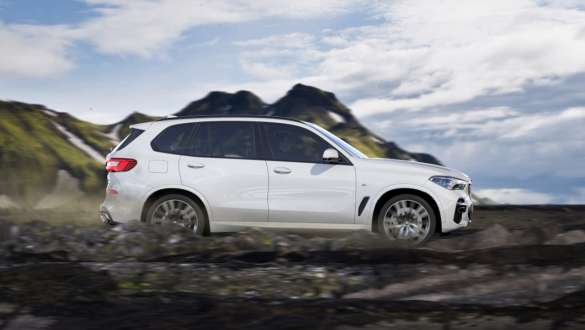 xRocks.
The following parameters are preset with the off-road mode "xRocks": additional ground clearance 40 mm, off-road ABS can be activated from a speed of 10 km/h, readily controllable response from the accelerator pedal. The result: consistent propulsion and plenty of space below.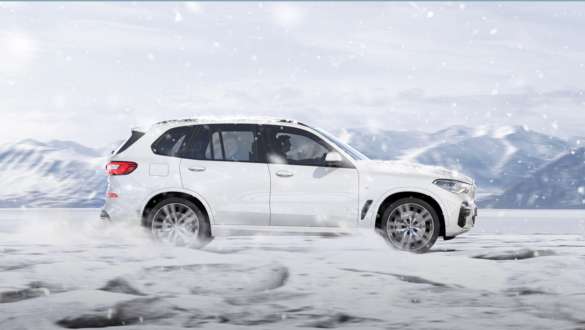 xSnow.
When it's icy and slippery, the following parameters are preset in the "xSnow" off-road mode: DSC is activated, pneumatic suspension is set to normal level, the vehicle sets off in 2nd gear. The result: even on slippery roads, sufficient grip is available.
BMW X5 xDRIVE45e PLUG-IN HYBRID.
The best of both worlds: with the BMW X5 xDrive45e, you experience sustainable mobility and efficient driving dynamics. Explore the numerous benefits of this innovative BMW hybrid vehicle.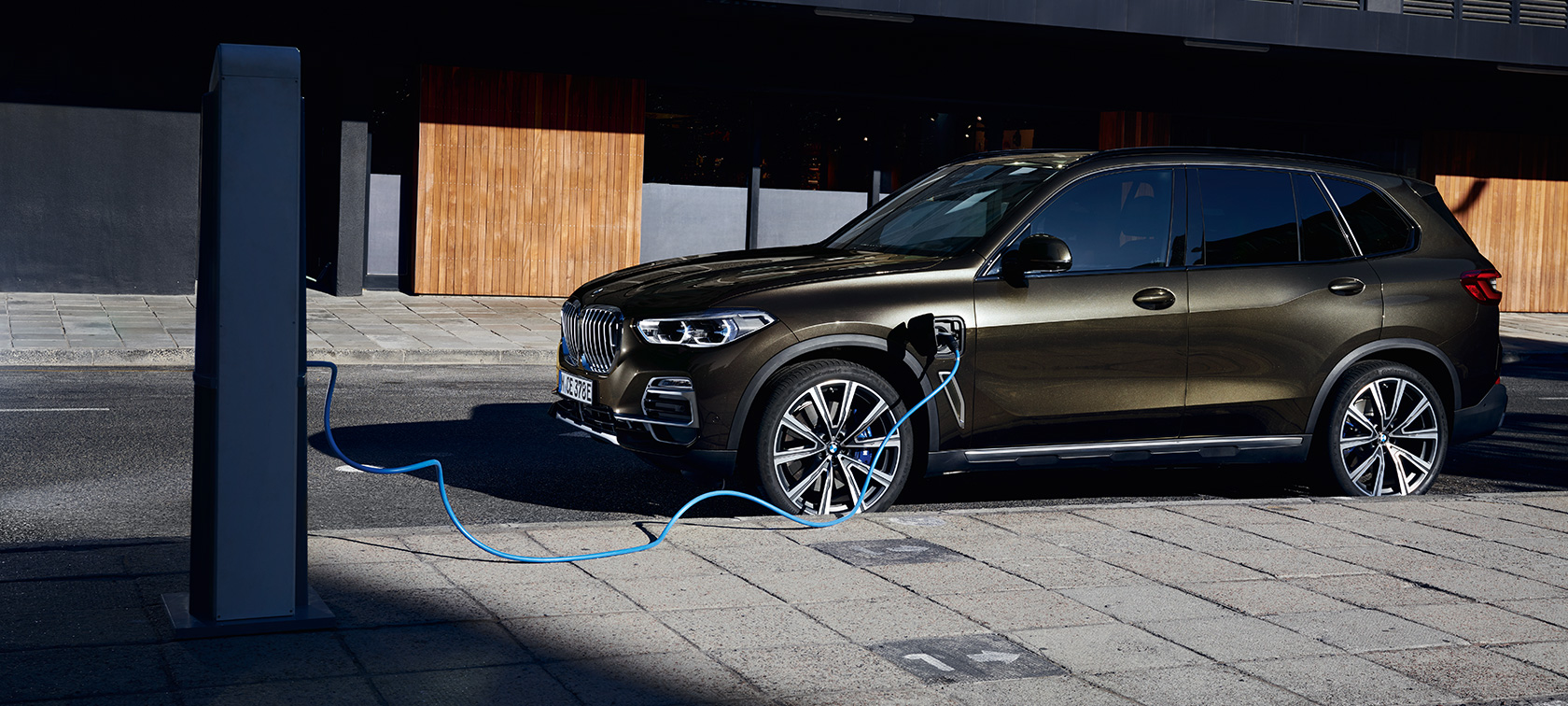 THE DESIGN OF THE BMW X5.
Front.
The large, slightly hexagonal kidney, the optional laser light with blue X elements and the powerful air intakes of the BMW X5 translate power and dynamics into an exciting design language.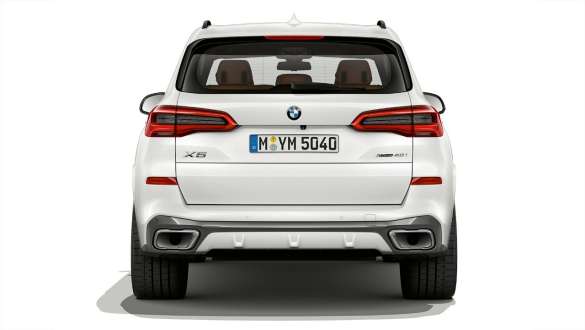 Rear.
The horizontal lines at the rear of the new BMW X5 visualise the high functionality of this vehicle: the "Split Tailgate" can be opened and closed in two parts, is fully electric and can be operated at the touch of a button.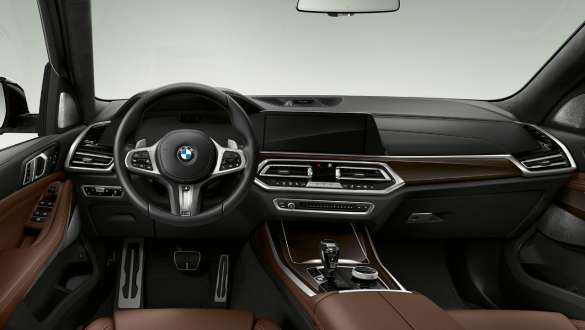 Cockpit.
In the interior of the BMW X5, the clear design language with high-quality materials results in an exclusive ambience that offers an atmosphere of open space thanks to the optional panoramic glass roof. Optional fine glass elements on the gear selector lever, BMW Controller, start/stop button and volume control provide a unique design experience in the cockpit.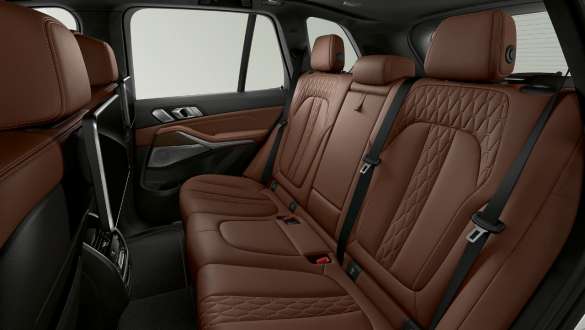 Fond.
The generous sense of space in the BMW X5 also extends to the comfortable second row of seats. If the total of five seats is not enough, you can expand the available seating capacity in the back by two additional seats with an optional third row of seats.
THE NEW BMW X5 EDITION BLACK VERMILION.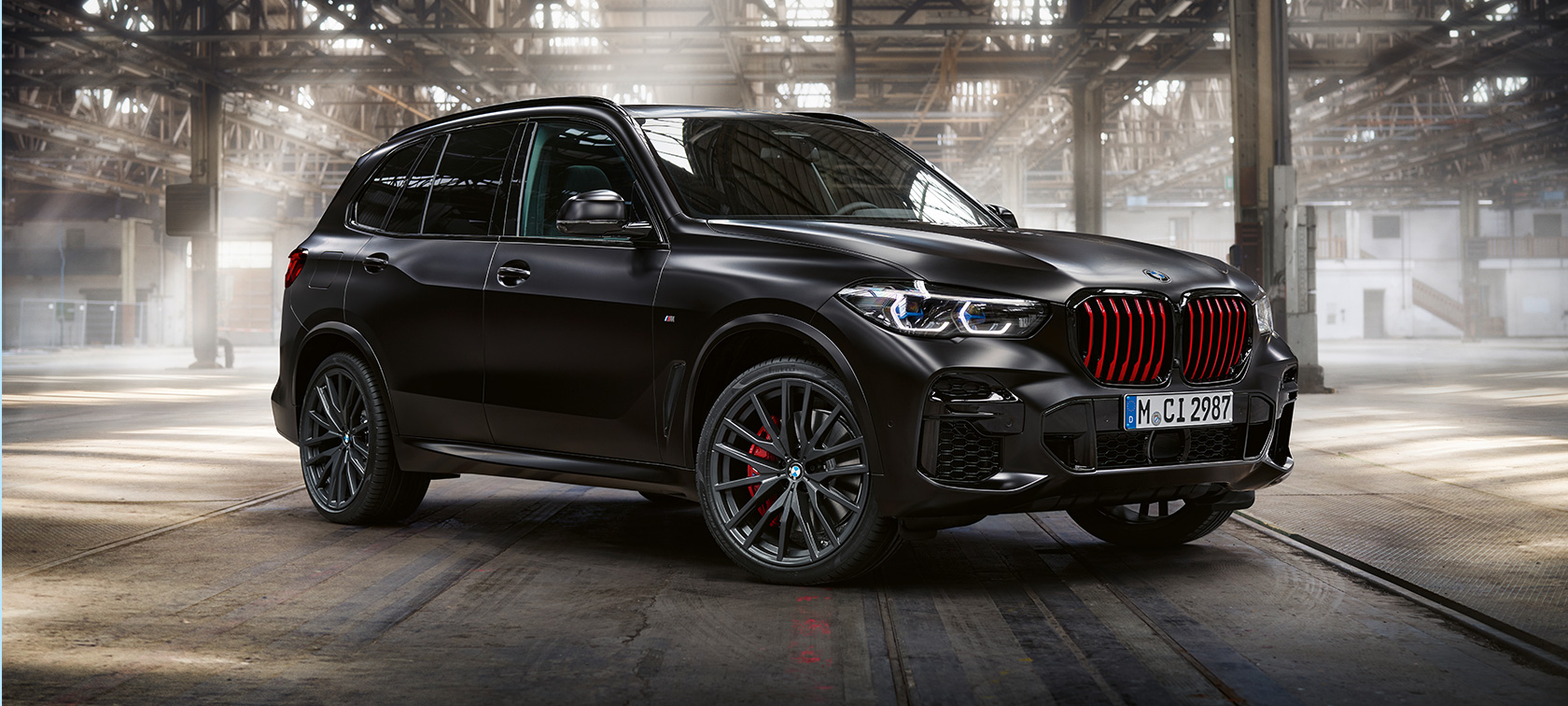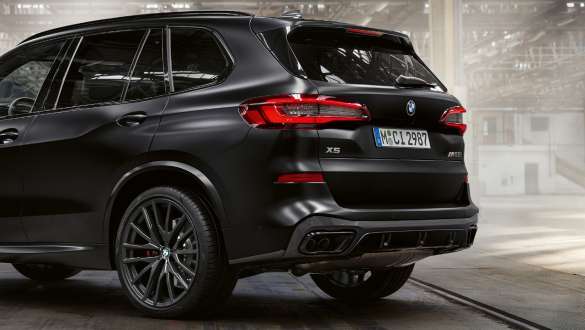 BMW Individual Frozen Black metallic.
The appearance of the BMW X5 Edition Black Vermilion is defined by the colour interplay between black and red. The paintwork in BMW Individual special Frozen Black metallic provides a powerful presence and an striking contrast to the red accents.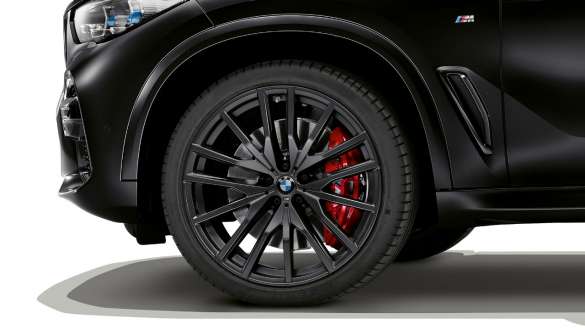 22'' M light alloy wheel 742 M double-spoke in Orbit Grey matt.
The large 22'' M 742 M double-spoke light-alloy wheel in orbit grey matt gives the BMW X5 Edition Black Vermilion a particularly exclusive touch. Behind it, the high-gloss red brake callipers of the M sport brake catch the eye.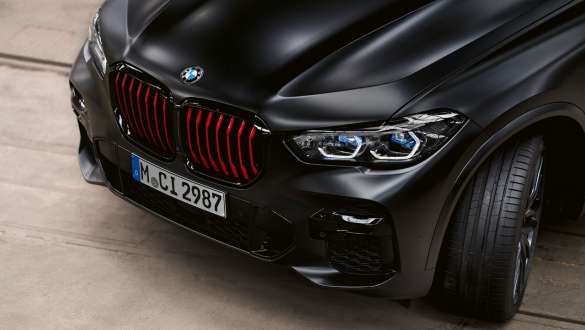 BMW double kidney with bars in Chili Red.
A real eye-catcher at the front: the BMW X5 Edition Black Vermilion features a BMW double kidney grille with bars finished in red on the front surfaces.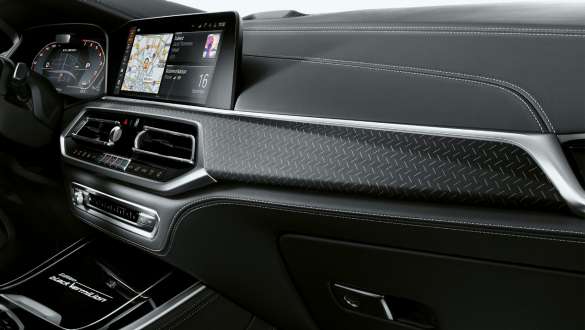 BMW Individual interior trim 'Fineline' Black.
In the interior of the BMW X5 Edition Black Vermilion, you can expect many noble design accents. The interior trim in BMW Individual 'Fineline' Black with aluminium inlays or the high-quality Editions logo on the cupholder cover in BMW Individual Piano Finish Black underline the exclusivity of this model.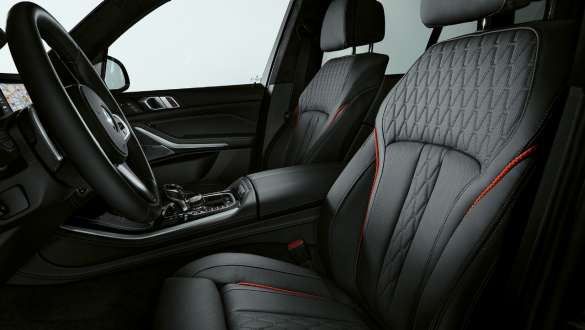 BMW Individual full leather interior 'Merino' in black with red decorative stitching.
In the interior, the BMW Individual 'Merino' full leather upholstery in black provides a high-quality ambience. Edition-specific red decorative stitching on the front and rear seats adds a sporty touch. Black floor mats with red edging complete the elegant overall appearance harmoniously.
ACCESSORIES AND BMW M PERFORMANCE PARTS FOR THE BMW X5.
BMW M Performance Parts allow you to give your BMW X5 the maximum amount of motor racing character. Choose from optically enhanced design features for the exterior as well as attractive forged and light alloy wheels. With Original BMW Accessories, you adapt your BMW to your personal wishes: the products are perfectly matched to the BMW X5 in terms of quality, design and performance.

Original BMW Accessories
M Performance Parts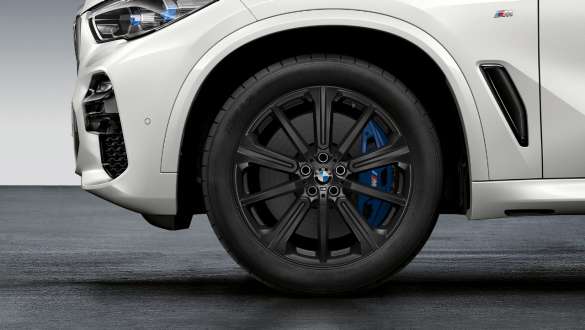 20" light alloy wheel Star-spoke style 748 M Jet Black matt.
The high-quality 20'' light alloy wheel Star-spoke style 748 M is designed in Jet Black matt with the colour M logo and lends the vehicle a very sporty appearance with its exclusive look. Single front wheel, wheel size 9J x 20, without tyre.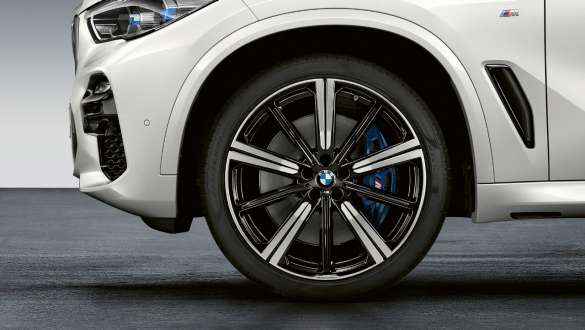 22" M Performance light alloy wheel Star-spoke style 749 M in Bicolor.
The high-quality, weight-optimised 22'' M Performance light alloy wheel Star-spoke style 749 M is designed in Bicolor Jet Black, gloss-lathed with the colour M logo and M Performance lettering. Single front wheel, wheel size 9.5J x 22, without tyre.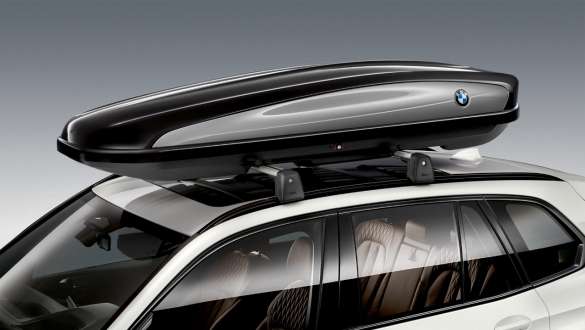 BMW roof box 520 black/titanium silver.
The modern roof box in black with titanium silver side panels has a capacity of 520 litres and is compatible with all BMW roof rack systems. Due to the fact that it can be opened from both sides and has triple central locking on each side it is convenient to load and lock for theft protection.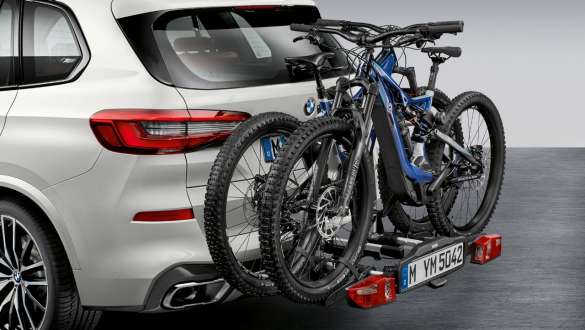 BMW rear bike rack Pro 2.0.
The BMW rear bicycle rack Pro 2.0 is lightweight yet sturdy and can carry up to 60 kg. Outstandingly easy to handle, it can transport two bicycles or e-bikes (can be extended to accommodate three bicycles). Its tilt function allows easy access to the luggage compartment at any time.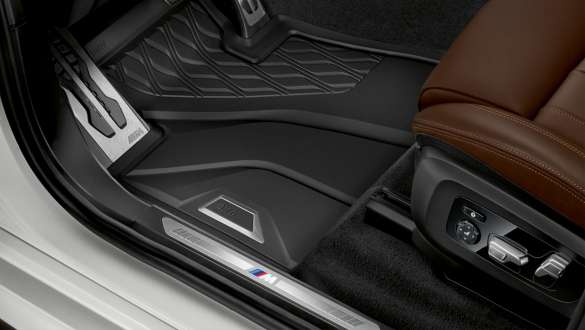 BMW all-weather floor mats front.
The perfectly fitted, durable all-weather floor mats with a raised border and elegant design protect the front footwell against moisture and dirt. They are black and feature a stainless steel inlay.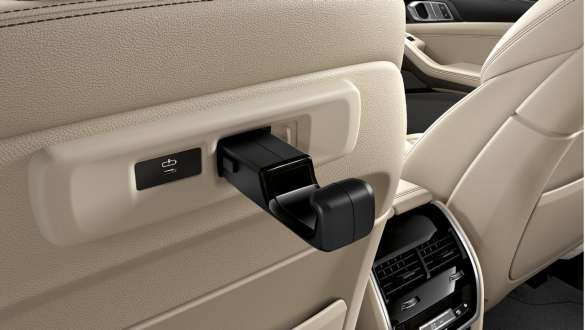 BMW universal hook black, Travel & Comfort.
The universal hook of the Travel & Comfort System makes it possible to hang items of clothing or lightweight bags on the backrest to protect them from dirt in the footwell. Thanks to the plug-in coupling, the universal hook can be easily attached crash-proof to the separately available basic carrier or to the optional equipment "Travel & Comfort".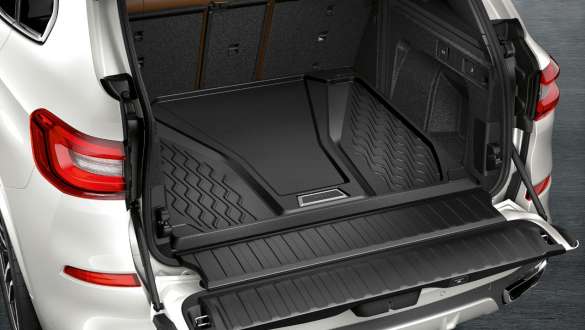 Luggage compartment mat.
The anti-slip, water-resistant and highly durable mat with raised border on all sides protects the luggage compartment from dirt and moisture. In black, it perfectly complements the interior of a vehicle with the Basic equipment.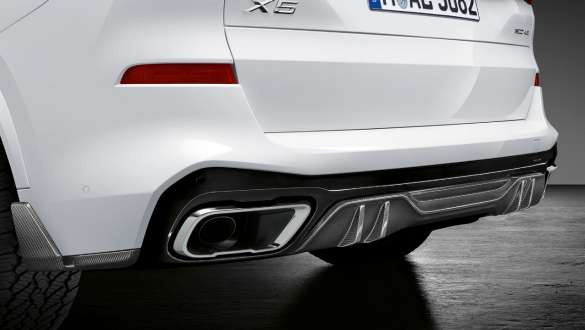 M Performance rear diffuser carbon fibre.
100 percent high-tech. 100 percent motorsport character. 100 percent show-stopper. The rear diffuser is made of carbon fibre, which is meticulously crafted by hand. It creates an even more dynamic appearance – and makes the car's muscular look even more impressive.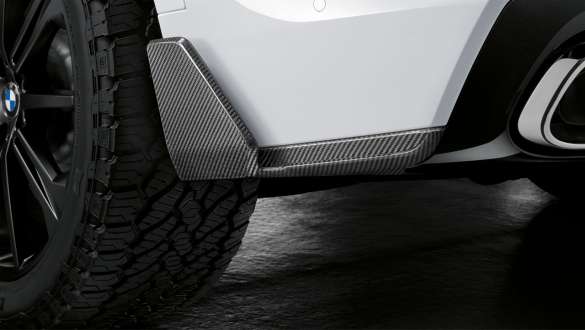 M Performance rear winglet carbon fibre.
Broad design: The M Performance rear winglets broaden the vehicle rear, enhancing its sporty, exclusive look. They are made of high-quality carbon fibre to fit in perfectly with the vehicle design and are in perfect harmony with other exterior components made of carbon fibre.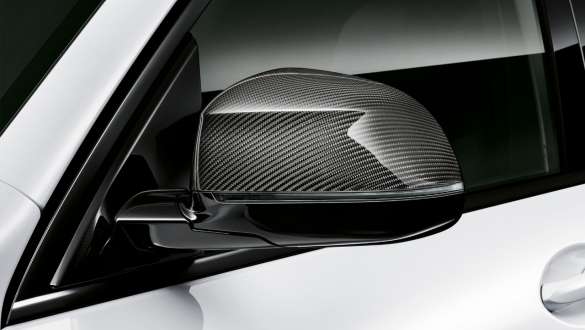 M Performance exterior mirror cap carbon fibre.
Meticulously hand-made from carbon fibre, the striking exterior mirror caps underline the vehicle's high-tech pedigree. Their dynamic design ensures an eye-catching premium look and adds an individual athletic touch.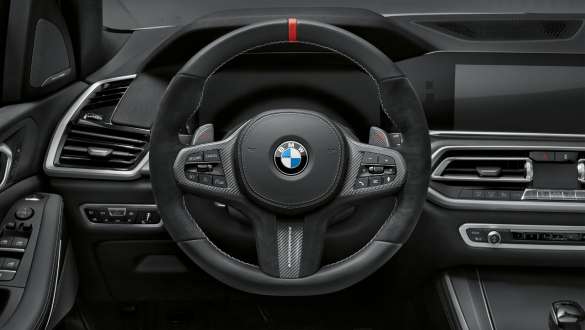 M Performance steering wheel.
Gripping facts: Thanks to its Alcantara-lined grip area the M Performance steering wheel provides excellent feel and grip – for a more direct and responsive steering feel. Its distinctive design and centre band made of red leather underscore its motorsport style.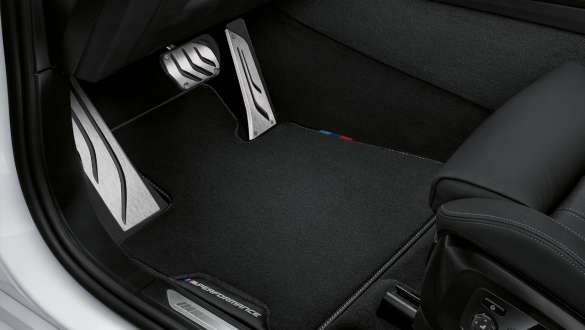 M Performance pedal covers stainless steel.
Minimalist design, precise workmanship: Thanks to the asymmetrical design of their rubber treads, the solid stainless steel pedal covers give the footwell a distinctively dynamic high-tech look. The perfect complement to other M Performance products.
CONNECTIVITY AND DIGITAL SERVICES IN THE BMW X5.
The BMW X5 has the latest generation of BMW connectivity technologies. Intelligent digital services and driver assistance systems create a seamless connection with the outside world and offer you maximum comfort and the greatest possible safety thanks to intuitive operation.

Driver assistance
Connectivity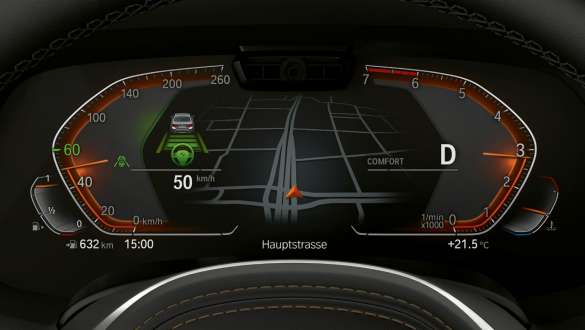 Driving Assistant Professional.
Driving Assistant Professional offers optimum comfort and safety during critical or monotonous traffic situations. Apart from the contents of the Driving Assistant, it also includes Steering and Lane Control Assistant with extended functions, Lane Change and Emergency Stop Assistant and Lane Keeping Assistant with active side collision protection.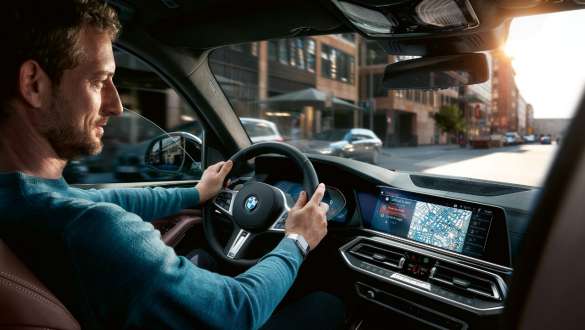 Connected Navigation.
Trying to find a parking space close to your destination? This is an easy task with the Parking Space Assistant. It suggests vacant spaces in large parking facilities or on the street and, based on your selection, finds the best route for you with the highest likelihood of an available space. You can also pay for parking cash-free using PARK NOW. The term is three years.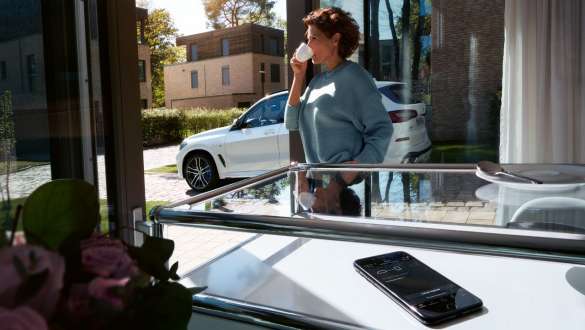 Remote Software Upgrade.
The latest software version always on board. With Remote Software Upgrade, your BMW will always be up to date. You can simply download the upgrades via the My BMW App or via the SIM card installed in the vehicle and then install them. In this way, other available functions in your BMW are also activated.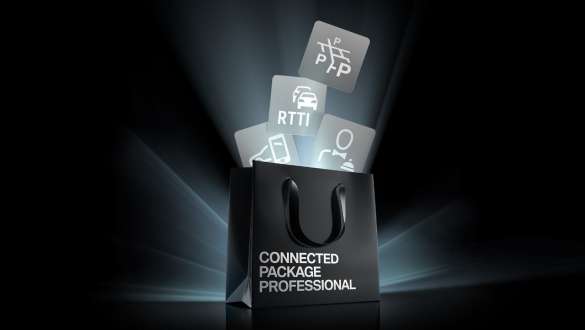 Connected Package Professional.
Concierge Service, Remote Services, BMW Maps, smartphone integration incl. Apple CarPlay and Android Auto or In-Car Experiences? Why order individual options when you can have everything? With the Connected Package Professional, you can get these services from BMW ConnectedDrive.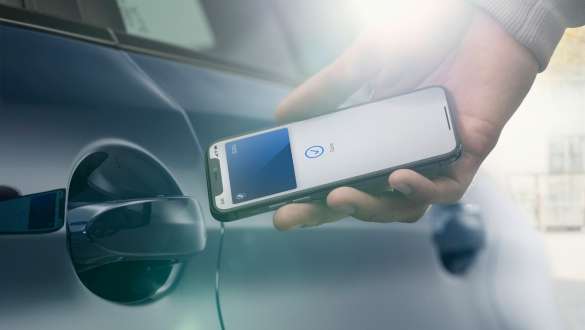 BMW Intelligent Personal Assistant.
Communicate with your vehicle using the BMW Intelligent Personal Assistant. Say natural commands to operate numerous vehicle functions. It can also explain topics about your vehicle and helps you to get to know your BMW even better.
INNOVATIVE TECHNOLOGIES OF THE BMW X5 IN THE VIDEO.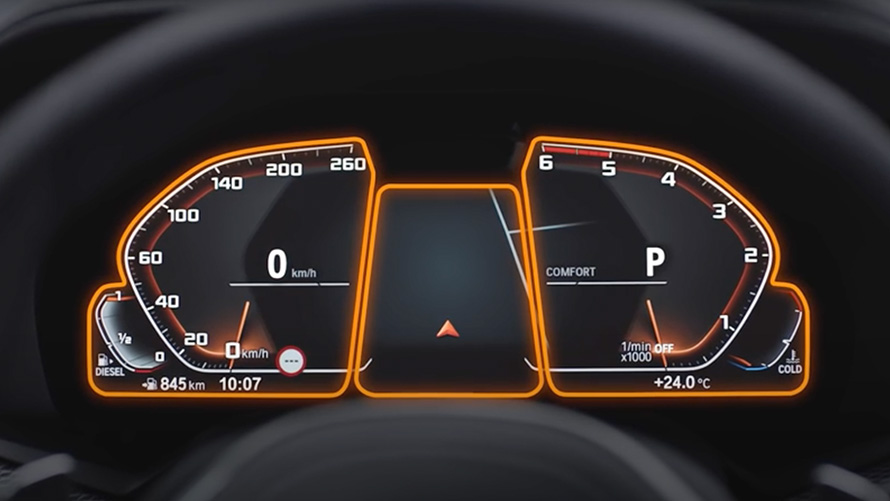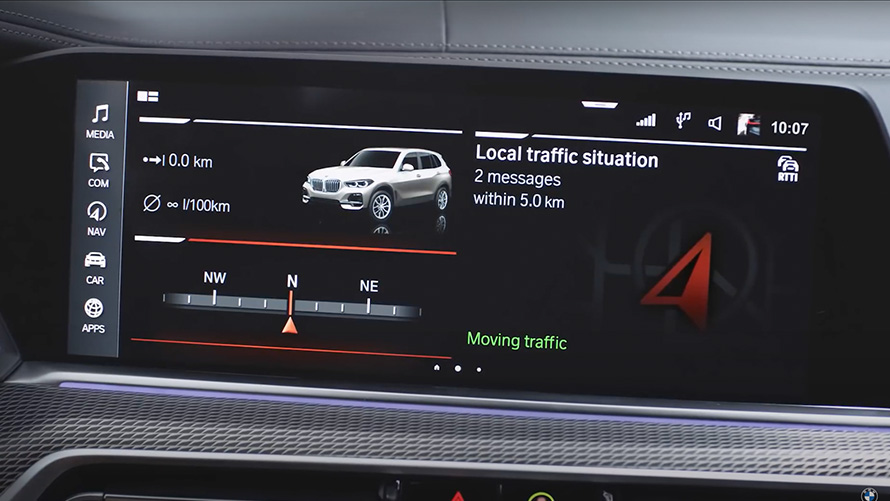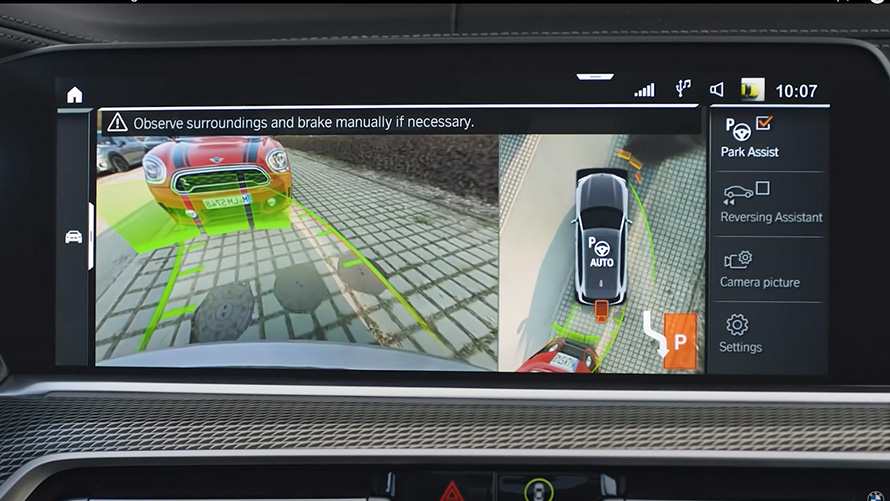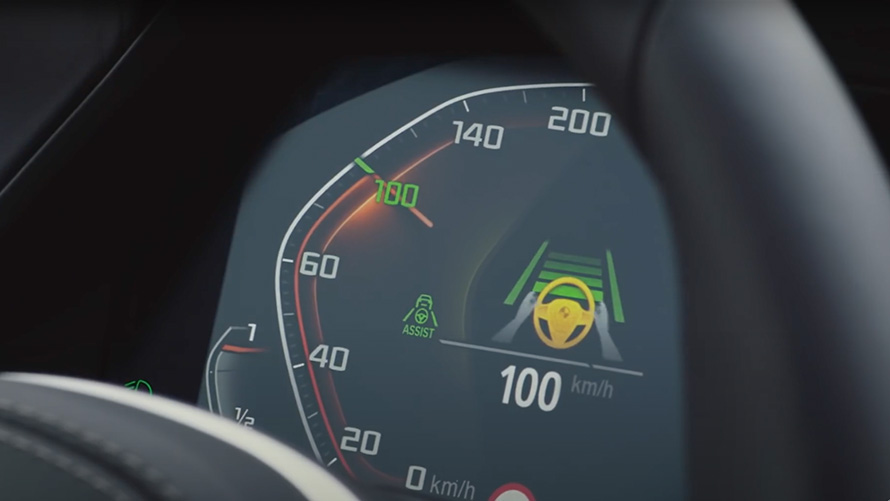 Fully digital instrument cluster.
How the BMW user interface works.
How to use the Driving Assistant.
How to use the Driving Assistant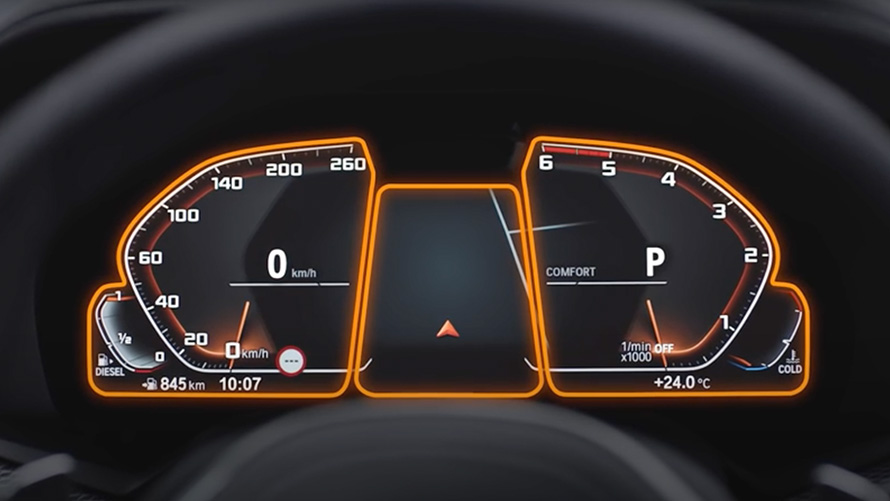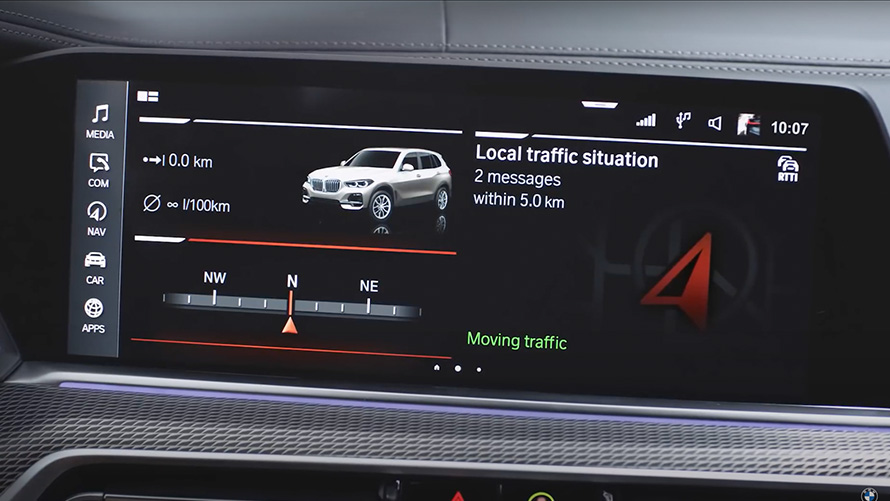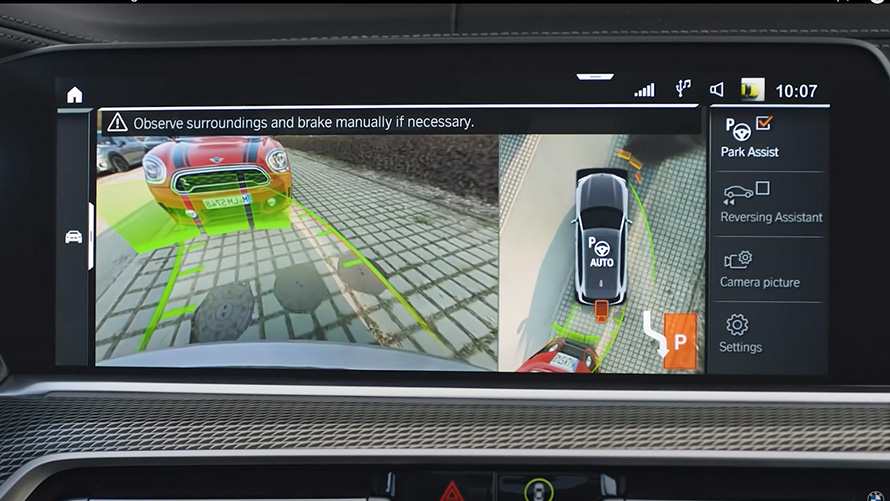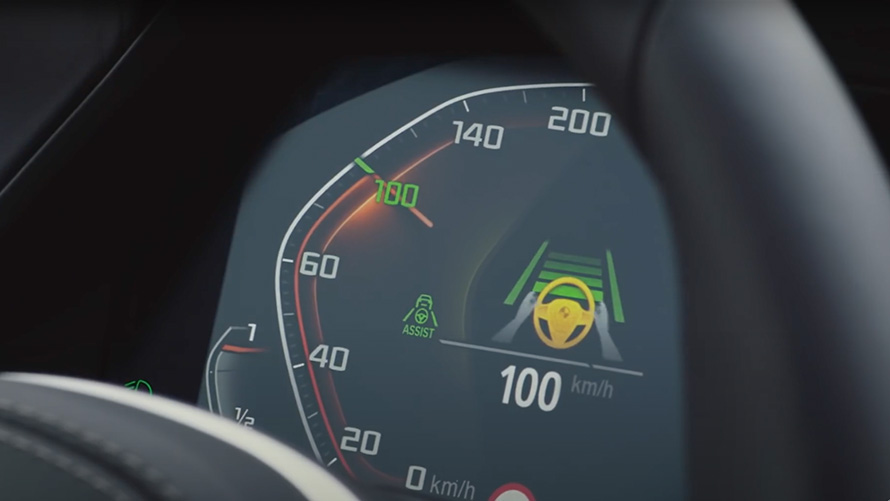 TECHNICAL DATA OF THE BMW X5.
BMW X5 xDrive30d and other engines.
PRICES, FINANCING AND LEASING OF THE BMW X5.
BMW FINANCIAL SERVICES FOR THE BMW X5.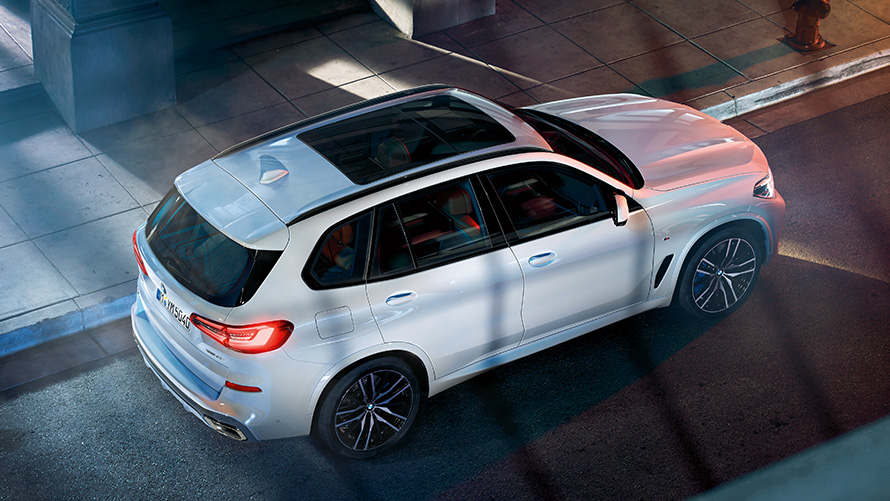 Get there quickly and flexibly with tailor-made financial products from BMW Financial Services. Whether financing or leasing - each of our offers is individually tailored to your needs and wishes. Find out more about attractive financing solutions or the right leasing offer for your new BMW X5.

SERVICE AND ASSISTANCE FOR THE BMW X5.
BMW SERVICE INCLUSIVE FOR THE BMW X5.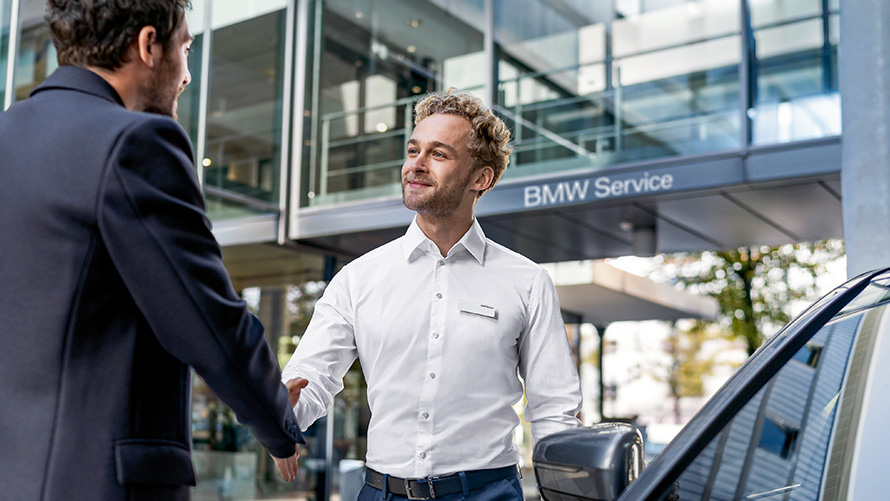 #whateverhappens. All-round carefree travelling: this package offers you 100% transparency and convenient ease of planning for your selected term of duration or mileage.

The contents of the service package:
Vehicle check service in accordance with BMW guidelines
Microfilter service
Brake fluid service

Fuel consumption, electricity consumption and CO2 emissions of the BMW X5.
BMW X5 xDrive45e:
Fuel consumption in l/100 km (combined): 2.5
CO2 emissions in g/km (combined): 56
Electricity consumption combined in kWh/100 km: 25.7

The values of fuel consumptions, CO2 emissions and energy consumptions shown were determined according to the European Regulation (EC) 715/2007 in the version applicable at the time of type approval. The figures refer to a vehicle with basic configuration in Germany and the range shown considers optional equipment and the different size of wheels and tires available on the selected model.

The CO2 efficiency specifications are determined according to Directive 1999/94/EC and the European Regulation in its current version applicable. The values shown are based on the fuel consumption, CO2 values and energy consumptions according to the NEDC cycle for the classification.

When charging times are shown they can be affected by a number of factors such as type of charger, voltage supplied to the charger/car and type of current (AC or DC) supplied to the charger/car. The car also plays a role in charging times as it can be set by the driver to accept various different amperage and should preconditioning be used to heat or cool the vehicle while charging this will also affect the charging time.

The basis for the calculation of the charging times for 100 km range is the electric consumption of the vehicle based on the use of a high-Powered Charging station (HPC) or charging type and current as indicted in the literature above. The testing procedure measures are based on a 23 degrees Celsius battery start and ambient temperature with certification values excluding additional auxiliary consuming devices and systems within the vehicle such as seat heating, displays, air conditioning.

Individual consumption (fuel economy) may differ due to driving profile, vehicle load profile, auxiliary consumer usage, temperature, and ambient conditions. Consumption is based on WLTP or NEDC (whichever is indicated) best case conditions and is independently tested for BMW Group. If you are comparing this range with other models or brands make sure they are stating the same WLTP or NEDC testing regime. These results can be used to compare vehicles on a close to "like for like" basis but are unlikely to be achieved in real world conditions for reasons including temperature variation, driving conditions and the use of the auxiliary systems referred to above.

Information provided and images displayed on this site include overseas models and may show some features not available in New Zealand. Please contact an authorised BMW dealer for specific information on vehicles and features available in New Zealand. Product changes may have been made since production of this content.

Note: To obtain NZ CO2 figures for vehicles imported by BMW Group NZ in relation to the NZ Clean Car discount or "FeeBate" you will need to contact your preferred dealer. The Clean Car discount figures sourced from your dealer will differ from those listed in the BMW owner's handbook and reported figures as they have been converted by the NZ government to WLTP3 from figures derived through one of the following testing procedures: WLTP4 or NEDC or Japanese JC08 mode or Japanese 10-15 mode or CAFE test cycle.

For all vehicles not imported by BMW NZ (Used vehicle imports) you will need to contact the source market for these CO2 figures as BMW Group NZ has no access to and cannot source this CO2 data.

For more information on the New Zealand Clean Car Programme, please visit https://www.nzta.govt.nz/vehicles/clean-car-programme/

Read more