Absolutely unique. Extremely exceptional. The BMW X2 makes its sporty ambitions quite clear at first sight. Thanks to its bold athleticism, it supplies a dynamic and agile performance that is unrivalled in this class. Coupled with a high-quality interior and many innovative technologies, it is the extroverted protagonist of a new era. Are you ready?
THE DESIGN OF THE BMW X2.
With its extroverted design and coupé character, the BMW X2 redefines the strikingly sporty on-street appearance. At the same time, unique design elements of the Edition M Mesh give it a strongly expressive look. Spearheaded by the impressive BMW Mesh kidney grill in high-gloss black, the aesthetic design continues on the exterior via the X2 foilwrap on the bonnet and sides of the vehicle through to the eye-catching M aerodynamic wheels. The interior of the BMW X2 welcomes its occupants with an equal measure of sporting flair and style: top-quality design highlights such as exclusive door sill finishers with 'Edition' lettering or M Sport seats in leather 'Dakota'/Alcantara combination testify to the sporty premium ambitions.
Read more
THE DESIGN IN THE EXTERIOR AND INTERIOR.
DYNAMIC DOWN TO THE FINEST DETAIL.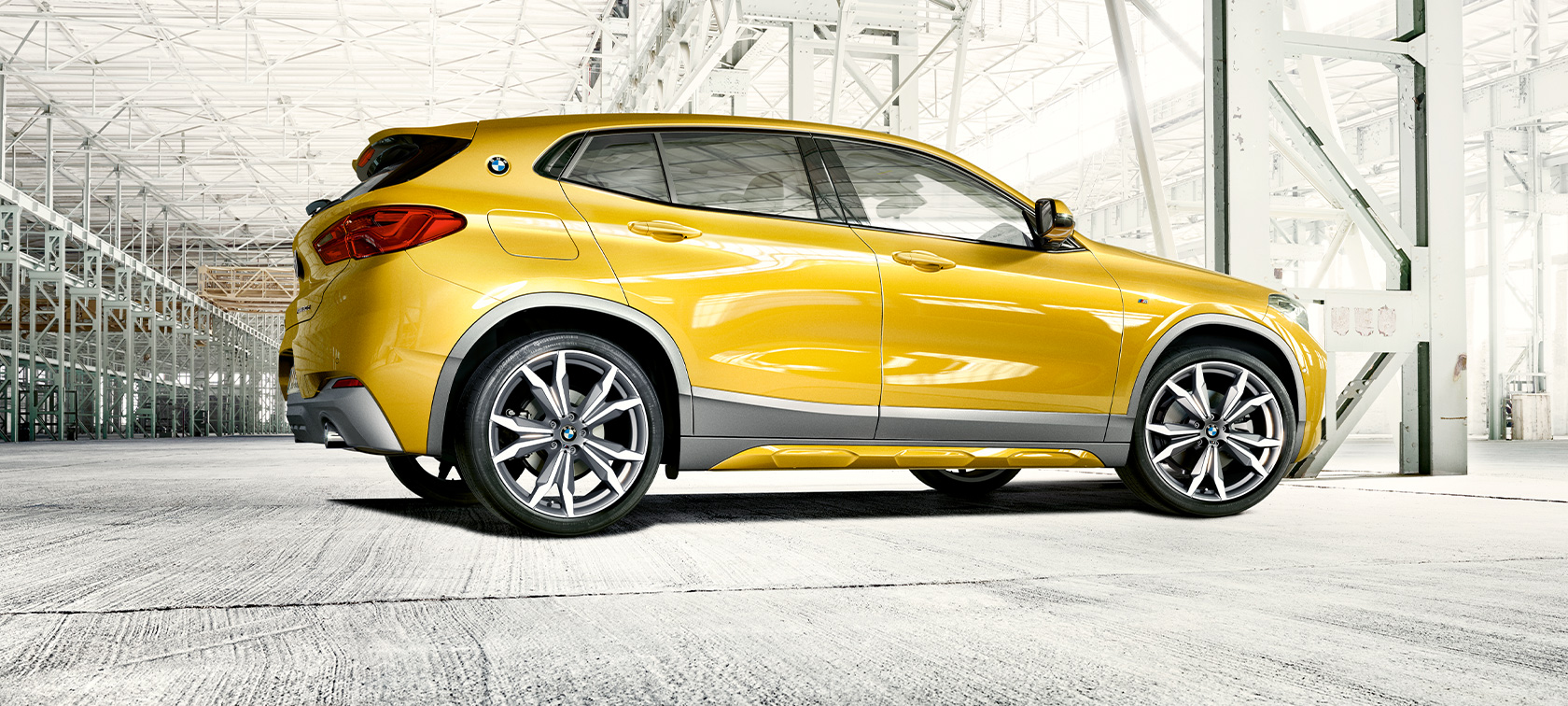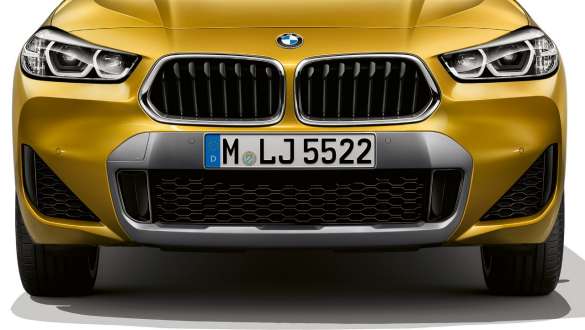 Air inlets.
Breathtaking from the first glance: the self-assured front with the powerful bumper and the large three-part air inlets to ensure even better cooling of brakes and engine. Air Curtains integrated into the air inlets additionally help to reduce the drag resistance of the body.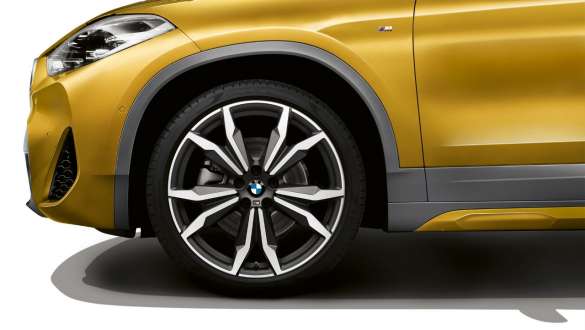 Wheel arches.
A sporty overall image: the prominent wheel arches in Frozen Grey from the M Sport X package provide an especially dynamic frame for the spectacular wheels. Just like the distinctive side skirts, they are an unmistakable indication that the BMW X2 is a fully fledged member of the X family.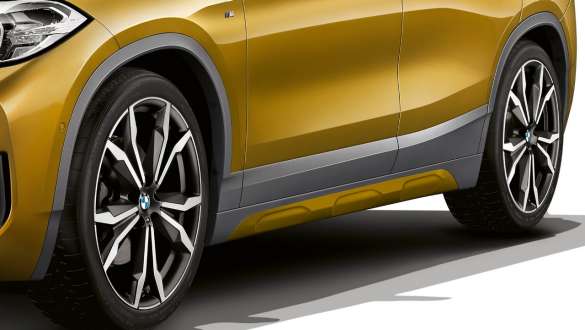 Side skirts.
What the BMW X2 starts, it carries through to the finish. The novel panels above the side skirts in Frozen Grey also demonstrate this. They form a seamless connection between the wheel arches also finished in Frozen Grey and systematically continue the powerful interplay between paint finish and decorative elements through to the rear.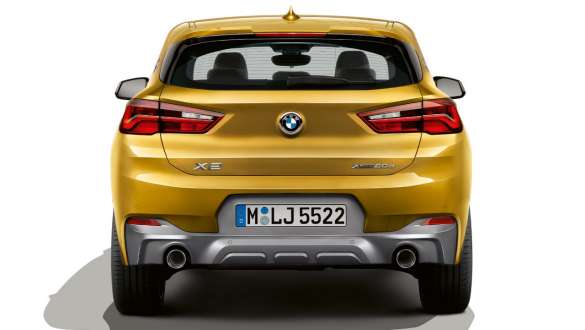 Rear design.
Systematically thought through: the unique design language extends to the rear. The tailgate is flush with the apron, thus creating an exceptionally aesthetic look. To complement this, the tailgate handle has been discreetly integrated into the BMW emblem.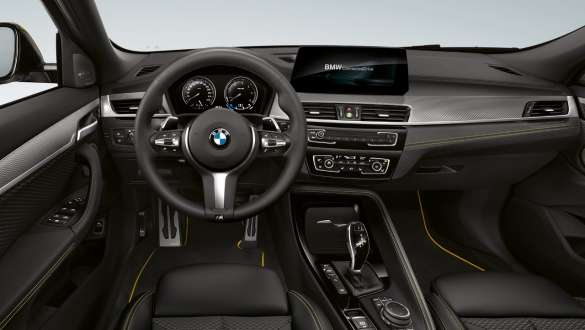 Driver-oriented cockpit.
The sophisticated atmosphere of the interior inspires with its ergonomic cockpit typical of BMW X models, which is systematically tailored to the driver. Consequently, all of instruments and functions are within easy reach and intuitive to operate. An especially sporty feature: the optional M leather steering wheel with multifunction and gearshift paddles sits perfectly in the hand and provides an unimpeded view of two clearly arranged round gauges.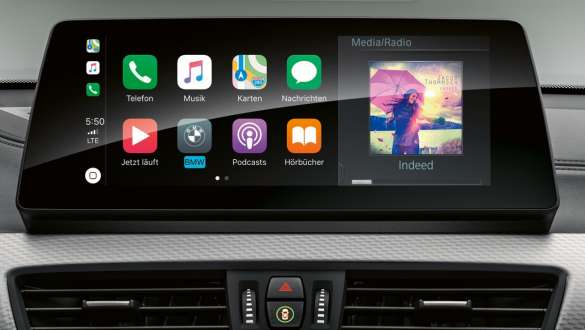 Progressive operating concept.
A welcoming comfort zone: the innovative operating concept sets standards in this class and raises communication to a new level. It is intuitive, straightforward and convenient to use – via iDrive Controller or by means of touch and voice control. Whether for navigation, connectivity or entertainment, the arrangement of the six live tiles can be freely selected and the information is also received in real time.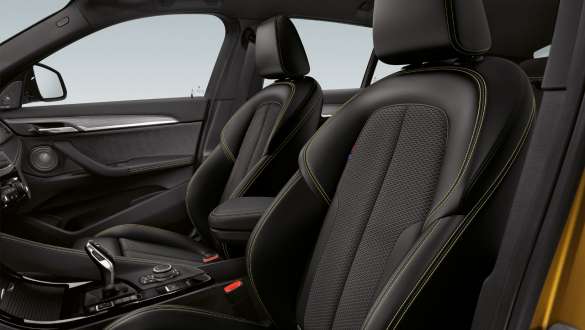 High-quality upholstery.
In keeping with the interior, the numerous upholstery options display high-quality craftsmanship and give the seats a high level of comfort. The illustrated cloth option in 'Micro Hexagon'/Alcantara with yellow contrast stitching is exclusively reserved for the M Sport package or M Sport X package of the BMW X2. As a special feature here, it also appears on the armrest, centre console and instrument panel, and thus impressively rounds off the athletic appearance of the entire interior.
THE DRIVING DYNAMIC OF THE BMW X2.
Drive train and chassis technologies of the BMW X2 at a glance.
Powerful engines. Direct steering. Optional M sport suspension. High-precision handling that sets standards within the class. For spirited dynamics and lively agility – whether for sprinting or long distances, urban driving or winding country roads. And all of this can be enhanced still further with the optional all-wheel drive system BMW xDrive. It provides the BMW X2 with outstanding traction and tracking stability, enabling it to take even the tightest corners as if guided by rails. Racing pulse included – for all those who are ready.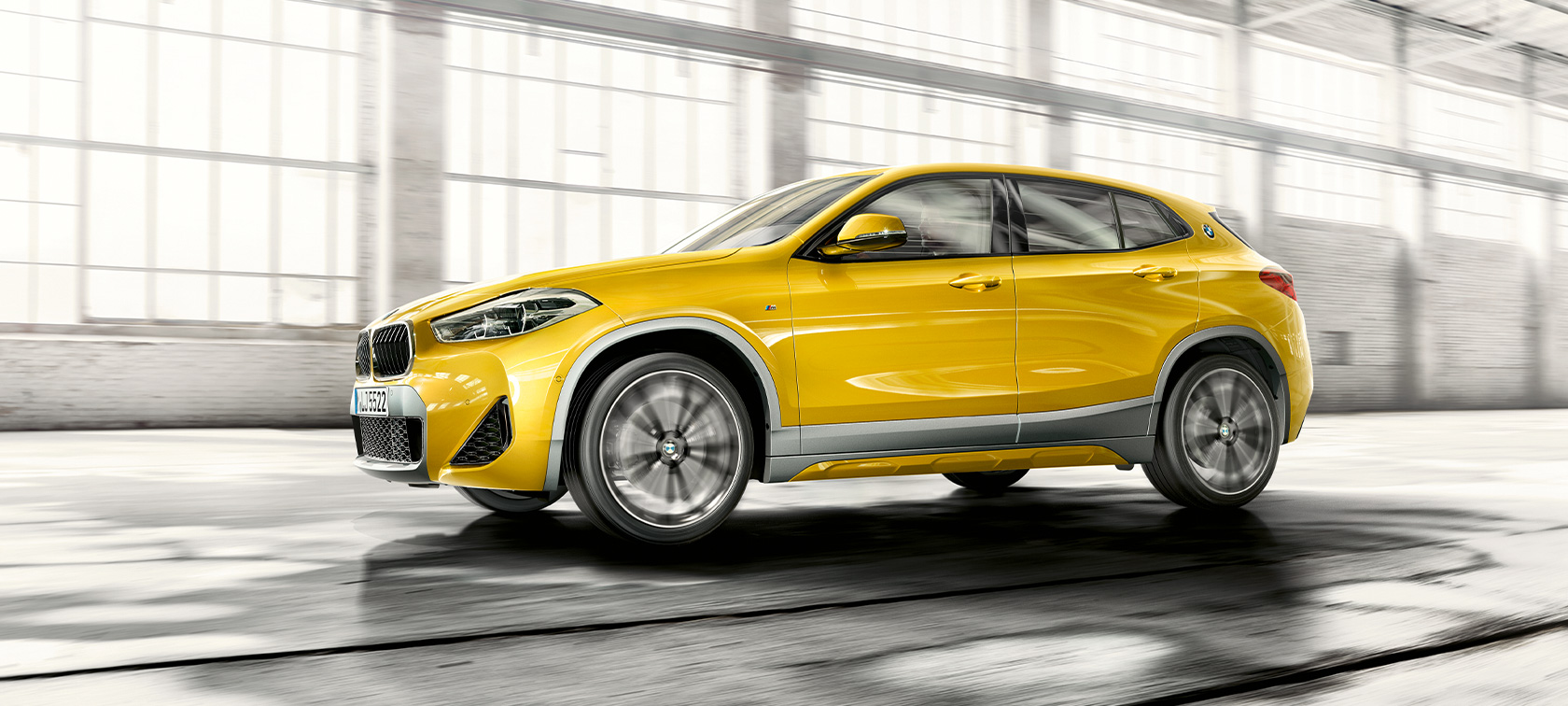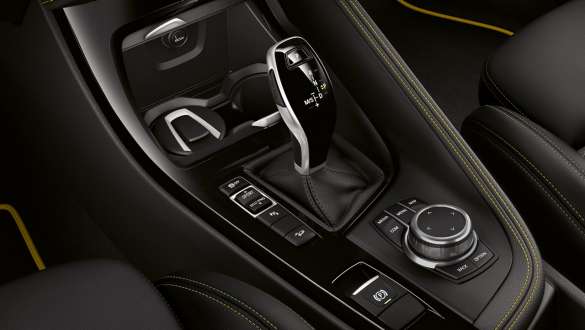 Sport transmission with double clutch.
The 7-speed Steptronic Sport transmission with double clutch offers incredibly sporty gear changes. Whether automatic or manual using gearshift paddles or gear lever - for comfortable coasting or incredibly dynamic driving. In SPORT mode and with the gear lever in the left-hand S/M position, the gear shifts are configured for maximum performance.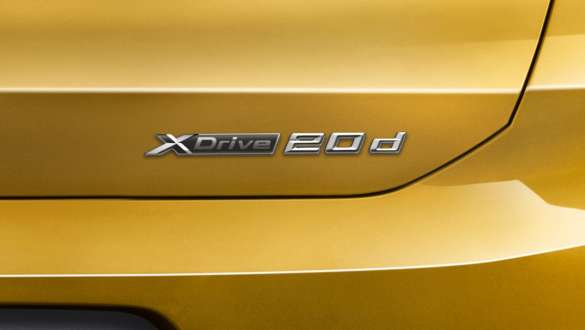 BMW xDrive.
The intelligent BMW xDrive all-wheel drive system smoothly and variably distributes drive power to the front and rear wheels for maximum traction, driving dynamics and safety in every driving situation. For even better agility, the electronically controlled power distribution for instance counterbalances oversteer or understeer on bends.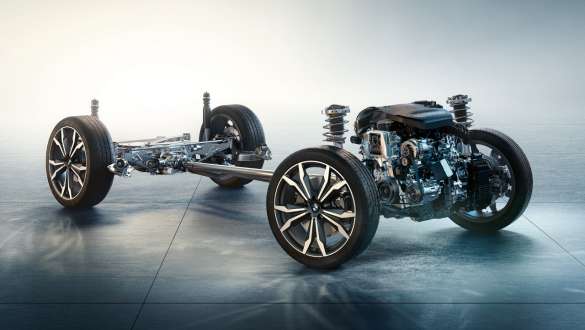 Adaptive suspension.
The adaptive suspension with a lowering of ten millimetres makes it possible to adjust the damper characteristics to suit the driving situation and combines ride comfort and driving dynamics with the best possible safety. Via the Driving Experience Control, the driver can choose the standard COMFORT mode or the SPORT mode.
THE DRIVING ASSISTANCE SYSTEMS OF THE BMW X2.
Thanks to the innovative My BMW App in the BMW X2, you always enjoy an optimum connection between smartphone and vehicle. Regardless of whether you plan appointment and routes and send them to the navigation system, share your current position with others in real time or want your smartphone to display the remaining journey on foot once you reach your destination. Experience an app that simplifies your life – BMW Connected makes it possible.
Driver Assistance
Connectivity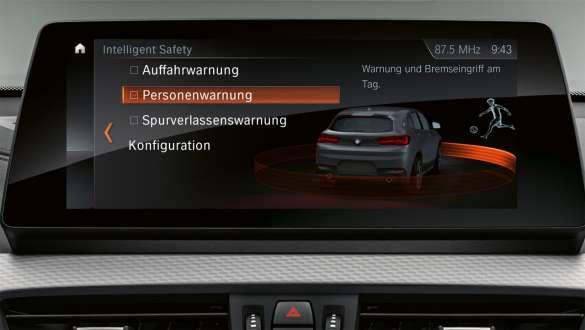 Driving Assistant Plus.
The Driving Assistant Plus equipment provides a clear improvement in safety and comfort. It includes the Collision Warning and Pedestrian Warning with light city braking function, Lane Departure Warning, the High-beam assistant, the speed limit info and the camera-based cruise control with Stop&Go function.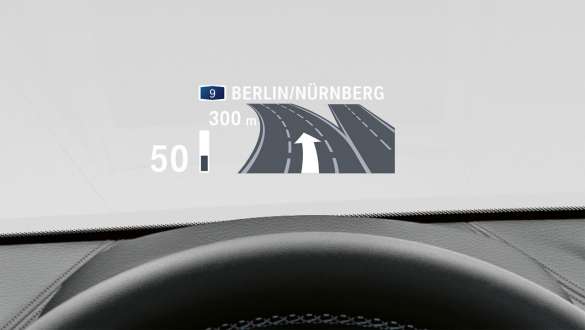 BMW Head-Up Display.
The full-colour BMW Head-Up Display projects information relevant to the journey directly into the driver's field of vision, thereby allowing them to fully concentrate on driving. The display includes information such as the current speed, navigation directions, Speed Limit Info incl. no-overtaking indicator, along with telephone and entertainment lists.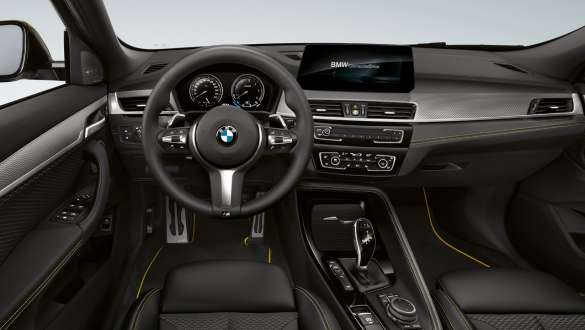 Active cruise control with Stop&Go function.
Active cruise control with Stop&Go function including Approach control warning with braking function maintains your preselected speed, as well as the distance to the driver ahead. The vehicle takes over accelerating and braking and keeps the predetermined distance to the car ahead even in slow-moving traffic and down to a stand-still in traffic jams.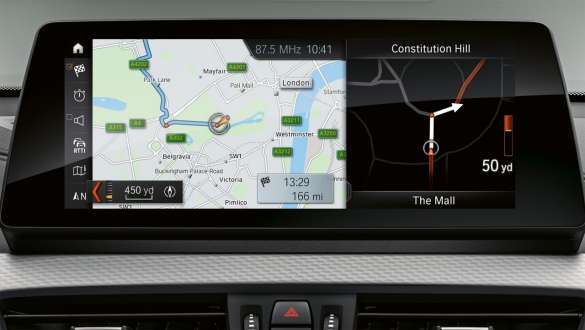 Navigation Plus.
Navigation Plus features a BMW Head-Up Display, an iDrive Touch Controller, a built-in 8.8" touch display and an instrument cluster with high-resolution 5.7" TFT display. The system is operated intuitively using either the iDrive Touch Controller, the direct menu control buttons and eight functional bookmarks, voice control or the touchscreen with interactive tiles.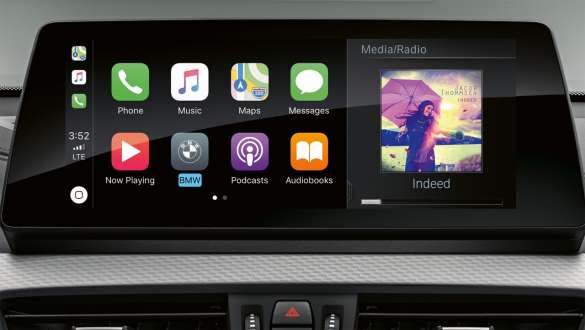 Smartphone Integration.
Why go without the features of your smartphone in your BMW when you can continue operating it as usual? With smartphone integration, your vehicle supports Apple CarPlay and Android Auto by means of a wireless connection between your smartphone and the vehicle. This allows you to conveniently use familiar functions and various apps in the vehicle.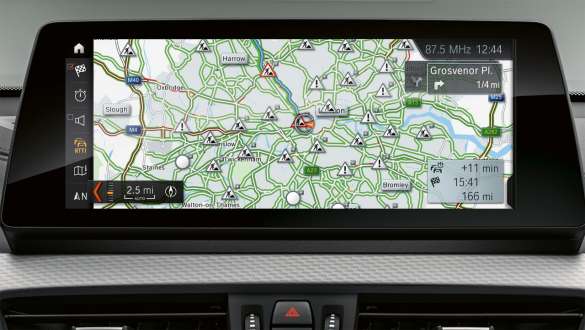 Real Time Traffic Information.
Why waste time in traffic jams? Real Time Traffic Information lets you reach your destination faster and more effectively. It monitors the current traffic situation virtually in real-time and calculates alternative routes. The local hazard warning system is an additional feature that alerts you to adverse road conditions or accidents.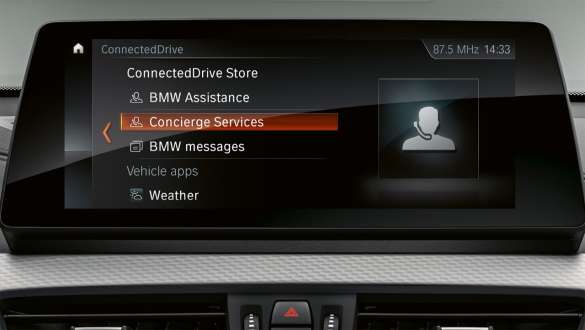 Concierge Service.
Will it be sunny tomorrow in Rome? When is my flight and where is the best restaurant in the city? Concierge Services are there to help when you are travelling and can support you with any request at the touch of a button – individual, personal and fast. Wherever you are, whatever you need.
MODELS OF THE BMW X SERIES X2.
Model M Sport X.
The Model M Sport X is inspired by rally sport. Specific design features in Frozen Grey metallic characterise the front, side and rear. They set strong accents and emphasise the high stance of the vehicle. In the interior, Model M Sport specific details underline the X character.
M Sport X exterior package including front apron with insert in Frozen Grey metallic, specifically designed air inlets and side sills in Frozen Grey metallic with inserts in body colour, wheel arch trim, claddings and rear apron diffuser insert in Frozen Grey metallic

19" M light alloy wheels Y spoke style 722 M with run-flat tyres; other wheels available

Sport seats for driver and front passenger in cloth 'Micro Hexagon' Sensatec Black with Yellow highlight; other upholsteries available

M leather steering wheel
TECHNICAL DATA OF THE BMW X2.
The BMW X2 xDrive20i.
BMW FINANCIAL SERVICES FOR THE BMW X2.
CHOOSE FINANCE DESIGNED EXCLUSIVELY FOR YOUR BMW.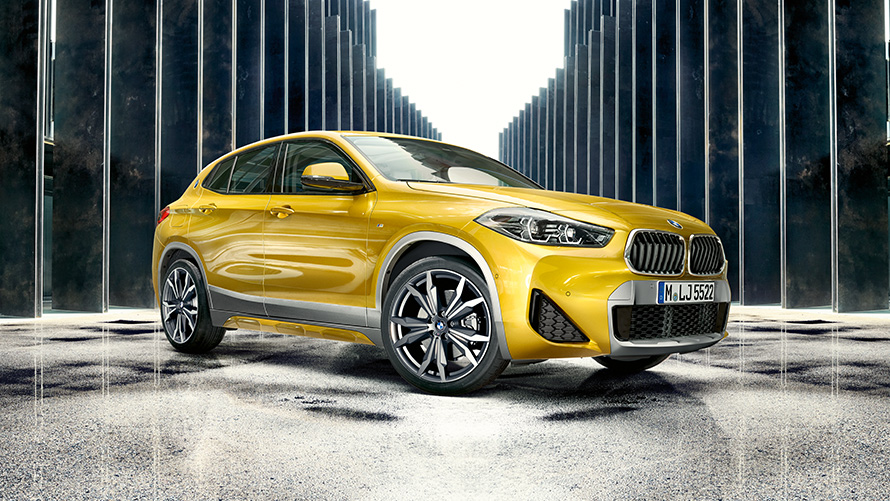 Whether for financing or leasing – each of our offers is individually adapted to your needs and desires.

BMW SERVICES.
SERVICE AND ASSISTANCE FOR THE BMW X2.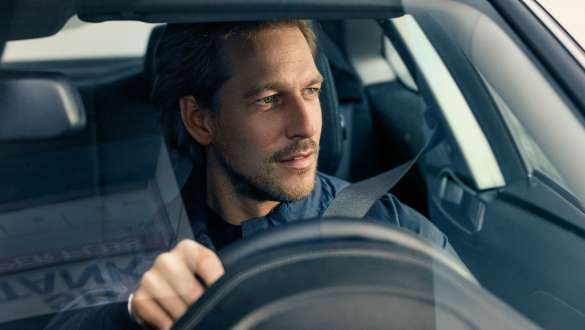 BMW Service Inclusive.
#whateverhappens: All-round carefree travelling for electric vehicles: this package offers you 100% transparency and convenient ease of planning. You select the term of either 4 or 6 years yourself – or a term of 3 years as a leasing customer. The contents of the service package:
Vehicle check service
Microfilter service
Brake fluid service
Find out more about BMW Service Inclusive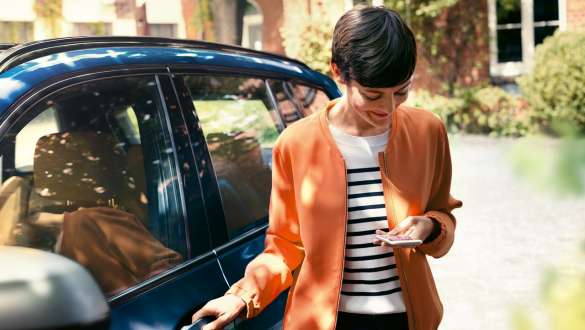 BMW Teleservices.
With the innovative Teleservices of BMW ConnectedDrive your BMW helps you to keep a clear head: when maintenance is needed or in case of a malfunction it provides your preferred BMW Service Partner with all relevant vehicle data. Your Service Partner will then contact you to arrange an appointment. So you can rely on a fast and straightforward service and don't have to think of everything yourself. The only requirement: you have registered your vehicle online in the BMW ConnectedDrive Portal and have selected a Service Partner. Discover now how BMW Teleservices can bring more convenience to your life.
Find out more about BMW Teleservices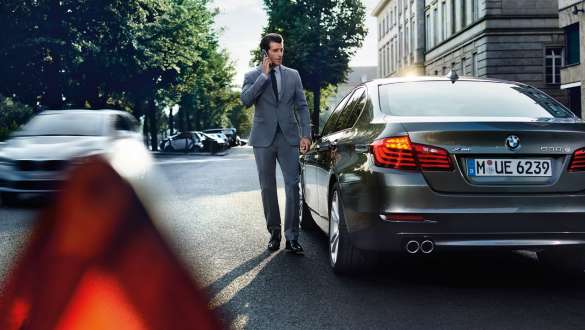 BMW Roadside Assistance.
The free BMW Roadside Assistance service is available to all BMW drivers around the clock, 365 days a year. A single call – and our experts are at your service, either on the phone or on the scene if required.
Find out more about BMW Roadside Assistance
FUEL CONSUMPTION AND CO2 EMISSIONS.
BMW X2 xDrive20i:
Fuel consumption in l/100 km (combined): 7.6–6.9
CO2 emissions in g/km (combined): 174–156
BMW X2 sDrive20i:
Fuel consumption in l/100 km (combined): 7.2–6.4
CO2 emissions in g/km (combined): 164–145
BMW X2 xDrive25e**:
Fuel consumption in l/100 km (combined): 1.8–1.7
CO2 emissions in g/km (combined): 42–38


Official figures for fuel consumption, CO2 emissions, electricity consumption and electric range were determined in accordance with the prescribed measurement procedure and comply with Regulation (EU) 715/2007 as amended. WLTP figures take into account any optional equipment in the case of ranges. For vehicles newly type-approved since 01.01.2021, the official specifications exist only according to WLTP. Further information on the NEDC and WLTP measurement methods can be found at www.bmw.de/wltp
** At temperatures below 0 degrees Celsius, purely electric driving mode of this plug-in hybrid will not be available until the battery has warmed up to an operational condition after the vehicle has travelled a few kilometers.
Read more
​
Fuel consumption and CO2 emissions.
BMW X2 xDrive20i:
Fuel consumption in l/100 km (combined): 7.1
CO2 emissions in g/km (combined): 163

The values of fuel consumptions, CO2 emissions and energy consumptions shown were determined according to the European Regulation (EC) 715/2007 in the version applicable at the time of type approval. The figures refer to a vehicle with basic configuration in Germany and the range shown considers optional equipment and the different size of wheels and tires available on the selected model.

The CO2 efficiency specifications are determined according to Directive 1999/94/EC and the European Regulation in its current version applicable. The values shown are based on the fuel consumption, CO2 values and energy consumptions according to the NEDC cycle for the classification.

When charging times are shown they can be affected by a number of factors such as type of charger, voltage supplied to the charger/car and type of current (AC or DC) supplied to the charger/car. The car also plays a role in charging times as it can be set by the driver to accept various different amperage and should preconditioning be used to heat or cool the vehicle while charging this will also affect the charging time.

The basis for the calculation of the charging times for 100 km range is the electric consumption of the vehicle based on the use of a high-Powered Charging station (HPC) or charging type and current as indicted in the literature above. The testing procedure measures are based on a 23 degrees Celsius battery start and ambient temperature with certification values excluding additional auxiliary consuming devices and systems within the vehicle such as seat heating, displays, air conditioning.

Individual consumption (fuel economy) may differ due to driving profile, vehicle load profile, auxiliary consumer usage, temperature, and ambient conditions. Consumption is based on WLTP or NEDC (whichever is indicated) best case conditions and is independently tested for BMW Group. If you are comparing this range with other models or brands make sure they are stating the same WLTP or NEDC testing regime. These results can be used to compare vehicles on a close to "like for like" basis but are unlikely to be achieved in real world conditions for reasons including temperature variation, driving conditions and the use of the auxiliary systems referred to above.

Information provided and images displayed on this site include overseas models and may show some features not available in New Zealand. Please contact an authorised BMW dealer for specific information on vehicles and features available in New Zealand. Product changes may have been made since production of this content.

Note: To obtain NZ CO2 figures for vehicles imported by BMW Group NZ in relation to the NZ Clean Car discount or "FeeBate" you will need to contact your preferred dealer. The Clean Car discount figures sourced from your dealer will differ from those listed in the BMW owner's handbook and reported figures as they have been converted by the NZ government to WLTP3 from figures derived through one of the following testing procedures: WLTP4 or NEDC or Japanese JC08 mode or Japanese 10-15 mode or CAFE test cycle.

For all vehicles not imported by BMW NZ (Used vehicle imports) you will need to contact the source market for these CO2 figures as BMW Group NZ has no access to and cannot source this CO2 data.

For more information on the New Zealand Clean Car Programme, please visit https://www.nzta.govt.nz/vehicles/clean-car-programme/