Radically sporty. Revolutionary and independent. With its breathtaking dynamics and spirited agility, the new BMW M240i xDrive Coupé unleashes an unrivalled performance. And above all, it's just pure and simple fun. Whether accelerating, cornering or sprinting along a straight stretch – the rev counter rises to match the pulse and adrenaline levels. At the same time, the progressively focused three-box design emphasises the uncompromisingly sporty ambitions with every aspect, displaying the BMW M240i xDrive Coupé to the best possible effect.


BMW M240i xDrive Coupé:
Fuel consumption in l/100 km (combined): 8.8-8.1
CO2 emissions in g/km (combined): 200-185
Read more
THE PERFORMANCE OF THE BMW M240i xDRIVE COUPÉ.
Power train, suspension and performance.
BMW M240i xDRIVE COUPÉ
Thrilling driving dynamics and agility with full suitability for everyday use.
BMW M TwinPower Turbo inline 6-cylinder petrol engine with 374 hp

M Sport suspension, M Sport differential and M Sport brakes as standard

Intelligent all-wheel drive BMW xDrive

275 kW (374 hp), 500 Nm, 0–100 km/h in 4.3 sec
BMW M240i xDRIVE COUPÉ – PRODUCT HIGHLIGHTS.
Driving dynamics and design features of the BMW M240i xDrive Coupé.
Exciting performance meets breathtaking looks: With its 374 hp (275 kW) BMW M TwinPower inline 6-cylinder petrol engine and sportily designed engineering features such as the Adaptive M suspension, the M sport differential or the variable sport steering, the BMW M240i xDrive Coupé offers a dynamic driving experience full of power and agility – combined with extremely precise handling. This high sporting aspiration is further enhanced by the M aerodynamics package and the M technology package. Rounding off the athletic appearance are M-specific design elements in Cerium Grey and exclusive highlights in the interior.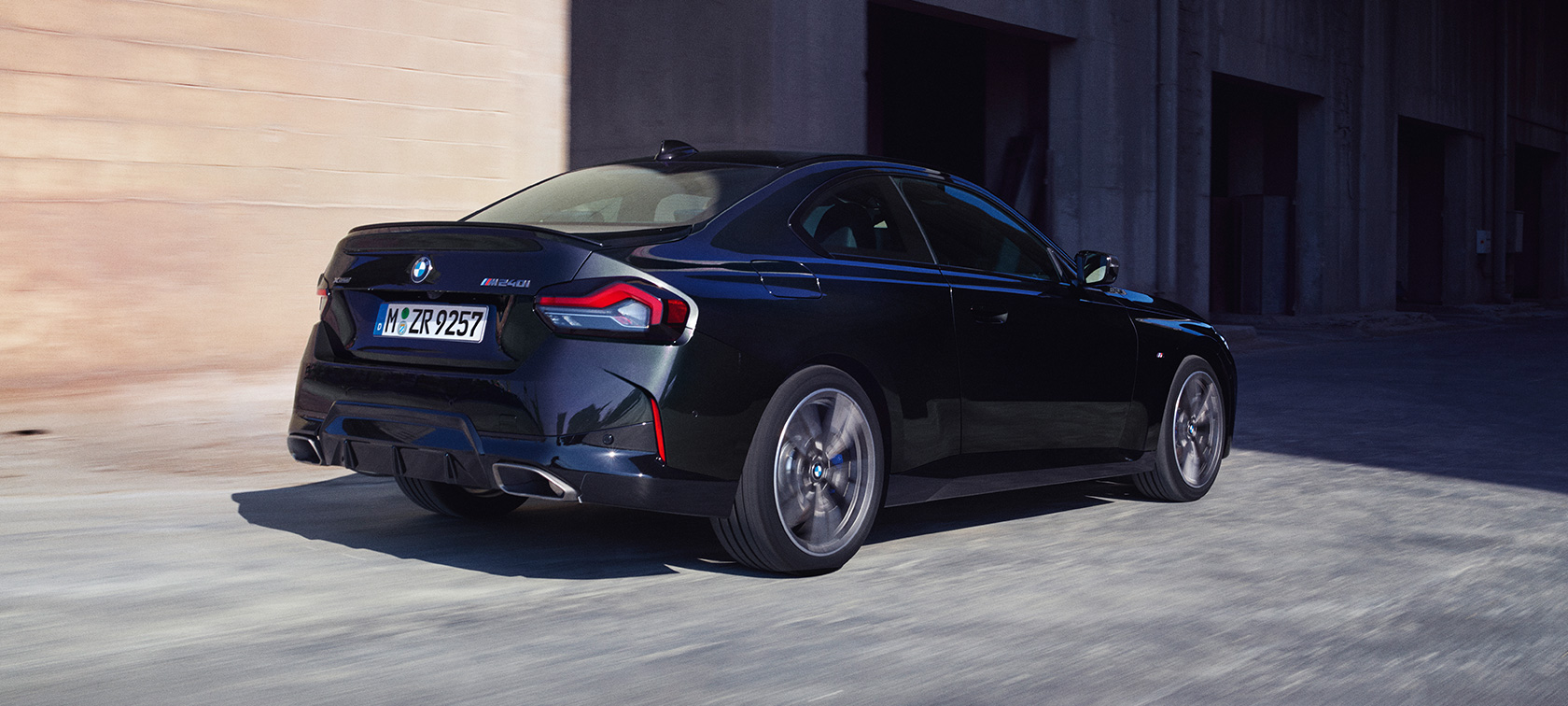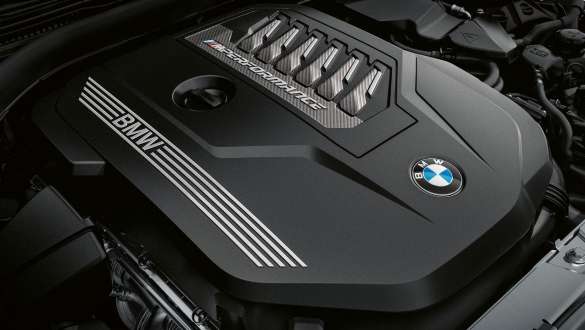 BMW M TwinPower Turbo inline 6-cylinder petrol engine.
A top athlete conveying pure driving pleasure: The M TwinPower Turbo inline 6-cylinder petrol engine features superior power delivery and the striking characteristic M engine sound. With Double-VANOS, Valvetronic, High-Precision Injection and a TwinScroll turbocharger, it provides excellent output.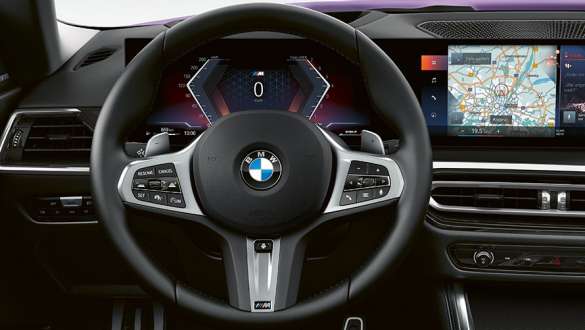 Adaptive M suspension and variable sport steering.
The Adaptive M suspension can be electrically adjusted at any time to suit the road and driving conditions. You can also adjust the suspension characteristics via the Driving Experience Control to enable your preferred driving style at the time – from comfortable to extremely athletic with markedly agile handling. The variable sport steering with Servotronic creates a direct and agile steering response and ensures that less physical effort is required to turn the wheel. It reacts to the angle of the steering wheel with varying steering ratios. This improves handling when driving more dynamically and reduces the effort needed to steer when parking and turning.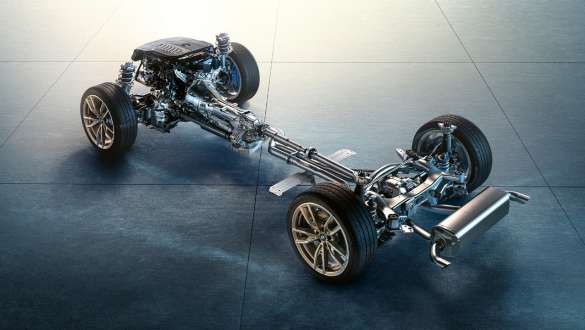 M sport differential.
The M sport differential optimises traction and driving stability when changing lanes or accelerating out of a bend, when taking bends at high speeds or on different road surfaces. Traction is optimised with the help of an electronically operated device that reduces the difference in revolution speed between the rear wheels.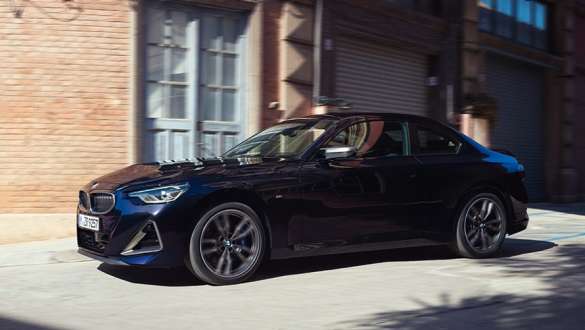 Steptronic Sport transmission.
The 8-speed Steptronic Sport transmission offers incredibly sporty gear changes. Whether automatic or manual using the selector lever or gearshift paddles – for comfortable coasting or incredibly dynamic driving. In SPORT PLUS mode and with the selector lever in the left-hand S/M position, the gear shifts are configured for the maximum performance.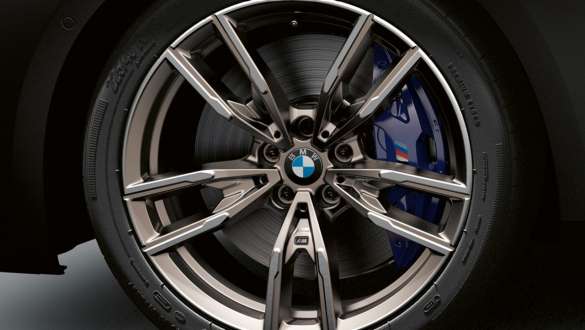 M Sport brake.
The M Sport brake has four-piston fixed calipers at the front and single-piston floating calipers at the rear in dark blue metallic with the M designation and features larger brake discs to ensure an excellent braking performance. Adapted to your BMW's very high dynamic potential, it also allows an exceptional athletic driving style and excellent braking on wet surfaces.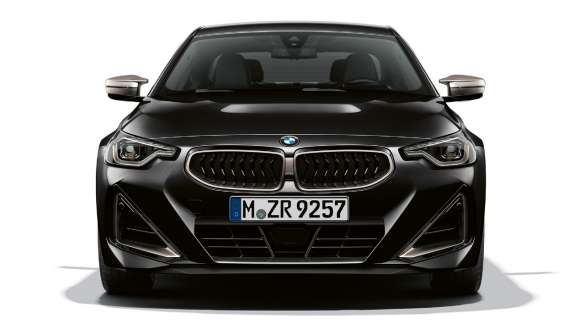 Front design.
The front of the BMW M240i xDrive Coupé is the ultimate in sporting flair and also supremely independent: the powerdome on the bonnet speaks for itself. The expressive kidney grille has a frame in Cerium Grey and novel flaps that open or close according to the demand for air. Distinctive headlights reference legendary BMW Coupé icons such as the BMW 2002 while the M-specific front apron – part of the standard-feature M aerodynamics package – with its clearly contoured and triangular lateral air inlets in Cerium Grey underlines the impressive dynamics of the M Automobile.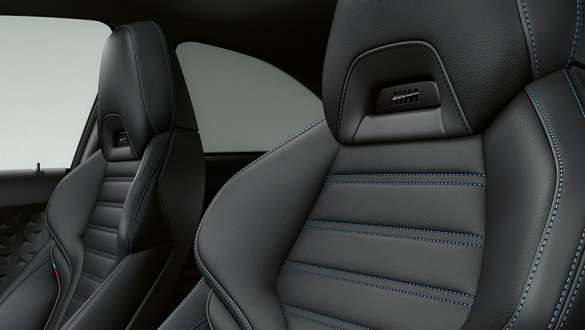 Rear design.
The rear of the BMW M240i xDrive Coupé has an extremely athletic appearance. The compact rear lights with positioning at the outer extremes accentuate the broad stance while the standard-feature rear spoiler in body colour improves the driving characteristics thanks to optimised aerodynamics and also sets sporty accents. Also adding to this effect is the M-specific rear apron, which impresses with its striking diffuser in Black high gloss and a distinctive hexagonal inlay. The overall dynamic appearance is rounded off by free-form tailpipes in Cerium Grey.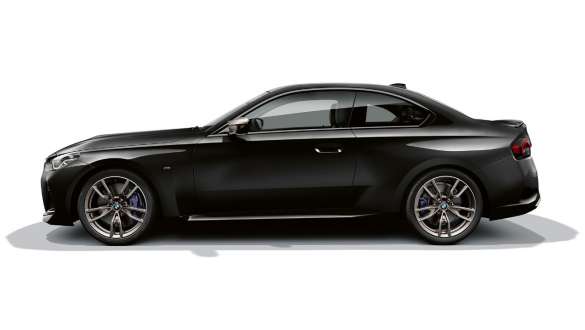 Side design.
The side view of the BMW M240i xDrive Coupé is that of a radically sporty coupé silhouette. The agile three-box design with extended bonnet, short overhangs and rear-set passenger compartment creates an extremely dynamic impression. At the same time, the vertically positioned kidney grille section, known as the shark nose, lends the lateral design additional dynamics. The M mirror caps in Cerium Grey and the precise shoulder lines extending from the headlights to the rear lights accentuate the vehicle's sporting ambitions.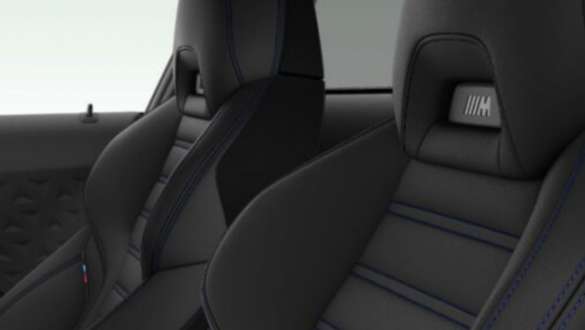 M Sport seats.
The multi-adjustable M Sport seats with bucket seat character and partly integrated headrest provide excellent lateral support for you and your front passenger. In addition, the backrest width can be individually adjusted. Their special design with black M logo highlights the vehicle's athletic capabilities.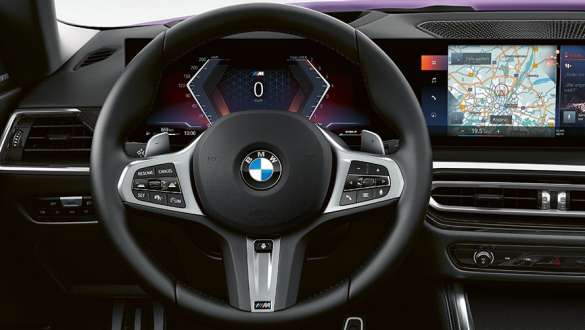 M Leather steering wheel.
The M Leather steering wheel including multifunction buttons, an M badge and an integrated driver-side airbag is featured in three-spoke design. With a steering wheel rim in leather 'Walknappa' Black with black stitching and contoured thumb rests, it provides a direct, athletic steering experience.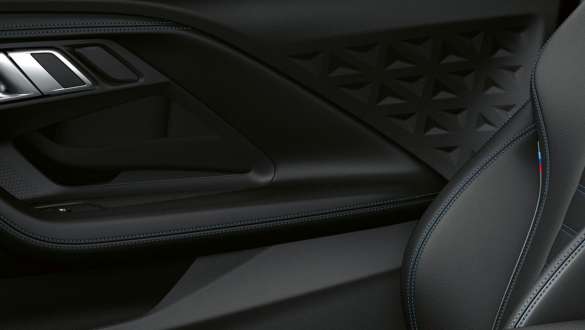 M interior trim.
The illuminated M interior trim uniquely showcases the M colours for an interior that is bound to catch anyone's eye. The door trim panels, illuminated in M colours, emphasise the exclusive, sporty character of the vehicle, while the fade effect highlights the dynamics for which the strongest letters in the world are renowned.
BMW M240i xDRIVE COUPÉ – SPORTY IMPRESSIONS.
The design highlights of the BMW M240i xDrive Coupé in the exterior.
DRIVER`S COCKPIT & TECHNOLOGIES.
Operating concept, digital services and driver assistance systems of the BMW M240i xDrive Coupé.
Extremely focused and uncompromisingly well connected: Inside the driver-oriented cockpit of the BMW M240i xDrive Coupé, you be surrounded by state-of-the-art technology. Enjoy the benefits of intelligent driver assistance systems when driving and parking or communicate with your BMW using the BMW Intelligent Personal Assistant. A host of connectivity features and digital services are also available to provide you with an ideal link to your BMW and the world – for contemporary mobility at the highest possible level.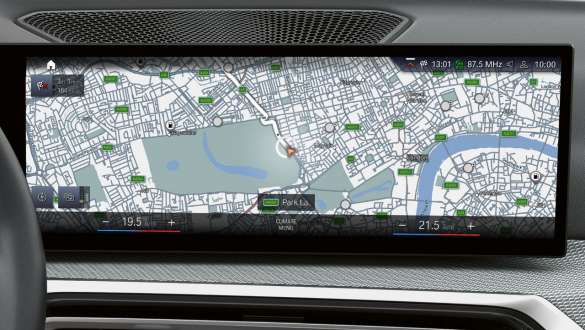 BMW Live Cockpit Professional.
The BMW Live Cockpit Professional with navigation function includes two high-quality displays consisting of a high-resolution 10.25" Control Display that can be operated by touch and a fully digital 12.3" instrument display. The BMW Operating System 7 can also be operated via the iDrive Touch Controller*.

*For this vehicle model, the touch functionality for the iDrive controller can currently not be offered.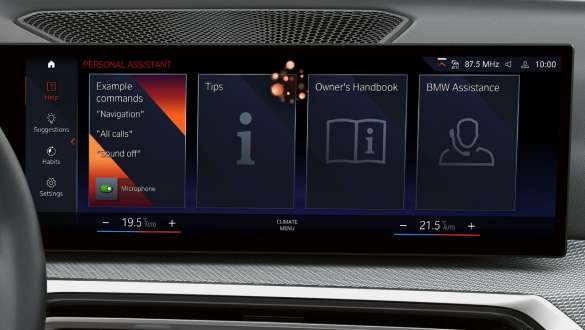 BMW Intelligent Personal Assistant.
Wouldn't it be incredible if your BMW was also your personal vehicle expert? Communicate with your vehicle using the BMW Intelligent Personal Assistant. Say natural commands to operate numerous vehicle functions. It can also explain topics about your vehicle and helps you to get to know your BMW even better.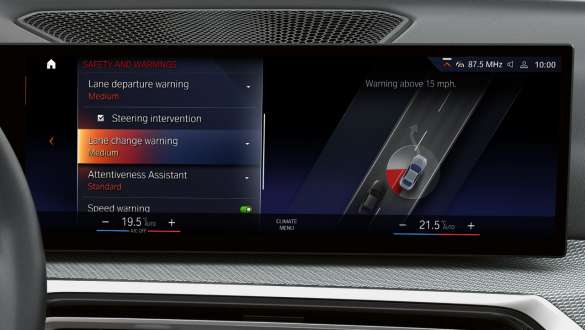 Driving Assistant.
The safety package Driving Assistant includes front collision warning with braking function, Speed Limit Assist including Speed Limit Display with no-overtaking indicator and pre-warning as well as rear crossing traffic warning. Lane Departure Warning and Lane Change Warning with active return, as well as rear collision warning complete the features.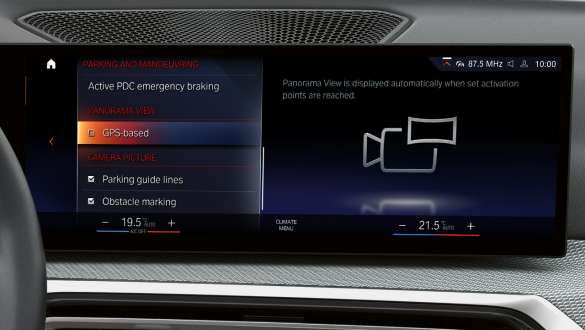 Parking Assistant Plus.
Parking Assistant Plus makes parking and manoeuvring the vehicle easier. It features among others the Surround View system including Top View, Panorama View, Remote 3D View, as well as a lateral parking aid, the emergency braking function Active Park Distance Control, Parking Assistant with longitudinal and lateral guidance and Reversing Assistant.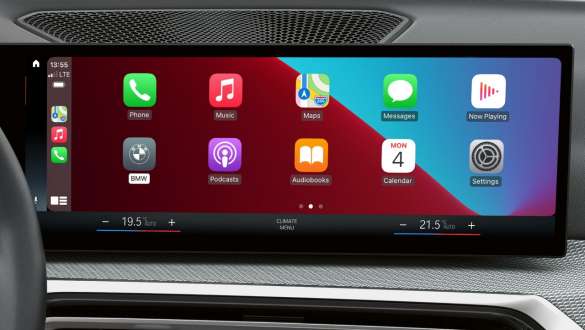 Smartphone integration.
Why go without the features of your smartphone in your BMW when you can continue operating it as usual? With smartphone integration, your vehicle supports Apple CarPlay® and Android Auto® by means of a wireless connection between your smartphone and the vehicle. This allows you to conveniently use familiar functions and various apps in the vehicle.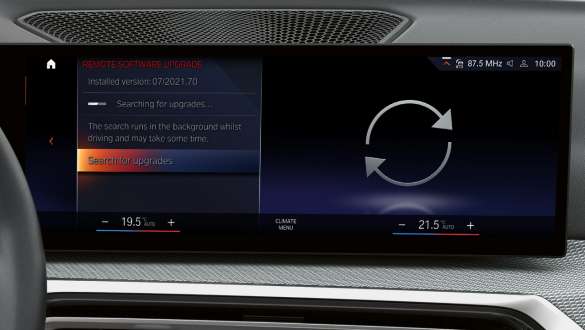 Remote Software Upgrade.
The latest software version always on board. With Remote Software Upgrade, your BMW will always be up to date. You can simply download the upgrades via the My BMW App or via the SIM card installed in the vehicle and then install them. In this way, other available functions in your BMW are also activated.
Amazon Alexa Car integration.
'Alexa, add teabags to my shopping list.' 'Alexa, what is the weather like in Munich?' With the Amazon Alexa Car Integration, using the voice service in your car is effortless, just as you are used to at home. Alexa's responses are also shown as visual feedback on your vehicle's control display.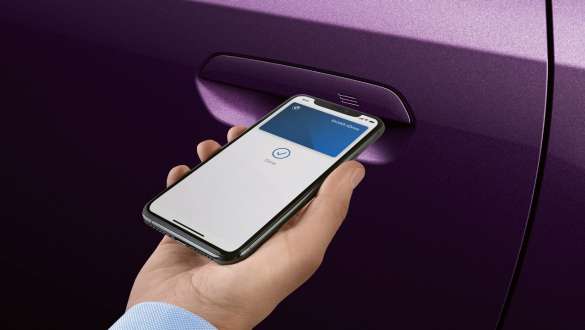 BMW Digital Key.
The BMW Digital Key turns your compatible smartphone* into a vehicle key. To unlock, simply hold the smartphone next to the door handle; before starting your BMW place it on the smartphone tray. In addition, you can send a Digital Key to up to five friends, and even limit the maximum speed, for example – ideal for novice drivers.

*BMW Digital Key is compatible with selected smartphones only. A list of compatible smartphones is available at bmw.com/digitalkey. The use of BMW Digital Key requires the Teleservices equipment.
TECHNICAL DATA OF THE BMW 2 SERIES COUPÉ M AUTOMOBILE.
BMW M240i xDRIVE COUPÉ.
| | |
| --- | --- |
| Engine power in kW (hp) at 1/min: | |
| Max. torque in Nm at 1/min: | |
| Acceleration 0–100 km/h in s: | |
| Fuel consumption combined in l/100 km: | |
M PERFORMANCE PARTS AND ORIGINAL BMW ACCESSORIES FOR THE BMW 2 SERIES COUPÉ M AUTOMOBILE.
The BMW M240i xDrive Coupé offers dynamic driving pleasure and a host of sporty equipment. Original BMW Accessories are available for your special needs. We offer a broad selection of individual additions and extras that are perfectly matched to this extraordinary sports car in quality, design and performance, offering you maximum added value – whatever you have in mind.
BMW M Performance Parts
Original BMW Accessories
PRICES, FINANCING AND LEASING OF THE BMW 2 SERIES COUPÉ M AUTOMOBILE.
BMW FINANCIAL SERVICES FOR THE BMW M240i xDRIVE COUPÉ.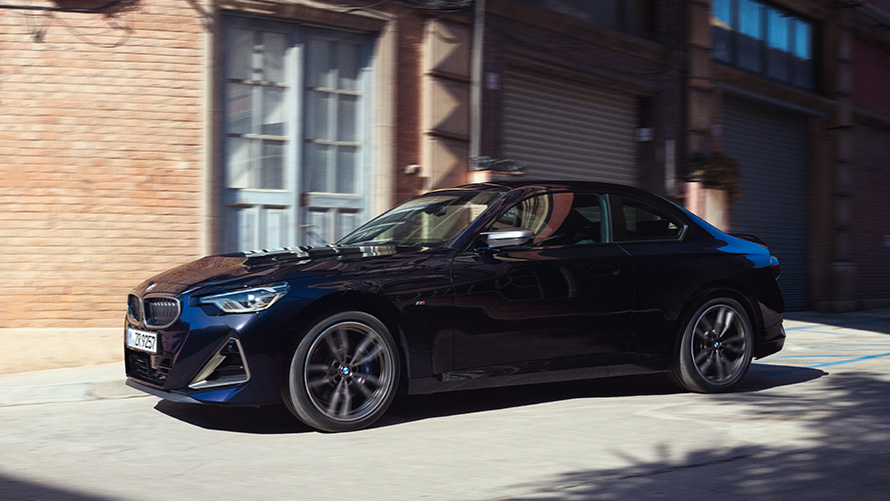 Tailor-made financial products from BMW Financial Services take you quickly and flexibly to your destination. Whether for financing or leasing – each of our offers is individually adapted to your needs and desires. Find out more about attractive financing solutions or the appropriate leasing offer for your new BMW M240i xDrive Coupé.
SERVICE AND ASSISTANCE FOR THE BMW M240i xDRIVE COUPÉ.
BMW SERVICE INCLUSIVE FOR THE BMW M240i xDRIVE COUPÉ.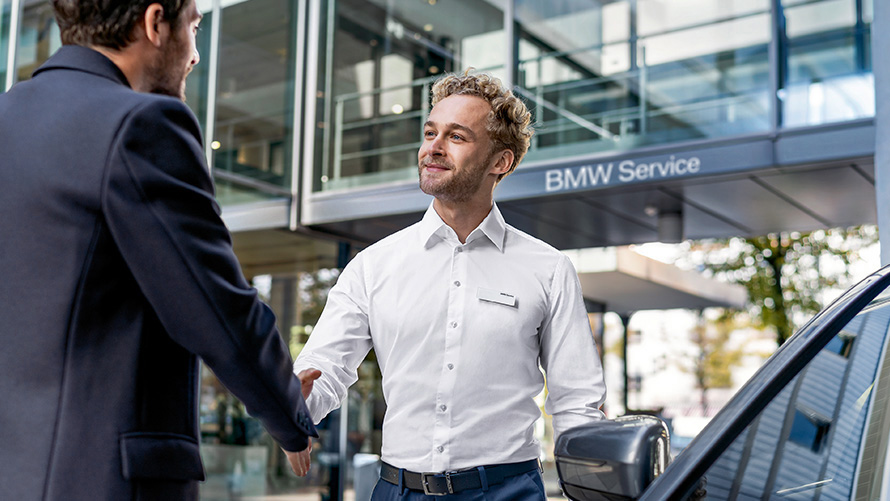 #whateverhappens. All-round carefree travelling: this package offers you 100% transparency and convenient ease of planning for your selected term of duration or mileage.
Vehicle check service in accordance with BMW guidelines
Microfilter service
Brake fluid service
Fuel consumption and CO2 emissions of the BMW M240i xDrive Coupé.
BMW M240i xDrive Coupé:
Fuel consumption in l/100 km (combined): 8.8–8.1
CO2 emissions in g/km (combined): 200–185

Official data on fuel consumption and CO2 emissions were determined in accordance with the mandatory measurement procedure and comply with Regulation (EU) 715/2007 valid at the time of type approval. WLTP values are used for assessing taxes and other vehicle-related charges, calculated and based on the new WLTP measurement procedure according since 01.01.2021. For more information on the WLTP and NEDC measurement procedures, see www.bmw.de/wltp
Read more
​
Fuel consumption and CO2 emissions of the BMW M240i xDrive Coupé.
BMW M240i xDrive Coupé:
Fuel consumption in l/100 km (combined): 8.8-8.1
CO2 emissions in g/km (combined): 200-185

The values of fuel consumptions, CO2 emissions and energy consumptions shown were determined according to the European Regulation (EC) 715/2007 in the version applicable at the time of type approval. The figures refer to a vehicle with basic configuration in Germany and the range shown considers optional equipment and the different size of wheels and tires available on the selected model.

The CO2 efficiency specifications are determined according to Directive 1999/94/EC and the European Regulation in its current version applicable. The values shown are based on the fuel consumption, CO2 values and energy consumptions according to the NEDC cycle for the classification.

When charging times are shown they can be affected by a number of factors such as type of charger, voltage supplied to the charger/car and type of current (AC or DC) supplied to the charger/car. The car also plays a role in charging times as it can be set by the driver to accept various different amperage and should preconditioning be used to heat or cool the vehicle while charging this will also affect the charging time.

The basis for the calculation of the charging times for 100 km range is the electric consumption of the vehicle based on the use of a high-Powered Charging station (HPC) or charging type and current as indicted in the literature above. The testing procedure measures are based on a 23 degrees Celsius battery start and ambient temperature with certification values excluding additional auxiliary consuming devices and systems within the vehicle such as seat heating, displays, air conditioning.

Individual consumption (fuel economy) may differ due to driving profile, vehicle load profile, auxiliary consumer usage, temperature, and ambient conditions. Consumption is based on WLTP or NEDC (whichever is indicated) best case conditions and is independently tested for BMW Group. If you are comparing this range with other models or brands make sure they are stating the same WLTP or NEDC testing regime. These results can be used to compare vehicles on a close to "like for like" basis but are unlikely to be achieved in real world conditions for reasons including temperature variation, driving conditions and the use of the auxiliary systems referred to above.

Information provided and images displayed on this site include overseas models and may show some features not available in New Zealand. Please contact an authorised BMW dealer for specific information on vehicles and features available in New Zealand. Product changes may have been made since production of this content.

Note: To obtain NZ CO2 figures for vehicles imported by BMW Group NZ in relation to the NZ Clean Car discount or "FeeBate" you will need to contact your preferred dealer. The Clean Car discount figures sourced from your dealer will differ from those listed in the BMW owner's handbook and reported figures as they have been converted by the NZ government to WLTP3 from figures derived through one of the following testing procedures: WLTP4 or NEDC or Japanese JC08 mode or Japanese 10-15 mode or CAFE test cycle.

For all vehicles not imported by BMW NZ (Used vehicle imports) you will need to contact the source market for these CO2 figures as BMW Group NZ has no access to and cannot source this CO2 data.

For more information on the New Zealand Clean Car Programme, please visit https://www.nzta.govt.nz/vehicles/clean-car-programme/