SPORTINESS IN A NEW TOP FORM
THE HIGHLIGHTS OF THE BMW 8 SERIES GRAN COUPÉ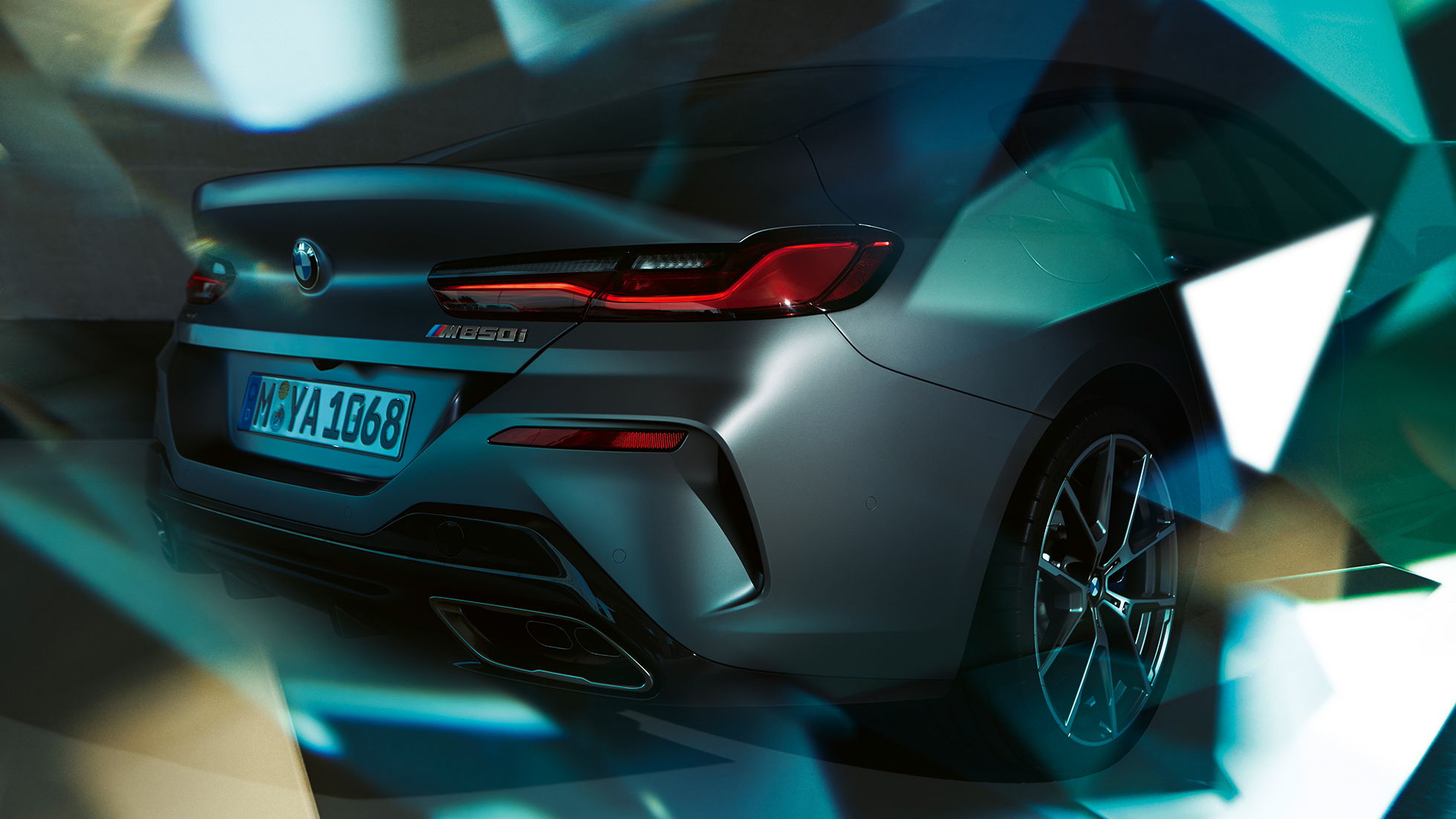 SPORTY WITH NO COMPROMISES
THE EXTERIOR DESIGN OF THE NEW BMW 8 SERIES GRAN COUPÉ
Dynamic sports coupé with character: the design language of the BMW 8 Series Gran Coupé with its fascinating aesthetic is a new interpretation of the luxurious sports car. The athletic front and elegant coupé silhouette, distinctively defines the BMW 8 Series Gran Coupé. The breathtaking design, precise contours and powerful proportions produces thrills from the very first moment.
POWERFUL AGILITY
SPORTS CAR PERFORMANCE IN THE BMW 8 SERIES GRAN COUPÉ
The efficient BMW TwinPower Turbo petrol engines of the BMW 8 Series Gran Coupé and the perfectly coordinated drivetrain and chassis components are a guarantee of unforgettable driving experiences. After all, this sports car is fast, powerful and extremely agile, reacts with absolute authority in every driving situation and always has reserves. Whether in urban traffic, on the highway or steering around winding roads, the BMW 8 Series Gran Coupé has an answer to everything – and one that guarantees ultimate driving experience.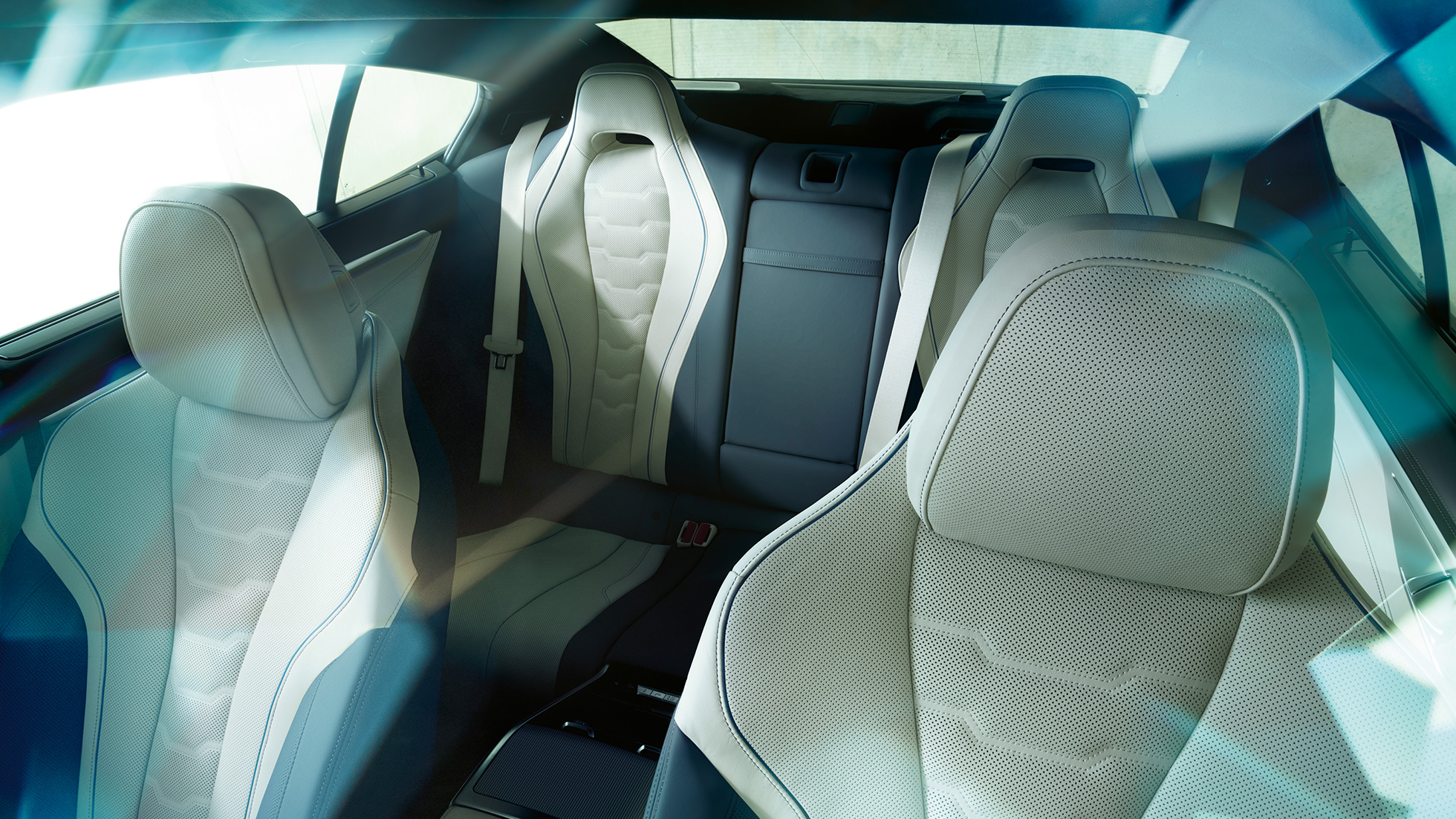 ULTIMATE DRIVING MACHINE TO THE POWER OF FOUR
SPORTS DRIVING FOR FOUR PASSENGERS IN THE BMW 8 SERIES GRAN COUPÉ
In the BMW 8 Series Gran Coupé, four passengers get to enjoy the Ultimate Driving Machine. Generous amounts of space in the interior and outstandingly comfortable leather seats with the character of individual seats. The BMW 8 Series Gran Coupé ensures all four passengers will experience outstanding comfort..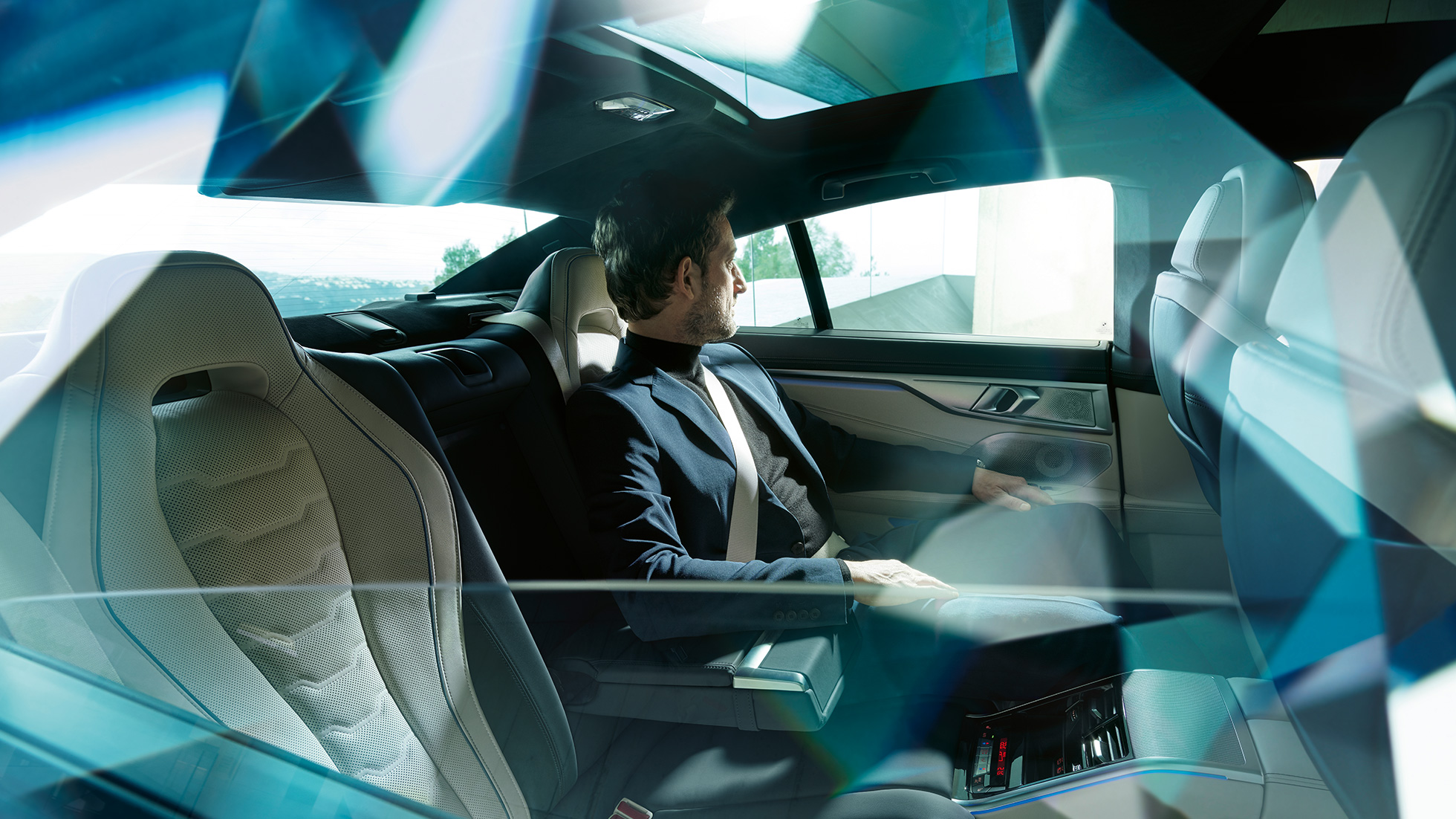 GENEROUS AMBIENCE
THE SPACIOUSNESS OF THE BMW 8 SERIES GRAN COUPÉ
In the rear passenger compartment of the BMW 8 Series Gran Coupé, two passengers can enjoy impressive head and leg room. Even on long journeys, supreme comfort and perfect relaxation are guaranteed. The Panorama glass roof additionally reinforces this experience of spaciousness and the feeling of freedom by supplying unique views and ambience atmosphere.
INDIVIDUAL LUXURY WITH A SPORTY CHARACTER
INTERIOR HIGHLIGHTS OF THE BMW 8 SERIES GRAN COUPÉ
The interior design of the BMW 8 Series Gran Coupé radiates individual luxury with each of its fine details and at the same time delivers a clear declaration of ambitious sporting intent. The high quality leather upholstery is highly exclusive, all materials are of superior quality and are complemented by a perfect surface finish. Combined with masterly craftsmanship, the BMW 8 Series Gran Coupé presents a modern and first-class interior with supreme comfort and an outstandingly generous level of spaciousness.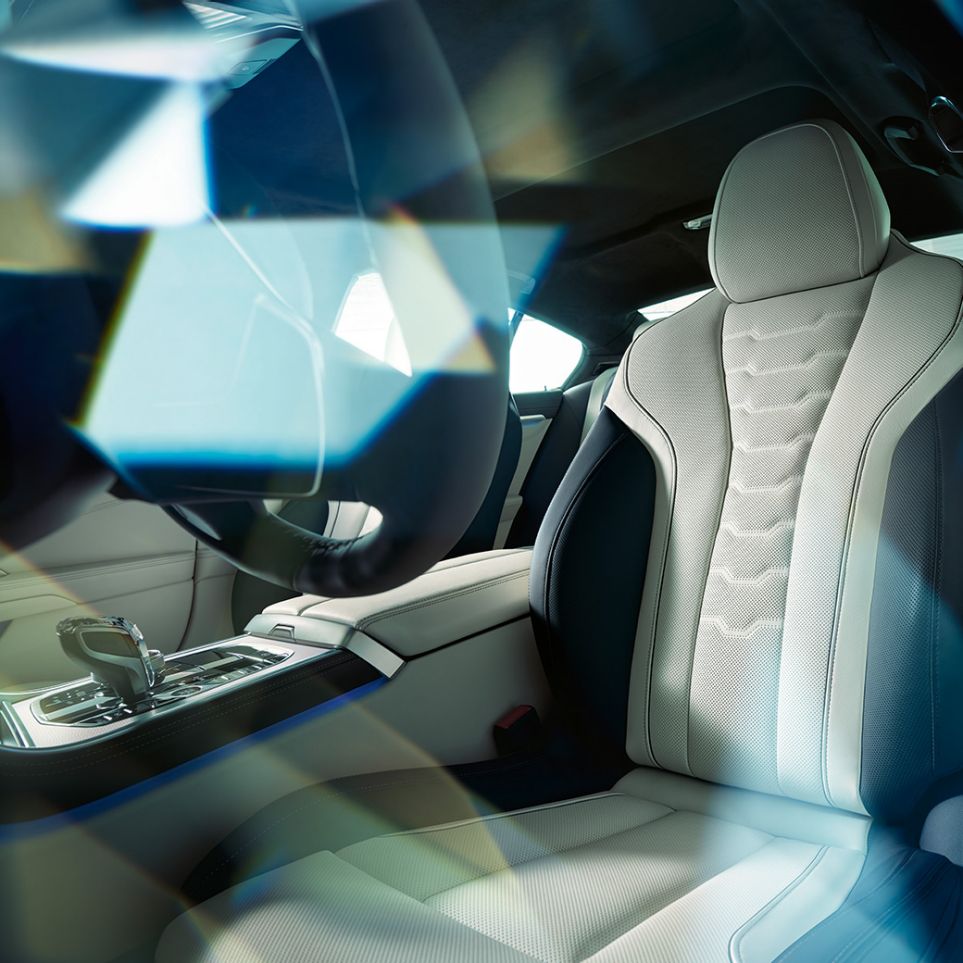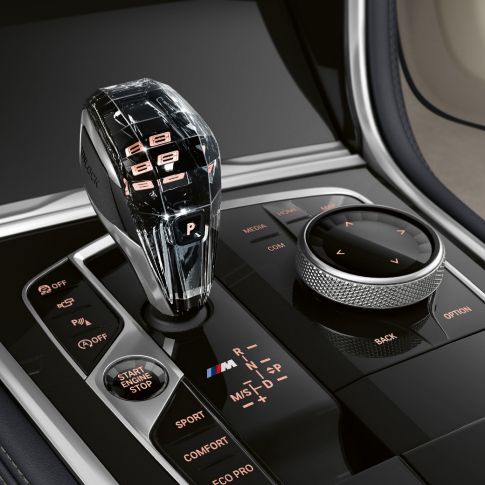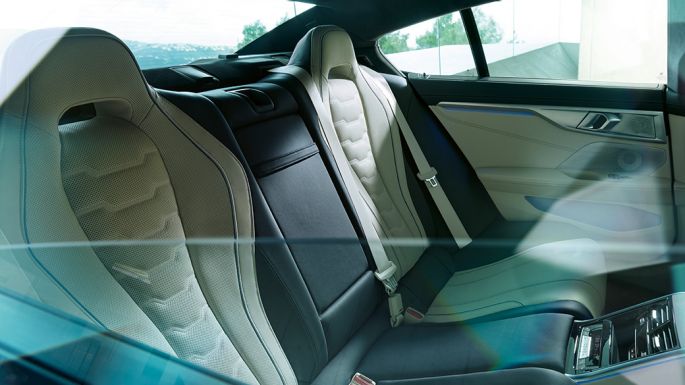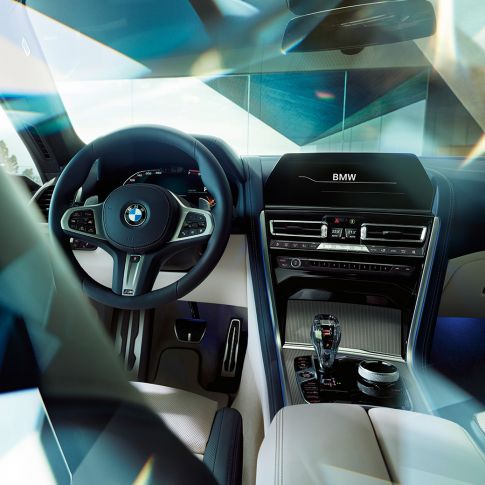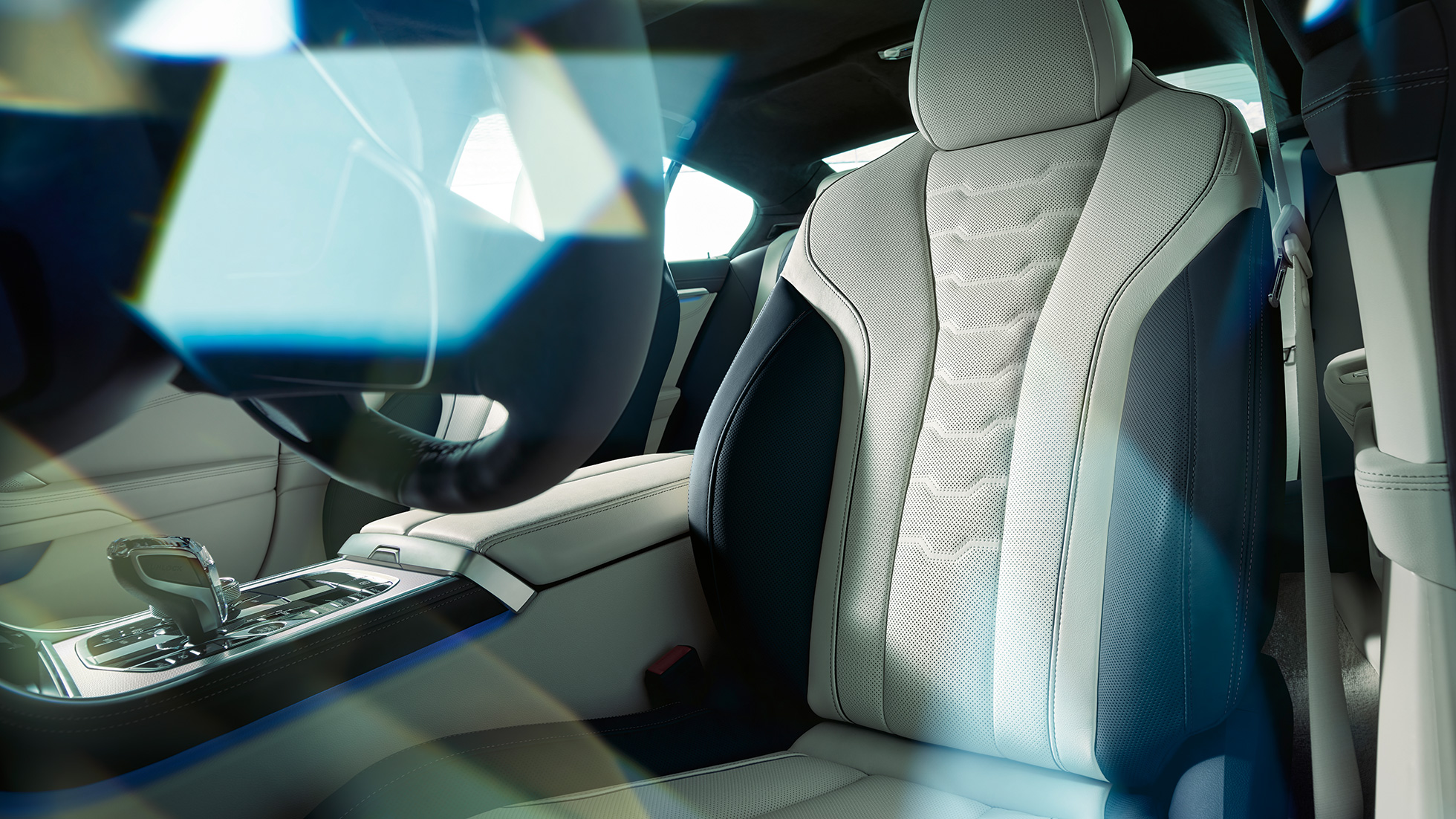 EXCLUSIVE SEATING
THE MULTIFUNCTIONAL SEATS IN THE BMW 8 SERIES GRAN COUPÉ CAN BE ALTERED VIA AN ACTIVE BACKREST ADJUSTMENT, A VARIABLE LUMBAR SUPPORT AND A MANUAL SEAT DEPTH CONTROL TO IDEALLY MATCH PERSONAL PREFERENCES. THE SEATS ARE COVERED WITH THE MOST EXCLUSIVE LEATHER, SUCH AS IN THE BMW INDIVIDUAL FINE-GRAIN 'MERINO' UPHOLSTERY IN IVORY WHITE/NIGHT BLUE BICOLOUR WITH ELEGANT CONTRAST STITCHING.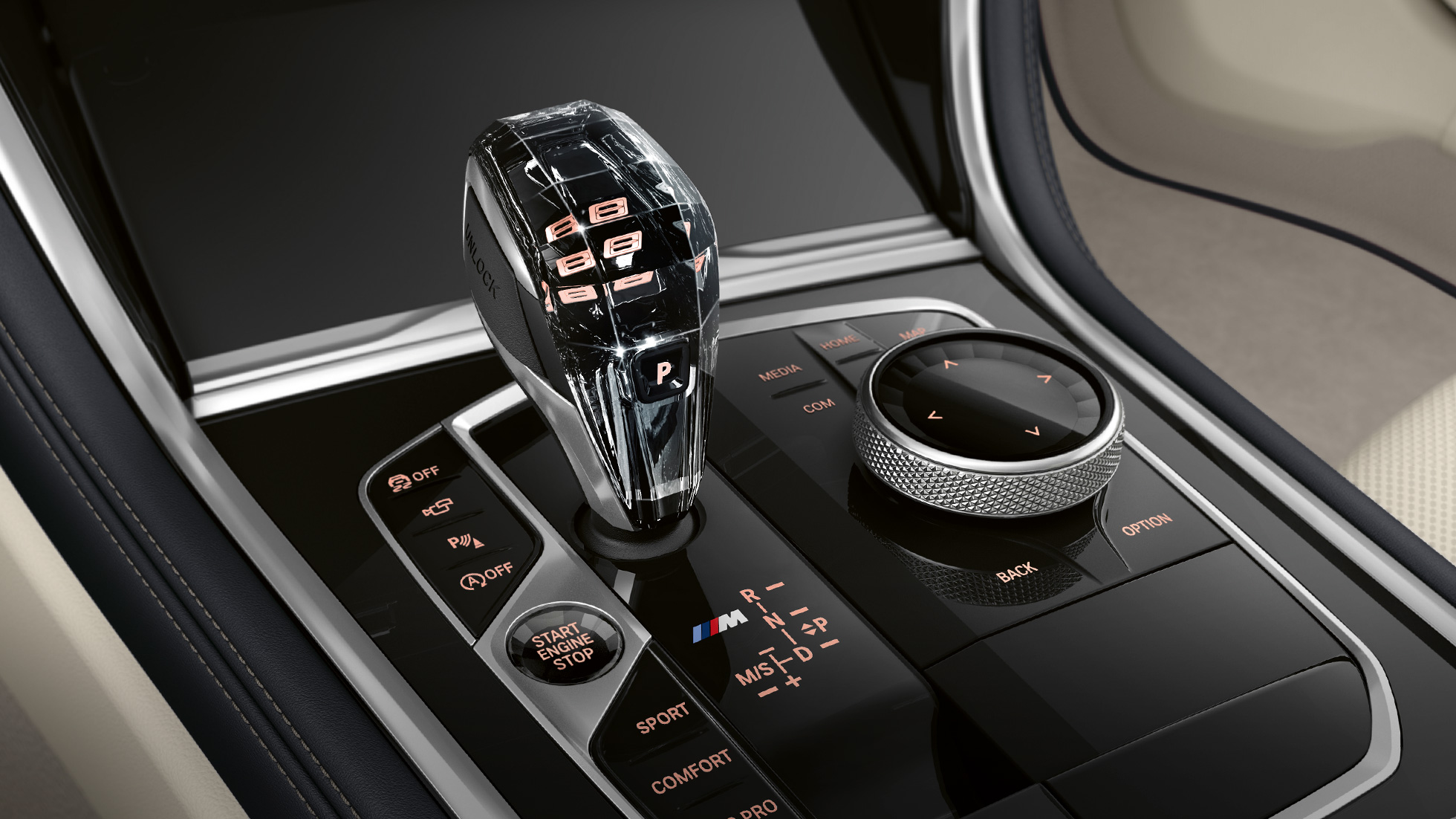 FINEST DETAILS
HIGH-QUALITY DETAILS SUCH AS THE BMW INDIVIDUAL INTERIOR TRIM STRIPS IN PIANO FINISH BLACK, EXCLUSIVE STITCHING AND GALVANIC ACCENTS ON CONTROLS ENDOW THE INTERIOR WITH A LUXURIOUS CHARM. THE OPTIONAL, HAND-CRAFTED GLASS APPLICATION 'CRAFTEDCLARITY' EMBELLISHES THE GEAR SELECTOR, IDRIVE CONTROLLER AND START/STOP BUTTON. THIS FEATURE GIVES THE HIGH-QUALITY INTERIOR AN EXCEPTIONAL POWER OF ATTRACTION – AS DOES THE ILLUMINATED 8 ON THE GEAR SELECTOR.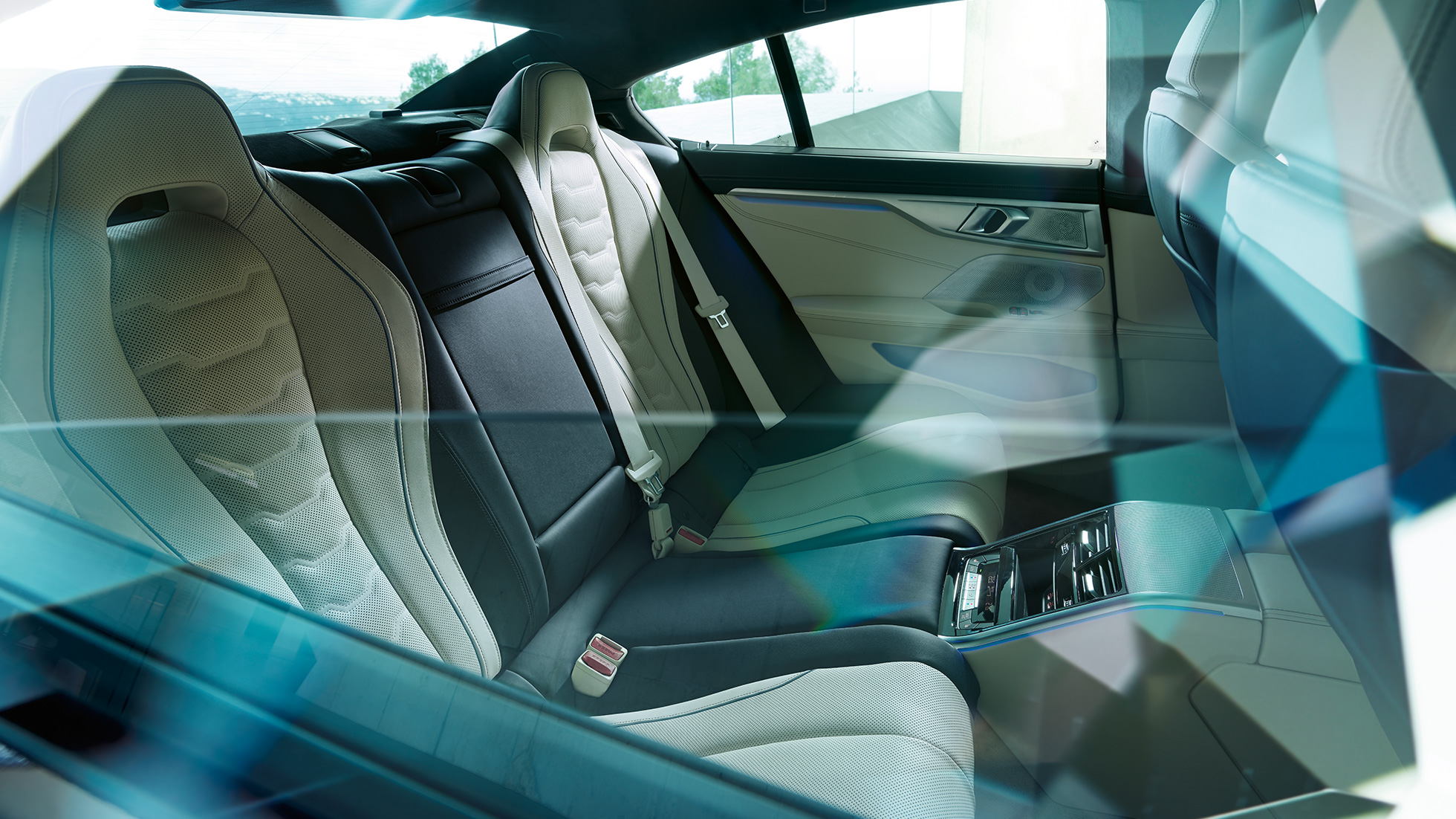 INDIVIDUAL FREEDOM
THE FULL-LENGTH CENTRE CONSOLE IN THE BMW 8 SERIES GRAN COUPÉ IS ALSO COVERED WITH EXCLUSIVE LEATHER AND CONTINUES IN A FLOWING MOVEMENT THROUGH TO THE REAR SEAT. IT REINFORCES THE INDIVIDUAL SEATING CHARACTER IN THE REAR AND OFFERS PASSENGERS THE OPPORTUNITY TO CREATE THEIR OWN COMFORTABLE CLIMATE. THANKS TO AN INTEGRATED CONTROL, THE AUTOMATIC AIR CONDITIONING AND THE SEAT HEATING ARE INDIVIDUALLY ADJUSTABLE FOR EACH PASSENGER.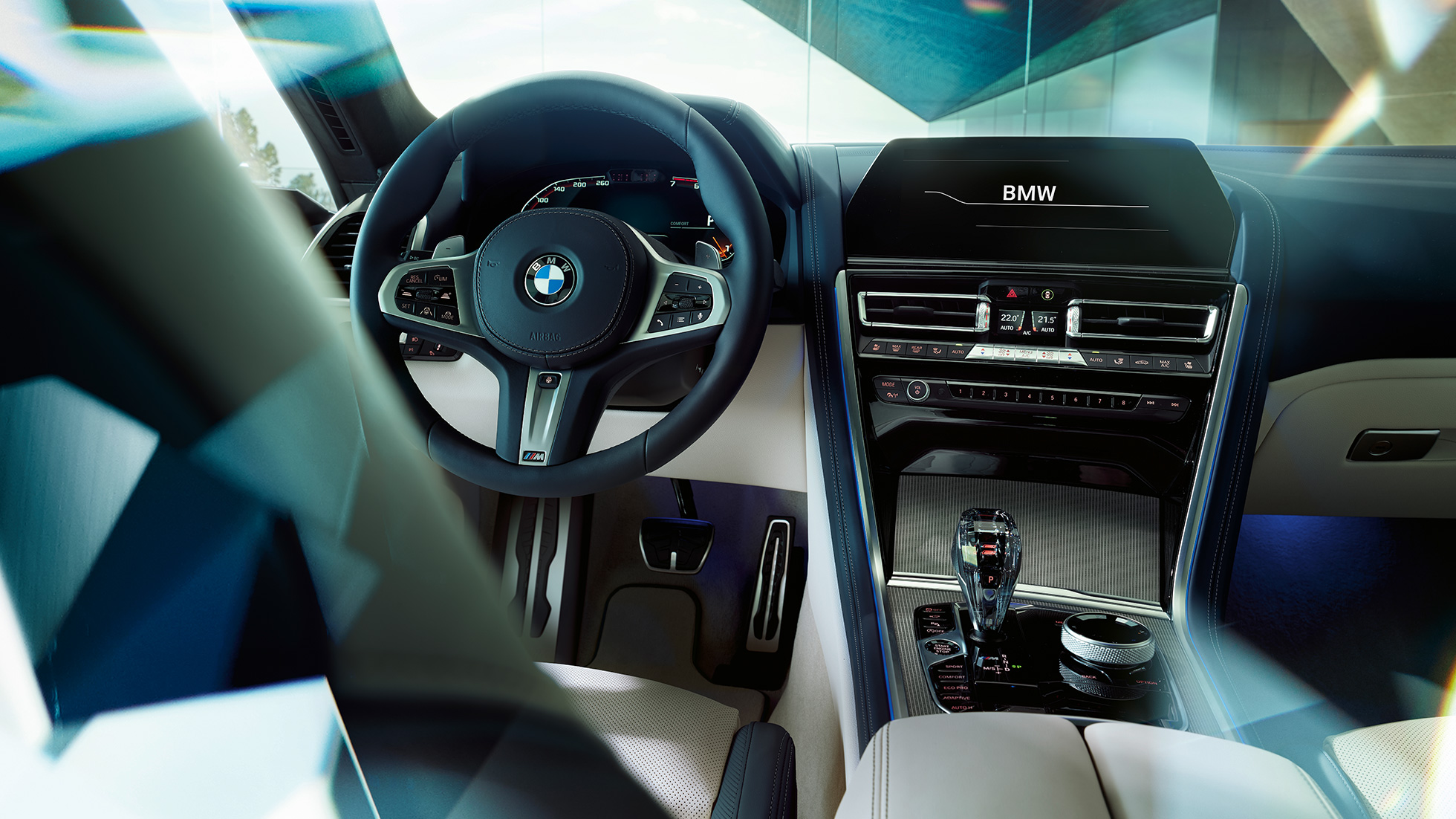 SPORTY AND LUXURIOUS AMBIENCE
THE SPORTY COCKPIT IN THE BMW 8 SERIES GRAN COUPÉ EXUDES AN UNIQUE ELEGANCE AND PROVIDES ABSOLUTE DRIVER ORIENTATION. WITH THE INTUITIVE OPERATING CONCEPT OF THE LATEST GENERATION, YOU HAVE THE RELEVANT INFORMATION YOU NEED, IN VIEW, AT ALL TIMES, WHILE THE M LEATHER STEERING WHEEL WITH GEARSHIFT PADDLES ALLOWS YOU TO KEEP EVERYTHING UNDER CONTROL. ALL SURFACES, BUTTONS AND CONTROLS HAVE A FIRST-CLASS FEEL TO THEM AND STYLISHLY COMPLETE THE LUXURIOUS AMBIENCE.
THE LUXURY OF BEING AHEAD OF ITS TIME
INNOVATIVE TECHNOLOGIES IN THE BMW 8 SERIES GRAN COUPÉ
Enjoy progress with every metre: the BMW 8 Series Gran Coupé not only sets new benchmarks on the road but also in terms of innovative technologies. From the latest-generation personalisable operating concept via convenient voice control, thanks to BMW Intelligent Personal Assistant, through to partially automated driving: the innovative digital services and assistance systems in this luxurious sports car make every trip even more personal and relaxed, thus raising sheer driving pleasure to an entirely new level.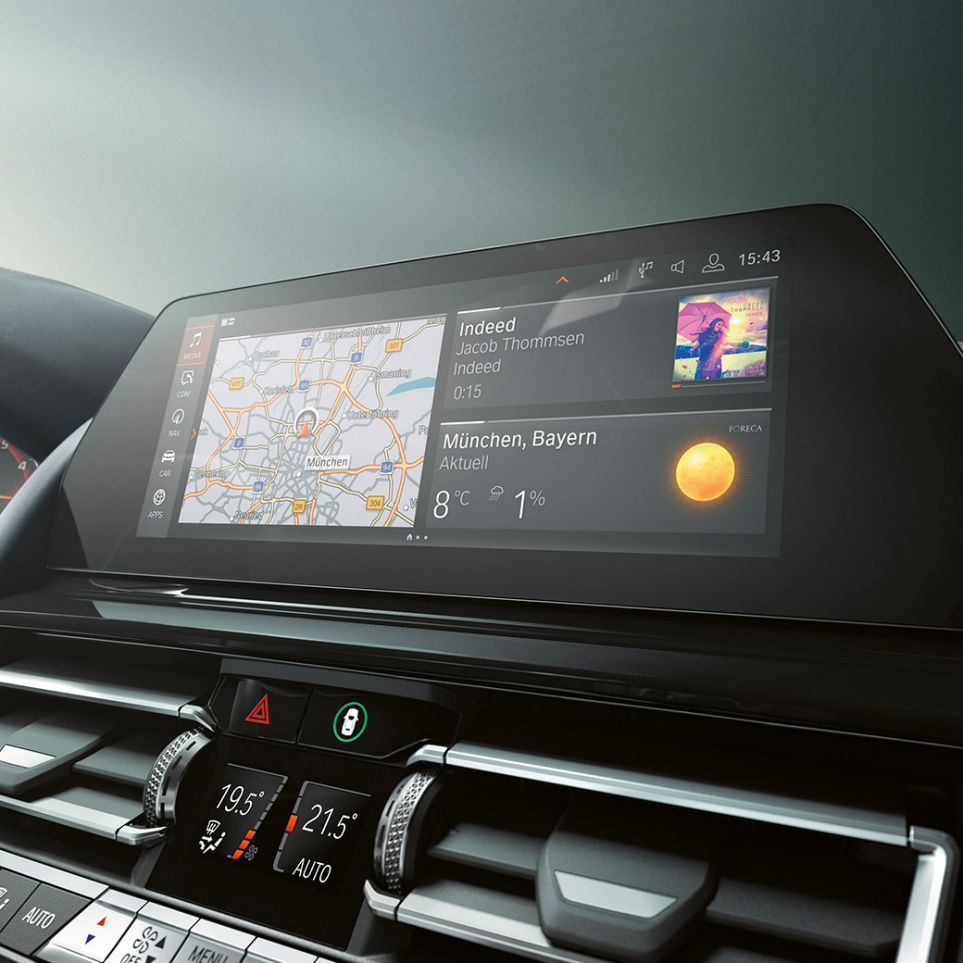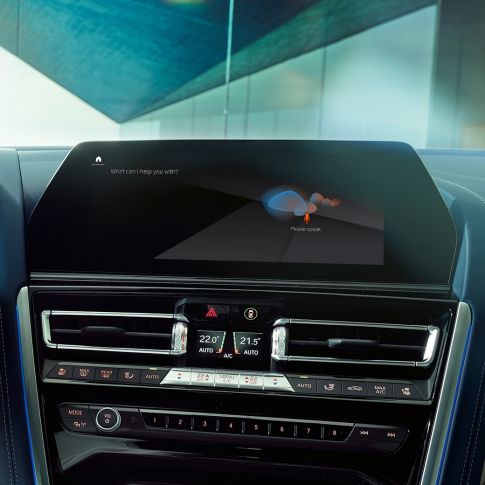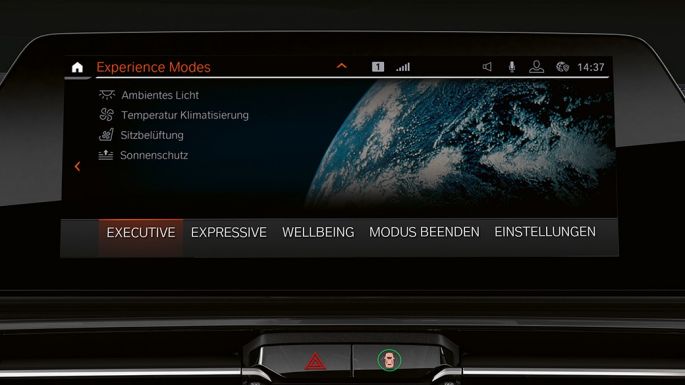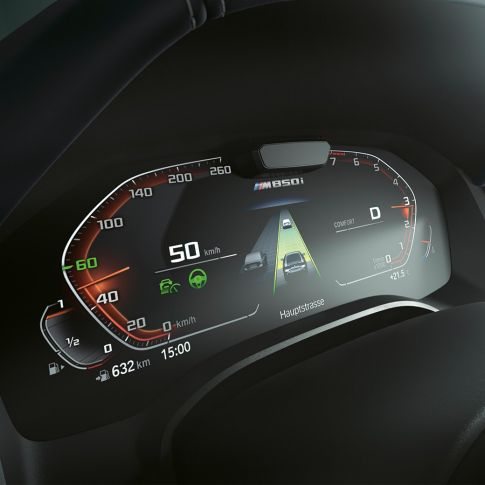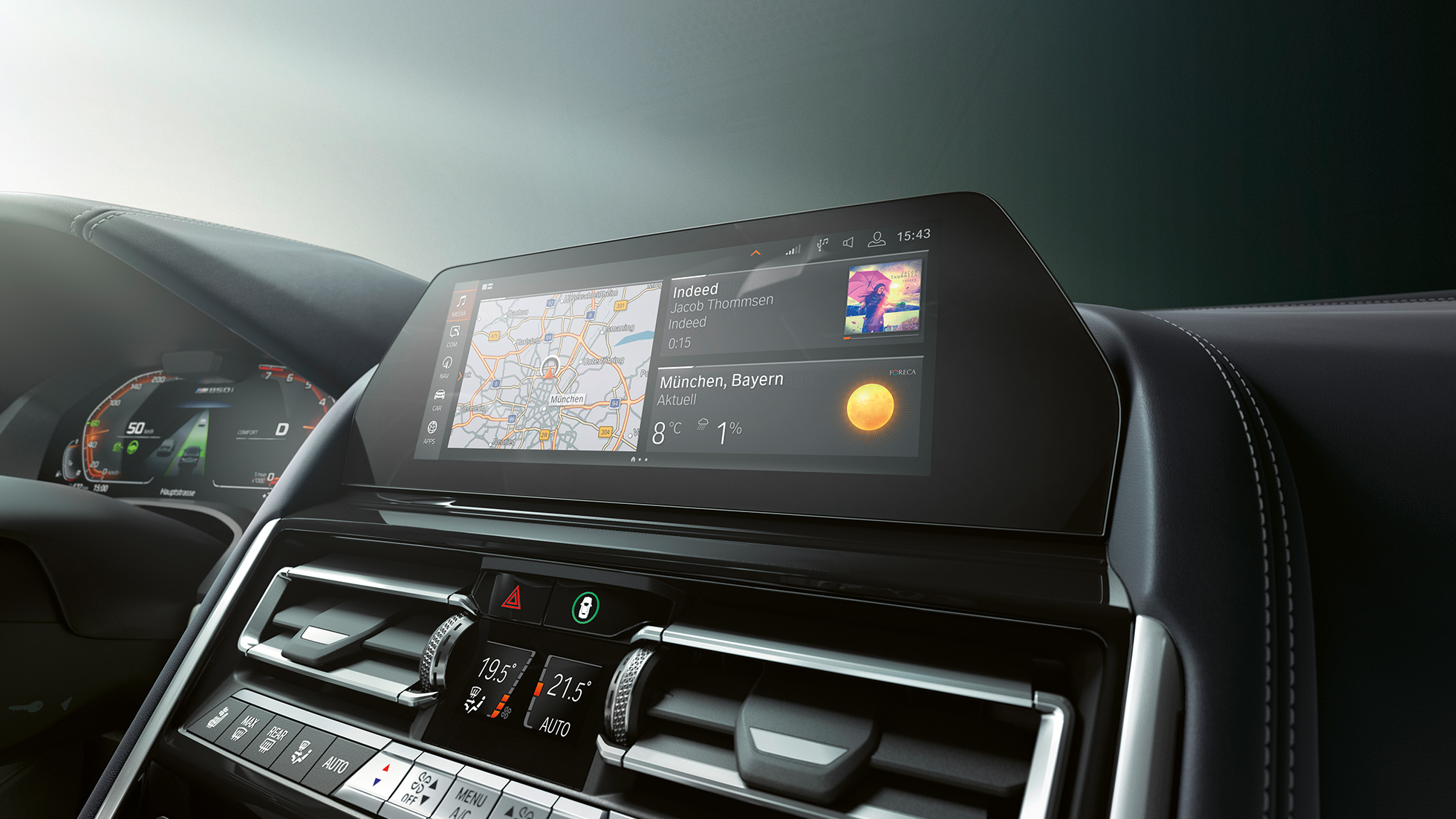 BMW LIVE COCKPIT PROFESSIONAL
THE BMW LIVE COCKPIT PROFESSIONAL IS A PERSONALISABLE CONTROL AND DISPLAY CLUSTER COMPRISING THE FULLY DIGITAL INSTRUMENT DISPLAY, THE HIGH-RESOLUTION CONTROL DISPLAY IN THE CENTRE CONSOLE AND THE HEAD-UP DISPLAY IN YOUR FIELD OF VISION. USING TOUCHSCREEN, GESTURES, IDRIVE CONTROLLER OR VOICE WITH THE BMW INTELLIGENT PERSONAL ASSISTANT, YOU CAN OPERATE FULLY IN LINE WITH YOUR PERSONAL PREFERENCES.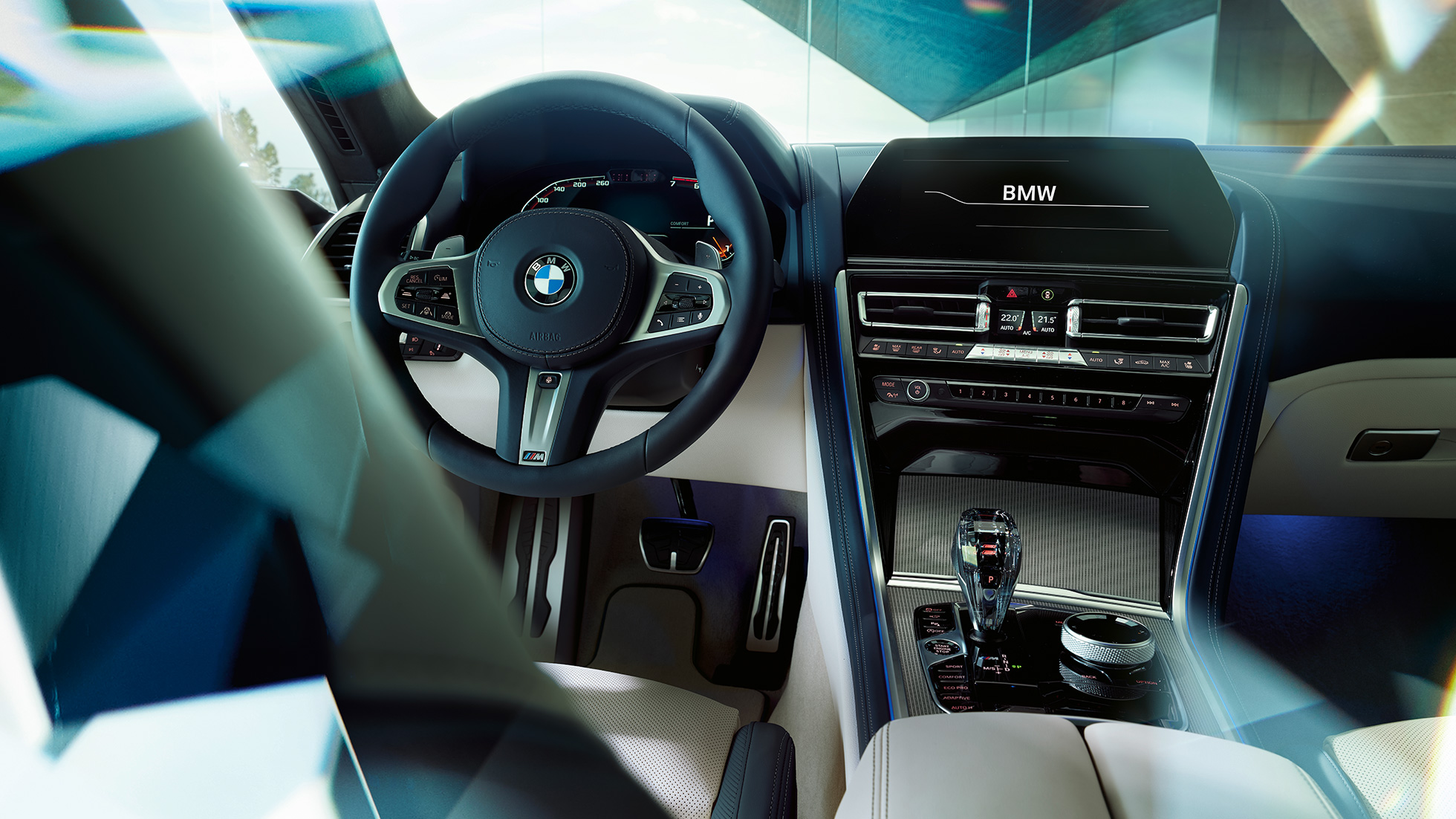 BMW INTELLIGENT PERSONAL ASSISTANT
MODERN VEHICLES ARE BECOMING INCREASINGLY COMPLEX. SO WHY NOT ACCEPT HELP FROM A PERSONAL ASSISTANT? THE BMW INTELLIGENT PERSONAL ASSISTANT SUPPORTS YOU DURING THE OPERATION OF YOUR BMW 8 SERIES GRAN COUPÉ, BE IT WITH NAVIGATION, ENTERTAINMENT OR VEHICLE FUNCTIONS. A BRIEF "HEY BMW" IS ALL IT TAKES FOR YOU TO START COMMUNICATING WITH YOUR BMW INTELLIGENT PERSONAL ASSISTANT. TO GET TO KNOW IT BETTER, SIMPLY ASK: "HEY BMW, WHO ARE YOU?". INCIDENTALLY, YOU CAN CHANGE THE ACTIVATION WORD TOO, JUST SAY: "HEY BMW, CHANGE THE ACTIVATION WORD."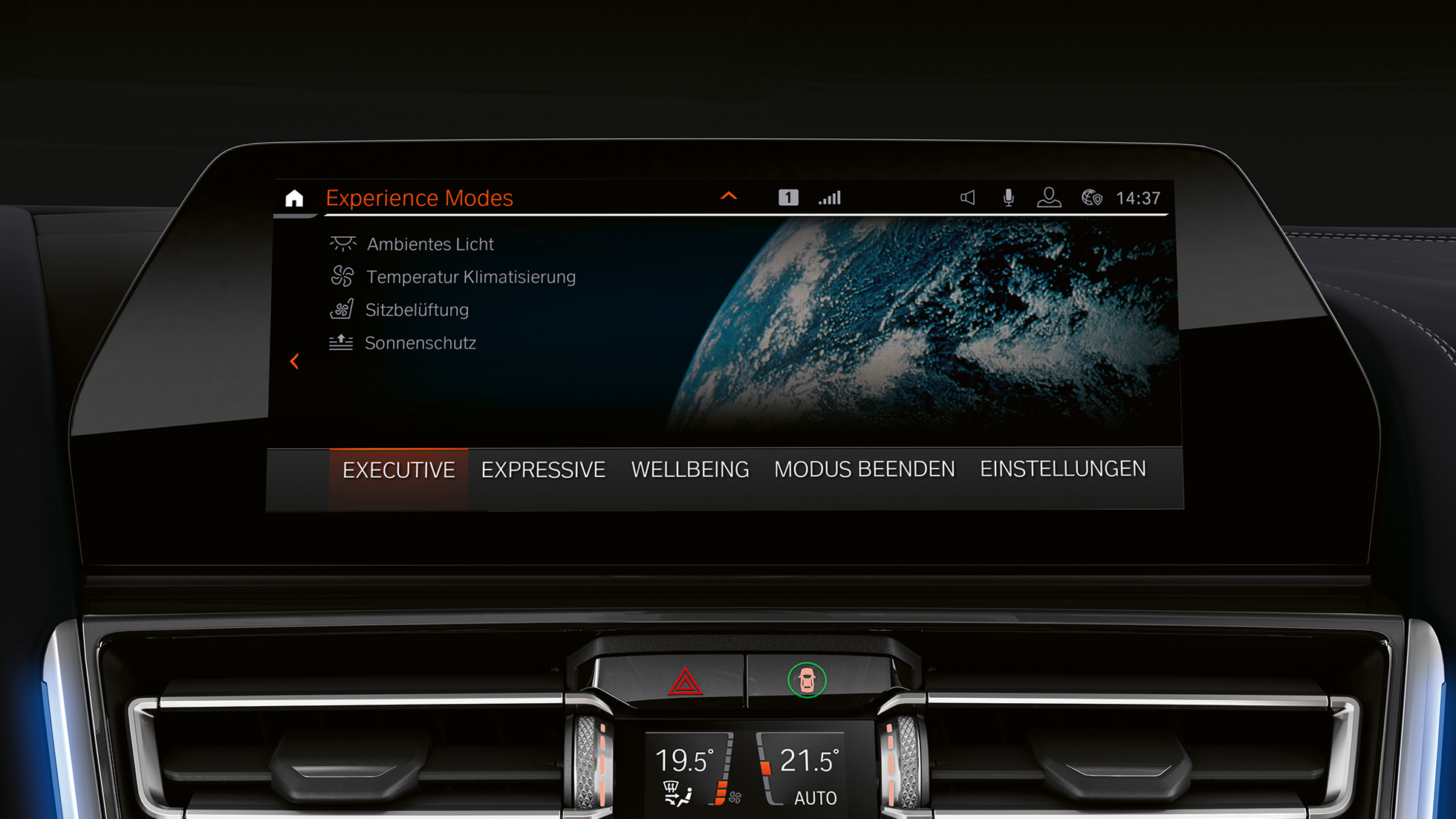 EXPERIENCE MODES
THE EXPERIENCE MODES ALLOW YOU TO ADAPT THE INTERIOR AMBIENCE OF YOUR BMW 8 SERIES GRAN COUPÉ TO MATCH YOUR CURRENT MOOD. THE THREE INDIVIDUAL MODES "EXPRESSIVE", "WELLBEING" AND "EXECUTIVE" OFFER YOU AN IDEALLY COORDINATED INTERPLAY OF INTERIOR FUNCTIONS SUCH AS AIR CONDITIONING, SEAT HEATING, LIGHT AND MUSIC. THIS STIMULATES YOUR SENSES AND HAS A POSITIVE EFFECT ON YOUR OVERALL COMFORT. FOR EVEN MORE SHEER DRIVING PLEASURE. SIMPLY SAY: "HEY BMW, ACTIVATE THE EXPRESSIVE MODE.", AND TRY IT OUT.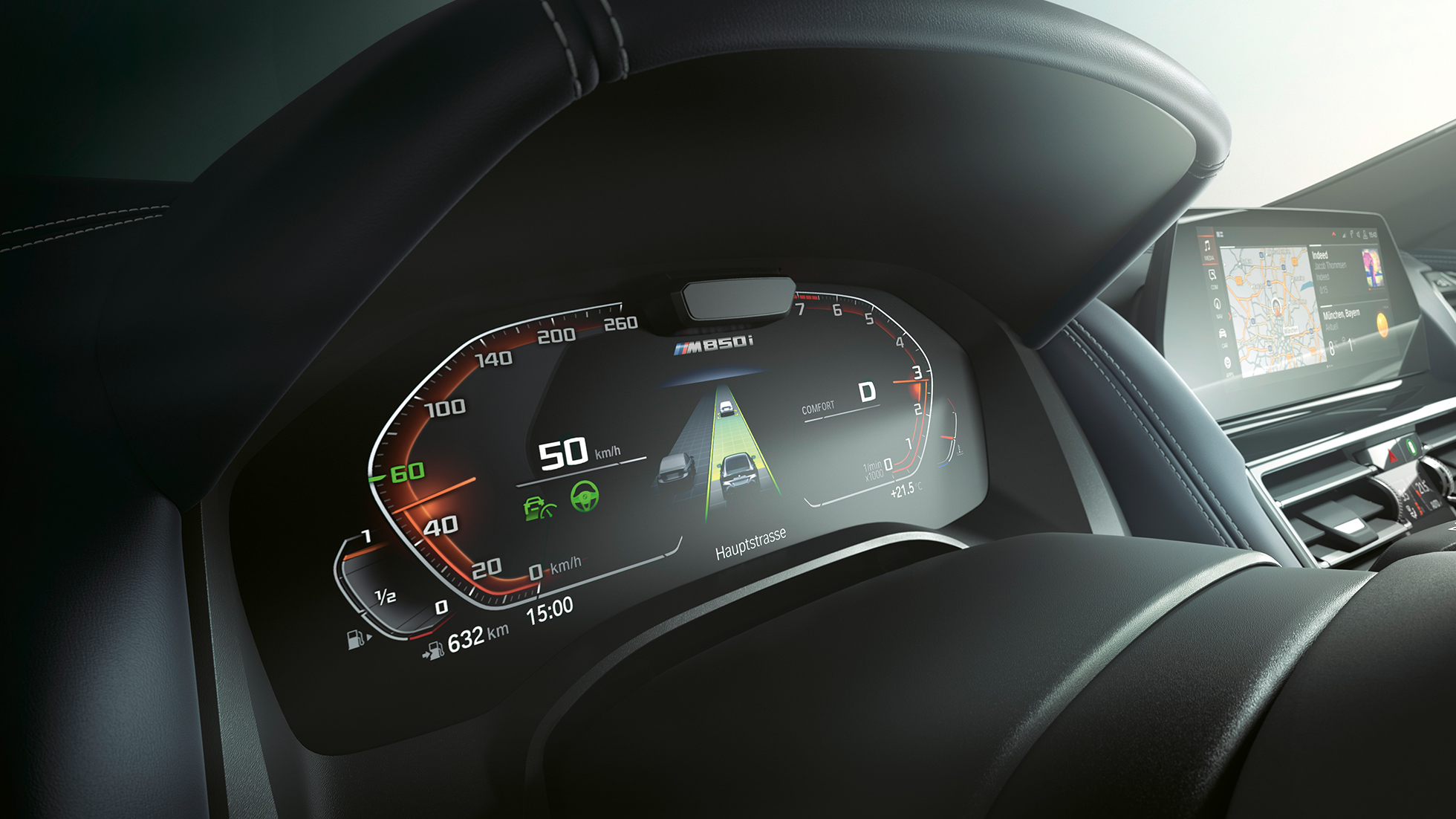 DRIVING ASSISTANT PROFESSIONAL
THE OPTIONAL DRIVING ASSISTANT PROFESSIONAL HELPS YOU TO MAINTAIN THE RIGHT DISTANCE AS WELL AS THE DESIRED SPEED AND LANE AND ALSO TO AVOID COLLISIONS. FOR INSTANCE, THE SYSTEM WARNS YOU OF UNWANTED LANE CHANGES BY VIBRATIONS ON THE STEERING WHEEL. IT ALSO ENSURES THAT YOUR BMW 8 SERIES GRAN COUPÉ BRAKES AUTOMATICALLY IF THE DISTANCE FROM ANY VEHICLES AHEAD OR PEDESTRIANS ON THE CARRIAGEWAY BECOMES TOO CLOSE. IT ADDITIONALLY WARNS YOU OF ANY CROSS TRAFFIC THAT IS DIFFICULT TO SEE AND MAKES PULLING OUT OF A PARKING SPACE EASIER. FURTHERMORE, THE SYSTEM SUPPORTS YOU IN AN EMERGENCY WHEN BRINGING THE VEHICLE TO A STOP.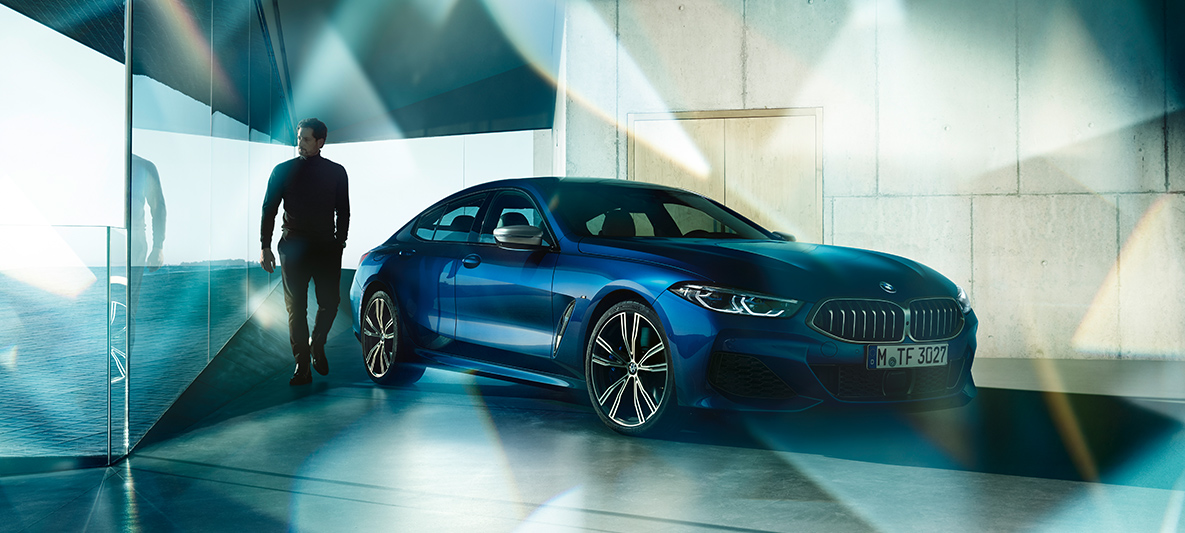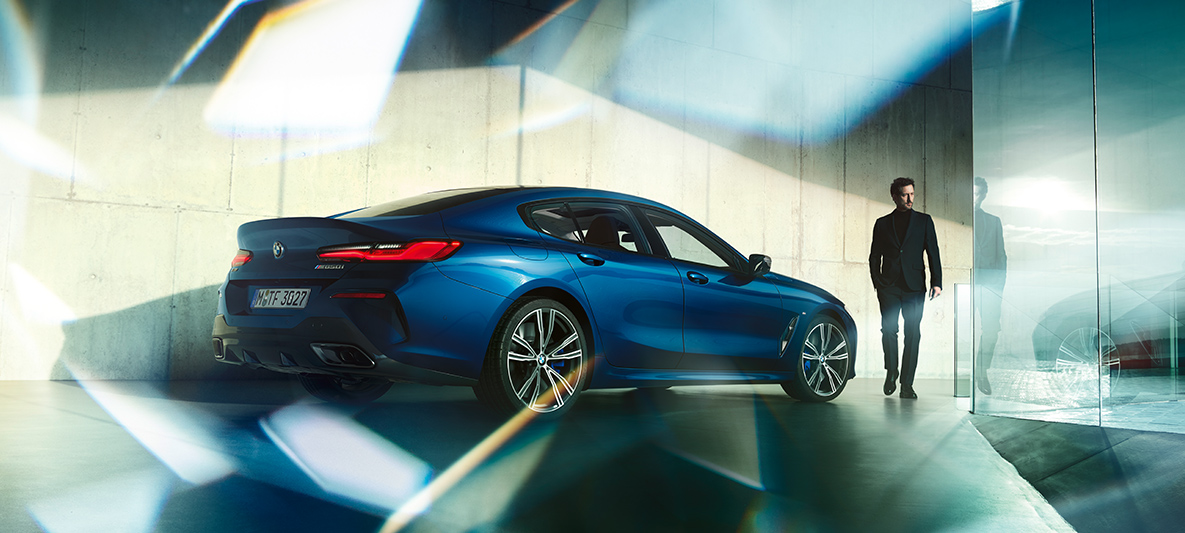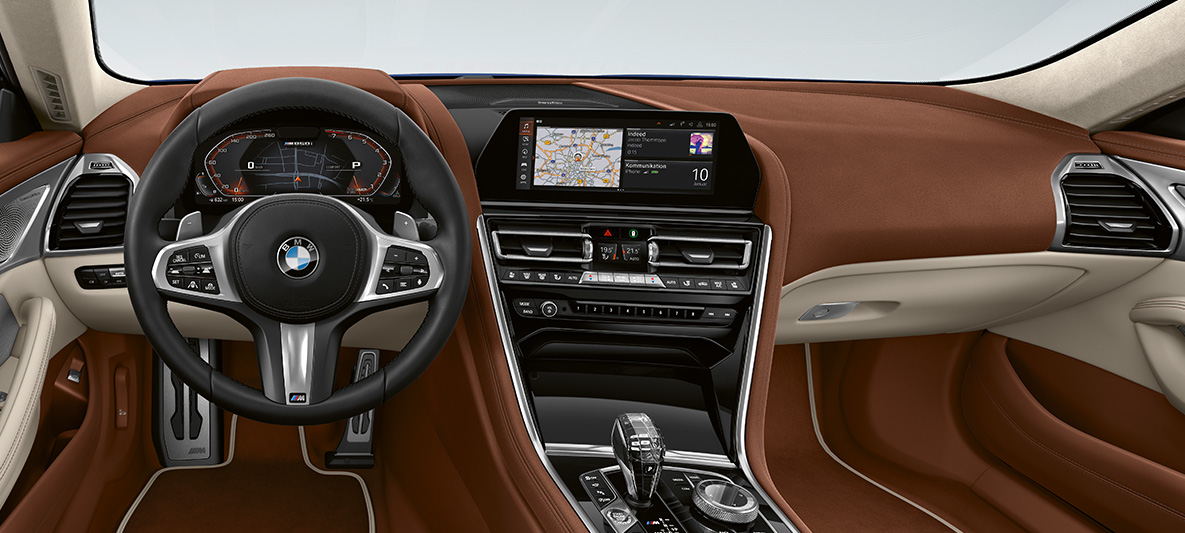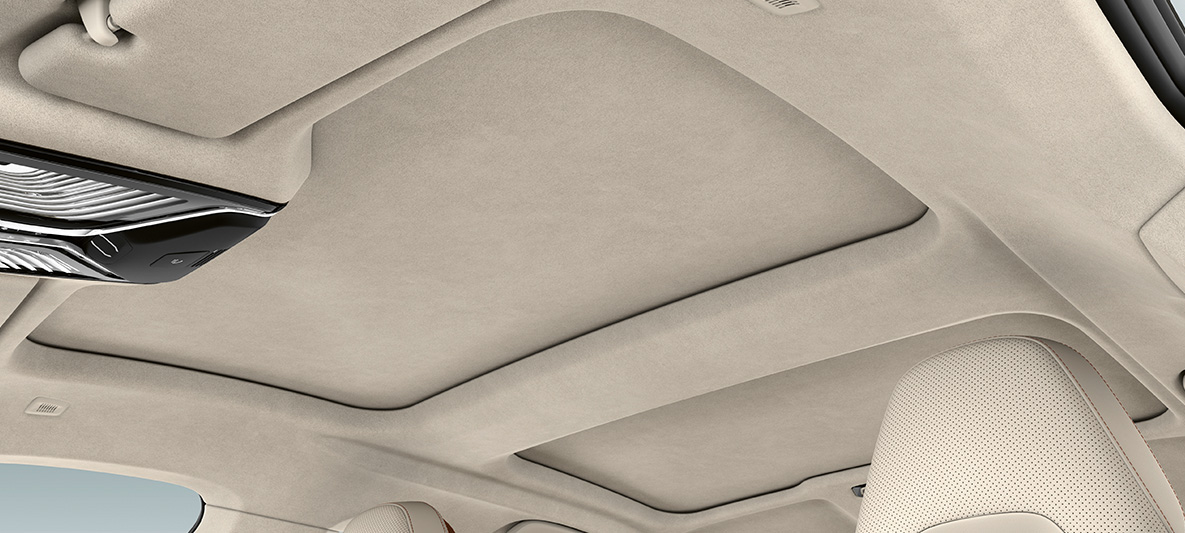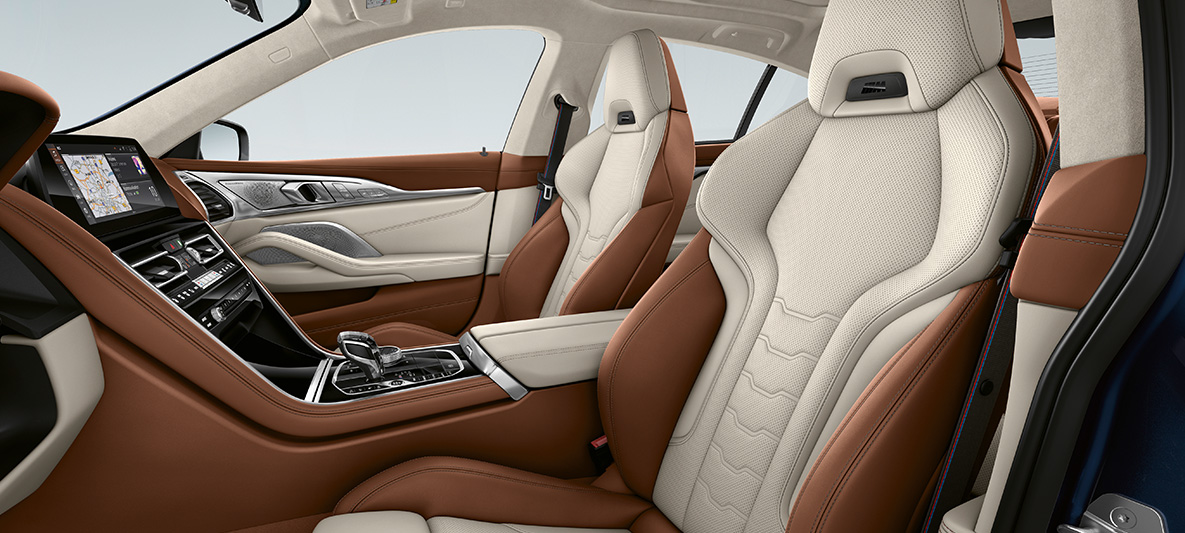 BMW INDIVIDUAL – AN EXPRESSION OF INDIVIDUAL STYLE
Impart your very own personal character to the BMW 8 Series Gran Coupé. The exclusive equipment options of BMW Individual offer a large number of unique paint finishes with spectacular iridescent or shimmering effects – such as BMW Individual Tanzanite Blue metallic – to give the luxury sports car a unique appearance. Finest leather upholstery of supreme quality, with entirely hand-sewn seats, further embellishes the noble interior with numerous colour shades and fine contrast stitching – one example is the BMW Individual fine-grain full 'Merino' leather upholstery in Ivory White with contrasting Tartufo. Rounding off the sporty and luxurious ambience are the exclusive BMW Individual interior trim strips in piano finish Black and an M headliner in Alcantara.

THE ATTRACTIVE FORCE OF THE EXCEPTIONAL
EXCLUSIVE MATERIALS IN THE BMW 8 SERIES GRAN COUPÉ
The BMW 8 Series Gran Coupé impresses with sporty light alloy wheels and the special paint finishes that ideally underline the unique design by means of distinct shining and shimmering effects. In the interior the use of luxurious materials without exception speaks a clear language. The sporty and elegant ambience impresses thanks to the finest leather upholsteries with first-class touch characteristics and high-quality interior trim strips with a perfect surface finish. Exclusive decorative elements additionally embellish the interior and blend harmoniously into the overall stylish picture.

Read more
Frozen Temptation three quarter front shot
Frozen Temptation three quarter rear shot
Frozen Temptation wheels
Frozen Temptation upholstery
Frozen Temptation cockpit
Pure Contrast three quarter front shot
Pure Contrast three quarter rear shot
Pure Contrast wheels
Pure Contrast upholstery
Pure Contrast cockpit
Dark Seduction three quarter front shot
Dark Seduction three quarter rear shot
Dark Seduction wheels
Dark Seduction upholstery
Dark Seduction cockpit
Impulsive Heat three quarter front shot
Impulsive Heat three quarter rear shot
Impulsive Heat wheels
Impulsive Heat upholstery
Impulsive Heat cockpit
Individual Sophistication three quarter front shot
Individual Sophistication three quarter rear shot
Individual Sophistication wheels
Individual Sophistication upholstery
Individual Sophistication cockpit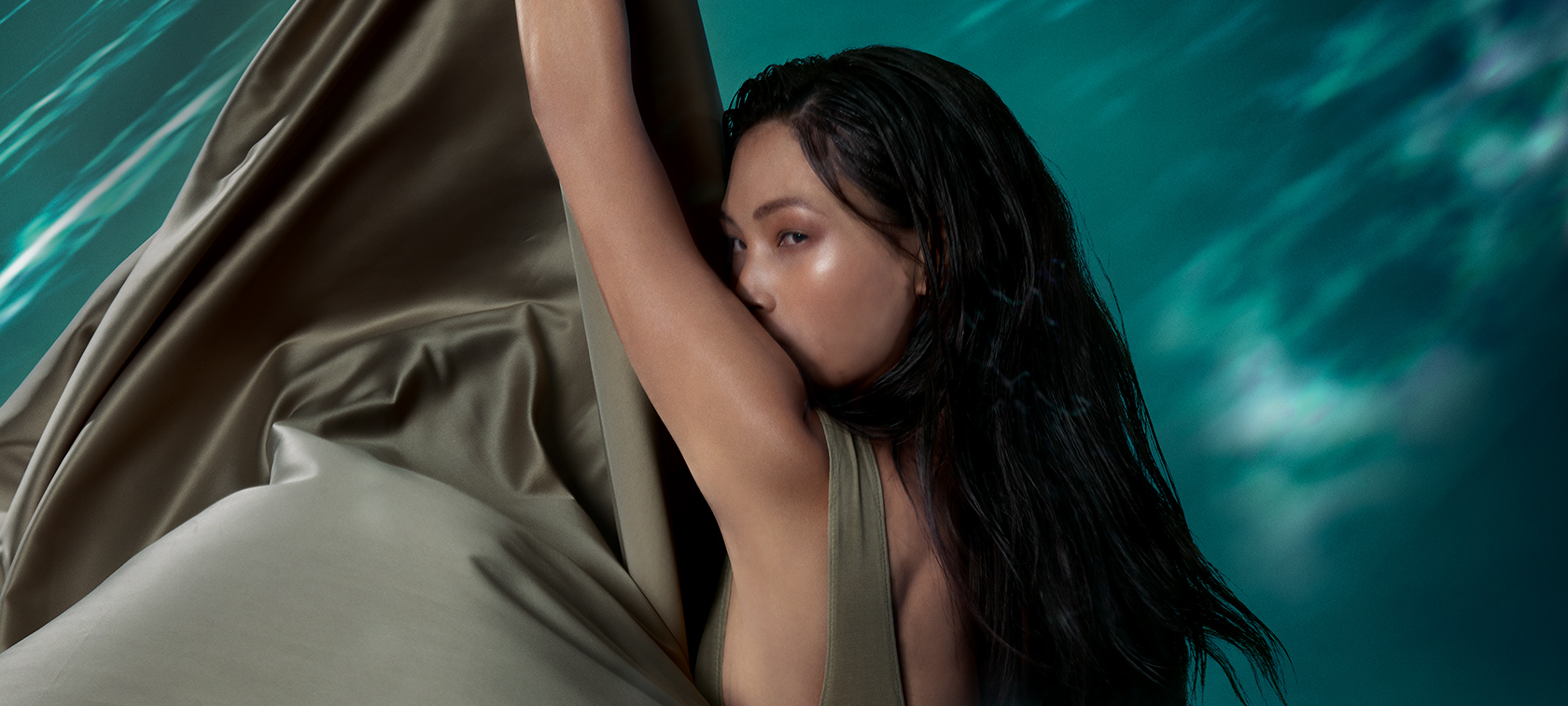 EXPERIENCE MODERN LUXURY
BMW LUXURY CLASS
FUEL CONSUMPTION AND CO2 EMISSIONS
BMW M850i xDrive Gran Coupé:
Fuel consumption in l/100 km (combined): 10.7
CO2 emissions in g/km (combined): 245

The values of fuel consumptions, CO2 emissions and energy consumptions shown were determined according to the European Regulation (EC) 715/2007 in the version applicable at the time of type approval. The figures refer to a vehicle with basic configuration in Germany and the range shown considers optional equipment and the different size of wheels and tires available on the selected model.

The CO2 efficiency specifications are determined according to Directive 1999/94/EC and the European Regulation in its current version applicable. The values shown are based on the fuel consumption, CO2 values and energy consumptions according to the NEDC cycle for the classification.

Further information about the official fuel consumption and the specific CO2 emission of new passenger cars can be taken out of the "handbook of fuel consumption, the CO2 emission and power consumption of new passenger cars", which is available at all selling points and at https://www.dat.de/angebote/verlagsprodukte/leitfaden-kraftstoffverbrauch.html.
Information provided and images displayed on this site include overseas models and features not available in New Zealand. Please contact an authorised BMW dealer for specific information on vehicles and features available in New Zealand. Product changes may have been made since production of this content.

Read more