MODELS AND EQUIPMENT.
Characteristic model and equipment options of the BMW 5 Series Sedan.
The M Sport package gives the vehicle an even sportier touch. In addition to an appearance sharpened by many details in the exterior and interior, the M Sport package guarantees an increase in driving pleasure. The M Sport suspension and the M Aerodynamics package for example noticeably optimise the driving dynamics.
Show Line Details
The M Sport package gives the vehicle an even sportier touch. In addition to an appearance sharpened by many details in the exterior and interior, the M Sport package guarantees an increase in driving pleasure. The M Sport suspension and the M Aerodynamics package for example noticeably optimise the driving dynamics.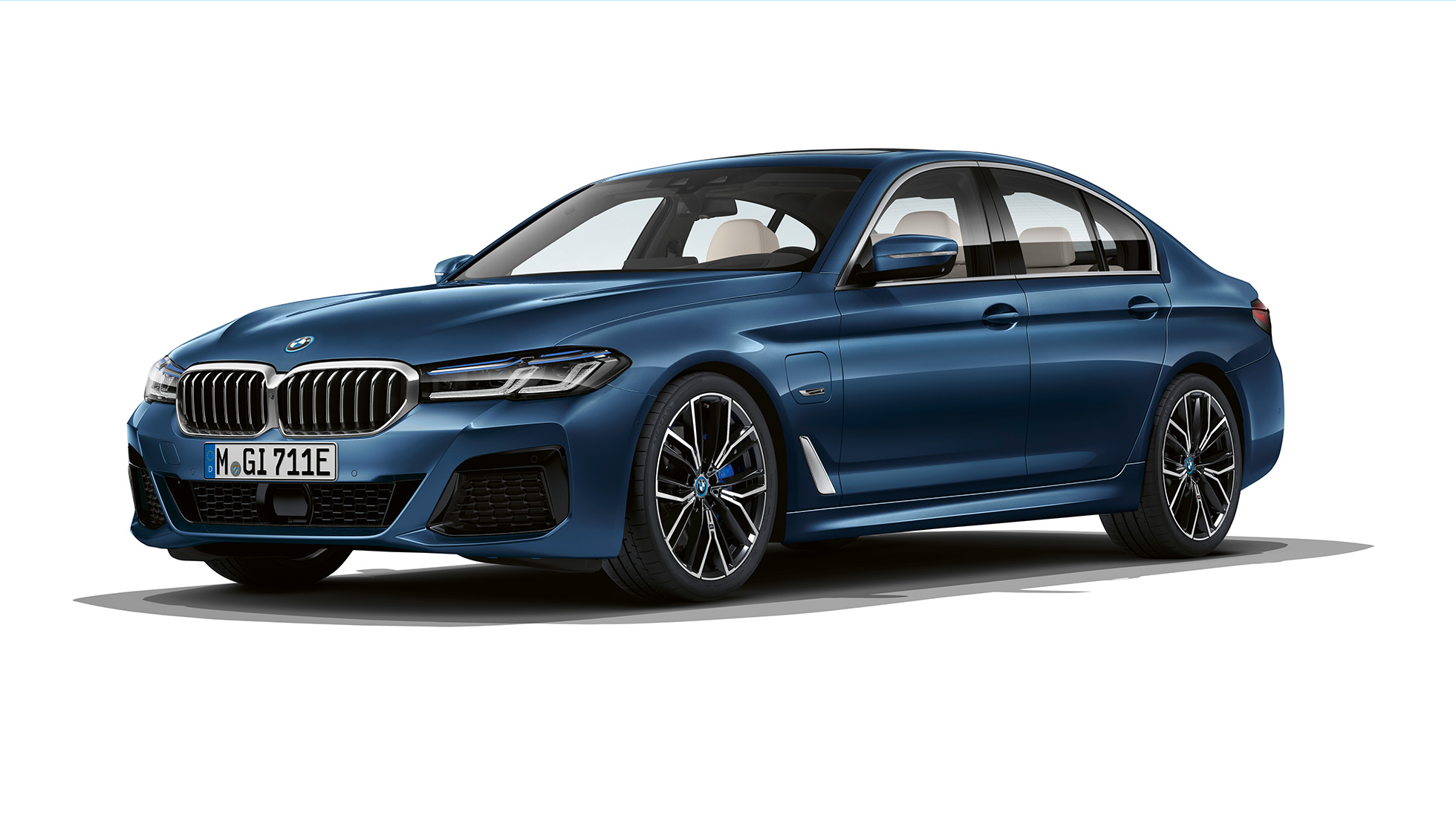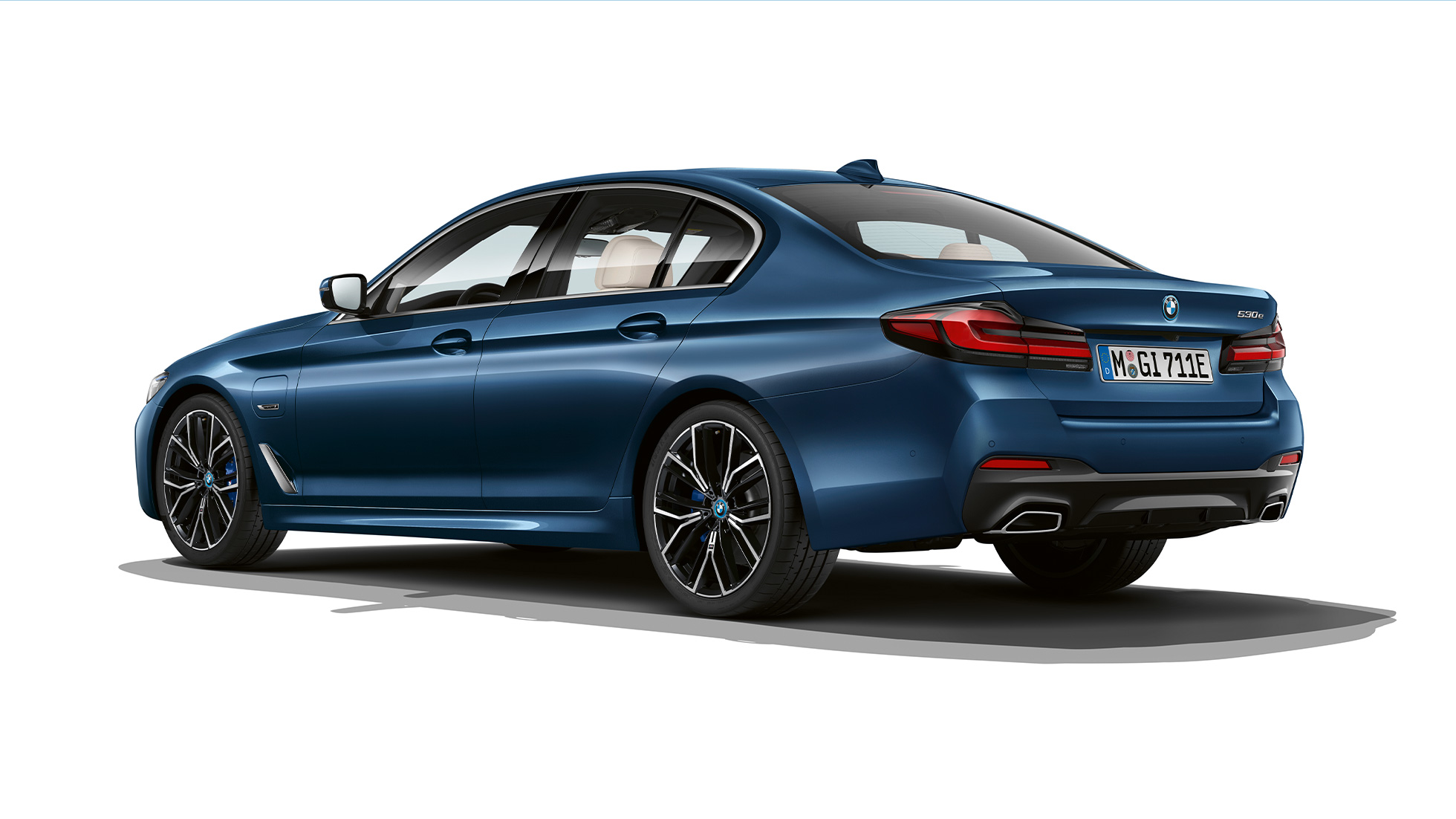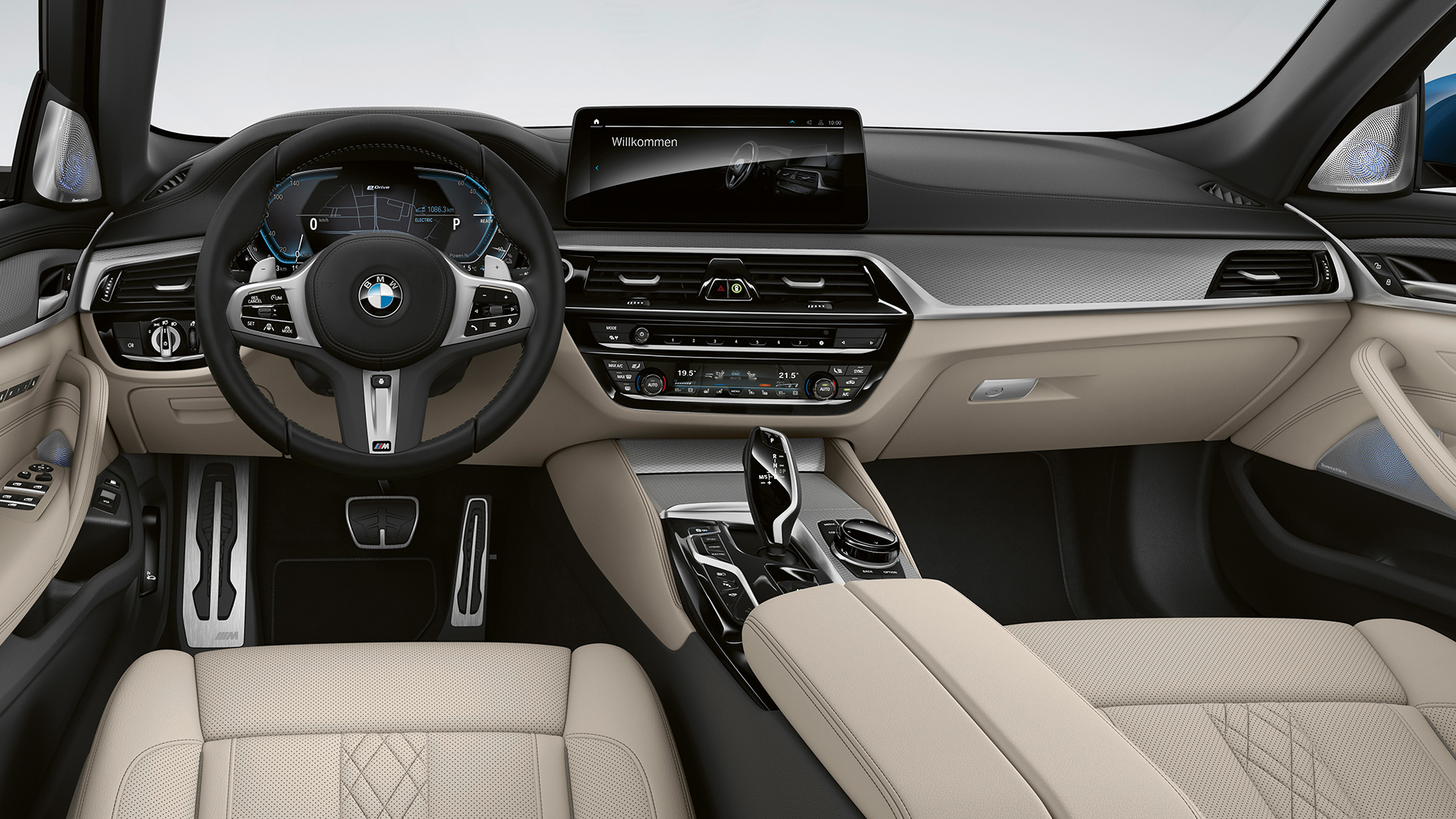 Exterior

M Aerodynamics package with front apron, side skirts and rear apron with diffuser insert in Dark Shadow metallic

BMW kidney grille with vertical slats in Black high-gloss and grille frame in Chrome high-gloss

18" M light alloy wheels Double-spoke style 662 M with mixed tyres; other wheels available

M Sport suspension, lowered for sDrive and xDrive

M Sport brake with brake callipers in Dark Blue metallic and M designation, alternatively with brake callipers in Red

BMW Individual high-gloss Shadow Line

M designation on the front side panels

Tailpipe trim strips in Chrome high-gloss, on both sides

Exclusive paintwork in Carbon Black; other paintworks available

Interior

M door sill finishers

M driver footrest with M-specific pedal covers

M specific floor mats

Sport seats for driver and front passenger in Cloth/Alcantara combination in exclusive M look, alternatively in Leather 'Dakota' Black with exclusive M look and Blue accent, other upholsteries available

M Leather steering wheel with multifunction buttons, alternatively BMW Individual leather steering wheel finely structured

Vehicle key with exclusive M logo

Gear lever with M designation

BMW Individual headliner anthracite

Instrument cluster with M specific look in SPORT mode

Interior trim finishers in Aluminium Rhombicle Smoke Grey with highlight trim finishers in Pearl Chrome; other trims available
BMW 530e.
The innovative and efficient Plug-in hybrid of the BMW 5 Series Sedan.
A model athlete in the discipline of sustainability. The BMW 5 Series Sedan plug-in hybrid inspires thanks to the combination of powerful petrol engine, high-voltage battery and an electric motor from BMW eDrive technology that offers an impressive performance while simultaneously lowering fuel consumption and reducing CO2 emissions. The Charging Assistant and intelligent energy management from BMW ConnectedDrive give you support with the charging process and in decreasing energy consumption. At the same time, Connected Charging guarantees additional benefits for the driver of the efficient business saloon.

BMW 530e.
The innovative plug-in hybrid drive combines an efficient combustion engine with a powerful electric motor. The particularly high system output thus achieved offers you the range comfort of the combustion drive and at the same time the possibility of driving without local emissions.
Intelligent energy management.
Intelligent energy management is one of the main pillars of the BMW eDrive concept. This system coordinates the interaction of all BMW drive components with the electric motor in order to combine the best possible efficiency with great driving dynamics, and to increase the electric range.
BMW Charging.
BMW Charging enables drivers of electric vehicles to easily and conveniently find, use and pay for public charging stations locally and abroad. The charging stations of the constantly growing network are displayed in the navigation system, via the app and online on the website.
eDrive Zones.
With each new day, BMW takes on the task of bringing tomorrow's mobility one step closer. With innovative digital services such as the eDrive Zones and the BMW Points bonus scheme, which are schedule to become available in 2020, we are working to create innovative routes. In this way we are getting even more from every metre of your efficient journey.
BMW Maps - Connected Charging.
With the services of Connected Charging, you get the best out of the electric range of your plug-in hybrid model. As soon as you start planning your trip, the system unerringly points you to the nearest public charging stations on your route and informs you in advance, for example, about their availability and the charging currents offered.
E-MOBILITY.
If you would like to learn more about the forward-looking BMW electromobility concept together with details of the personal benefits and opportunities available, you are in the right place. Here you will find information on the topics of electromobility, plug-in hybrids, BMWi, charging, range and much more besides.

Read more
DRIVING DYNAMICS OF THE BMW 5 SERIES SEDAN.
Drive train and chassis technologies at a glance.
More power, more control. The BMW 5 Series Sedan puts in an athletic performance on every journey. With perfectly tuned drive and chassis technologies, such as Adaptive suspension, Integral Active Steering or the xDrive intelligent all-wheel drive system, optimum traction and maximum sheer driving pleasure are guaranteed.

BMW TwinPower Turbo 4-cylinder diesel engine.
The new-generation BMW TwinPower Turbo 2.0-litre 4-cylinder diesel engines demonstrate agile power delivery coupled with excellent responsiveness, even at low engine speeds. Turbocharger technology with variable turbine geometry and CommonRail direct injection ensures that these engines are exceptionally fuel efficient and low in emissions.
xDrive.
The intelligent BMW xDrive all-wheel drive system smoothly and variably distributes drive power to the front and rear wheels for maximum traction, driving dynamics and safety in every driving situation. For even better agility, the electronically controlled power distribution for instance counterbalances oversteer or understeer on bends.
Integral Active Steering.
Integral Active Steering combines support that varies based on the steering angle on the front axle, and rear wheels that also contribute to steering. At lower speeds, it offers greater manoeuvrability and agility by turning the rear wheels opposite the front wheels. Beginning around 60 to 80 km/h, the rear wheels turn parallel to the front wheels, to increase driving stability and comfort.
Adaptive suspension.
The adaptive suspension makes it possible to ideally adjust the damper characteristics to suit any given driving situation, improving roll comfort and driving dynamics. In addition to the standard COMFORT setting for increased driving comfort, the SPORT program can also be selected for athletic damper settings.
Adaptive Drive.
Adaptive Drive combines the active body roll stabilisation Dynamic Drive and the Adaptive suspension for regulation of the stabilisers and dampers as required. At the same time this ensures outstanding driving comfort levels with hardly any noticeable body roll, which in turn permits higher speeds and shorter braking distances when taking bends.
Mild hybrid technology.
The mild hybrid technology serves to recuperate the kinetic energy during braking and supports the combustion engine during acceleration. This reduces fuel consumption and emissions while giving you a dynamic advantage. The mild hybrid technology also makes the Automatic Start/Stop function much faster and much more comfortable.
DESIGN OF THE BMW 5 SERIES SEDAN.
Design options in the exterior and interior.
The BMW 5 Series Sedan inspires with its sporty and modern design. Equipment such as BMW Laserlight at the front or the trapezoidal tailpipes and LED rear lights underline the dynamic and progressive character of the vehicle. In the interior, features such as Ambient light or the controls with the ceramic surrounds emphasise the comfort and elegance of this business saloon.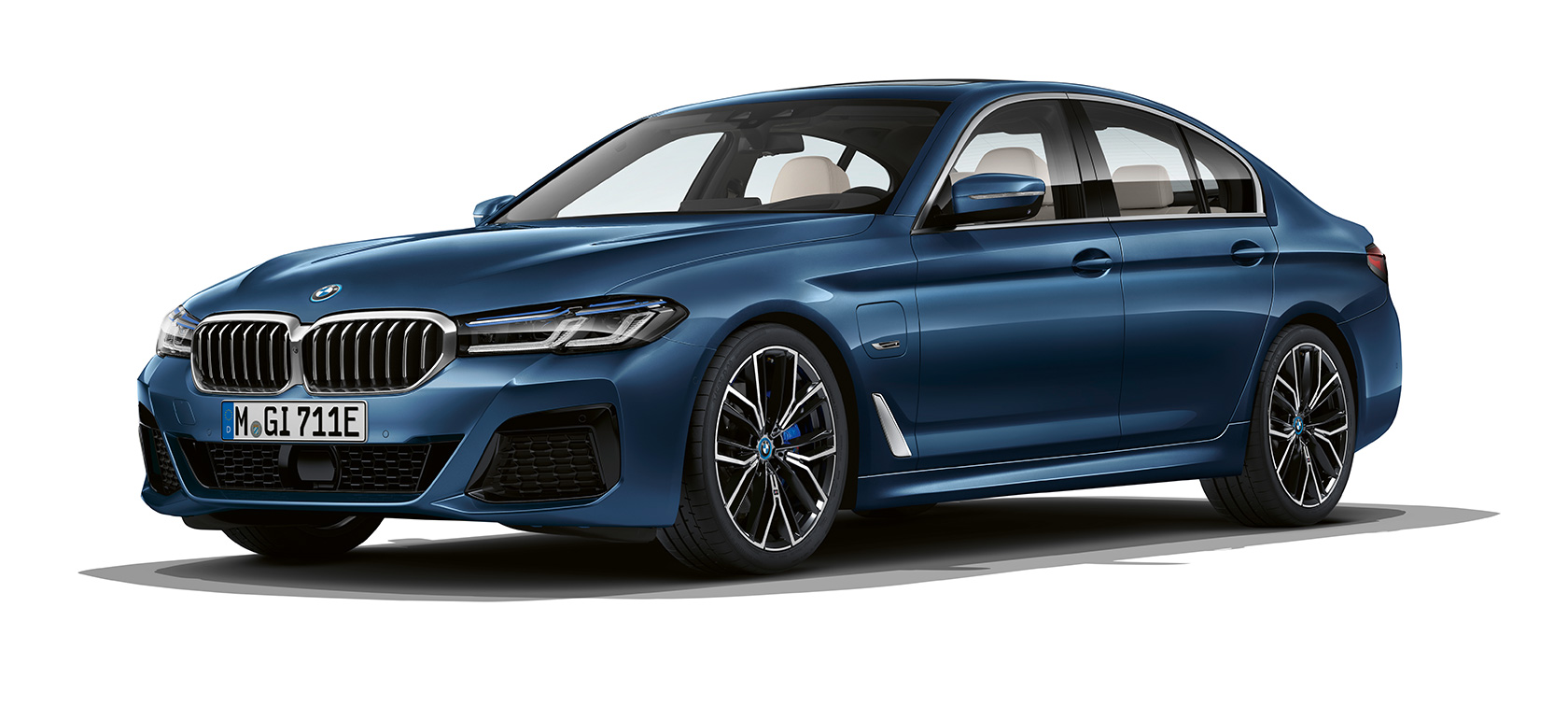 Front ornamental grilles.
The large one-piece front ornamental grille – also known as the BMW kidney grille – is a characteristic design feature that ensures a very present and dynamic appearance of your vehicle. The colouring of the vertical slats and the surrounding ring varies depending on the equipment line.
BMW Laserlight.
In laser high-beam mode, BMW Laserlight illuminates a range of up to 650 m, nearly twice as far as that of conventional headlights. Better visibility in the dark significantly increases safety. Blue accents and the lettering "BMW Laser" in the headlight also underline the technological standards and the sportiness of the vehicle.
LED rear lights.
The three-dimensional rear lights with their characteristic L-shape and expressive lighting elements in full LED technology identify the vehicle as a BMW even in the dark.
Exhaust tailpipe, visible, trapezoidal.
A visible trapezoidal tailpipe in Chrome, one on the left and one on the right-hand side.
Ambient light.
Ambient light, including Ambient contour lighting in the front and rear doors, creates a relaxed, cosy lighting atmosphere in the interior. The six dimmable lighting designs also include a dynamic function in four applications.
Ceramic finishers for controls.
Exclusive Ceramic finishers for controls such as the selector lever and temperature and volume dials, as well as the border around the iDrive controller, lend a particularly high-quality and luxurious look.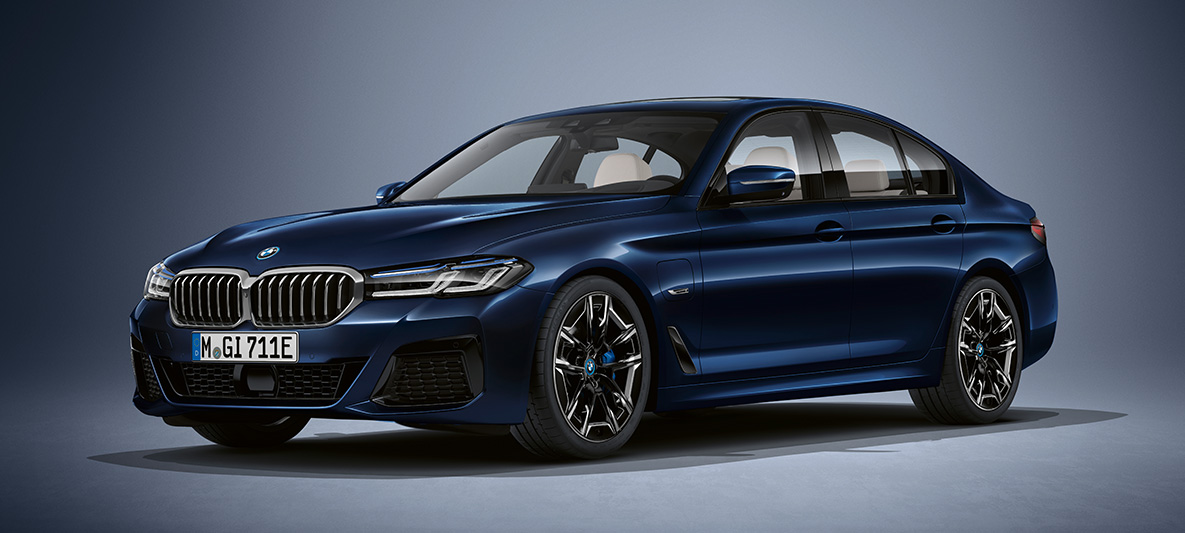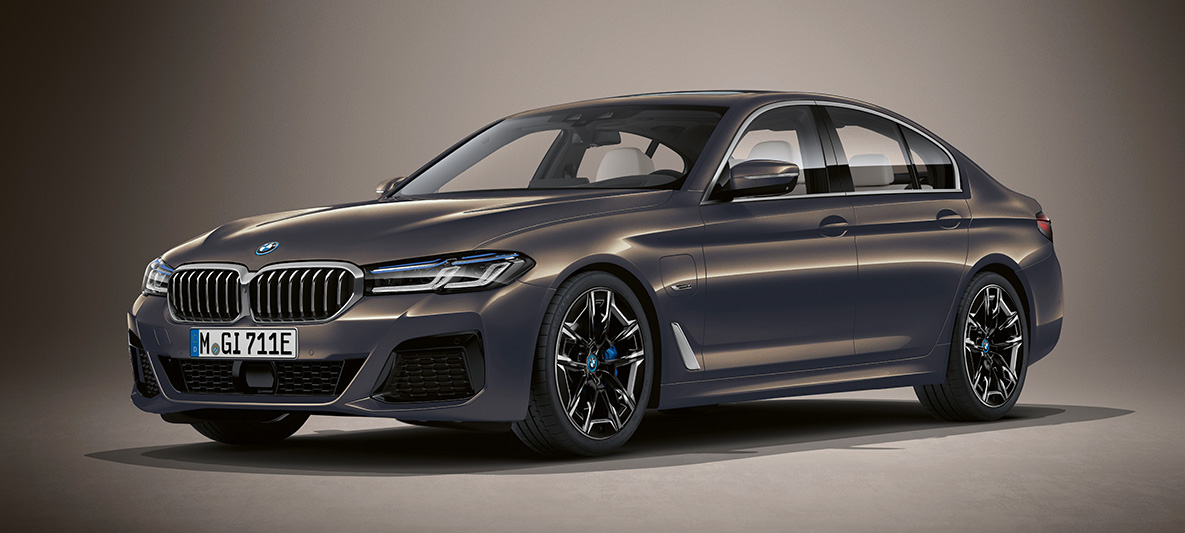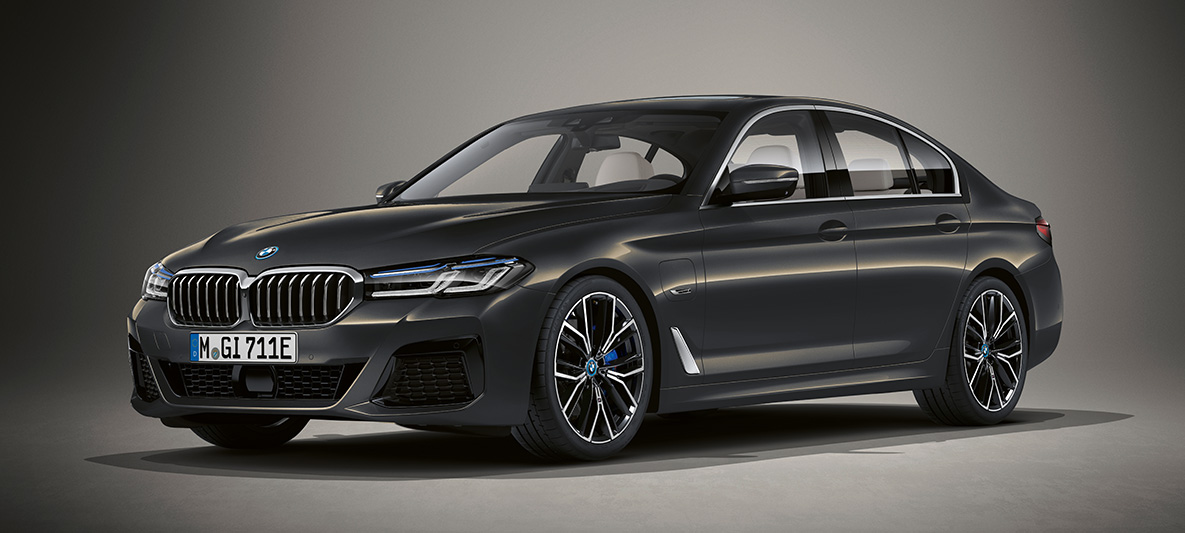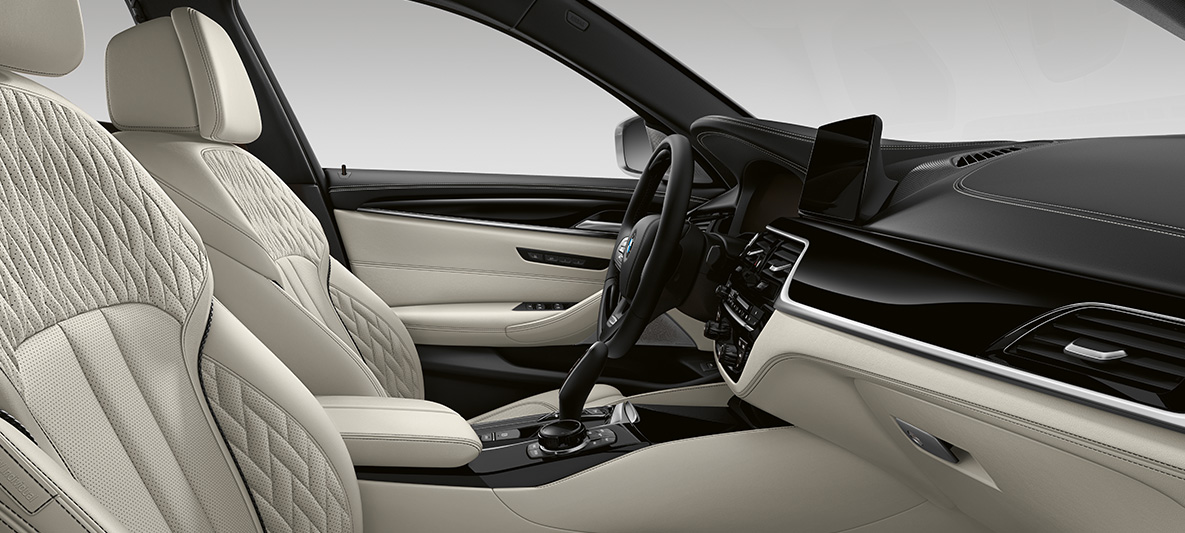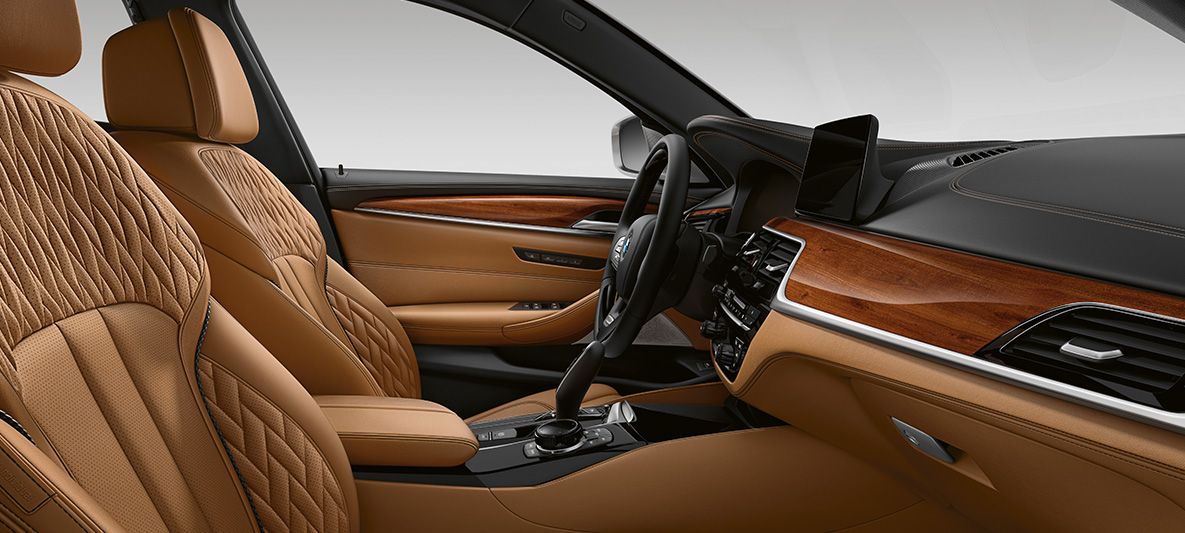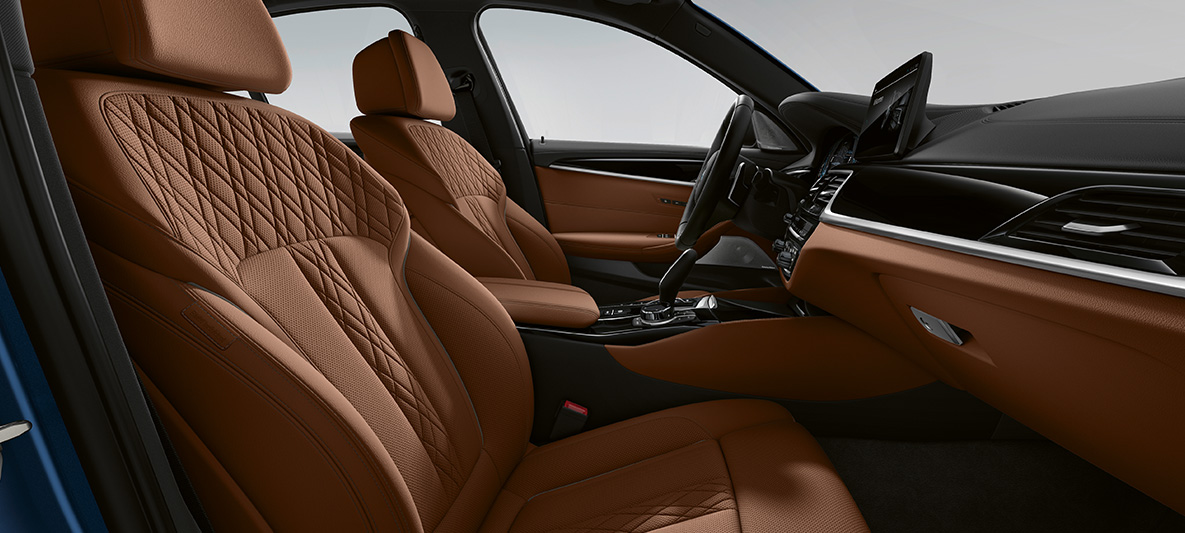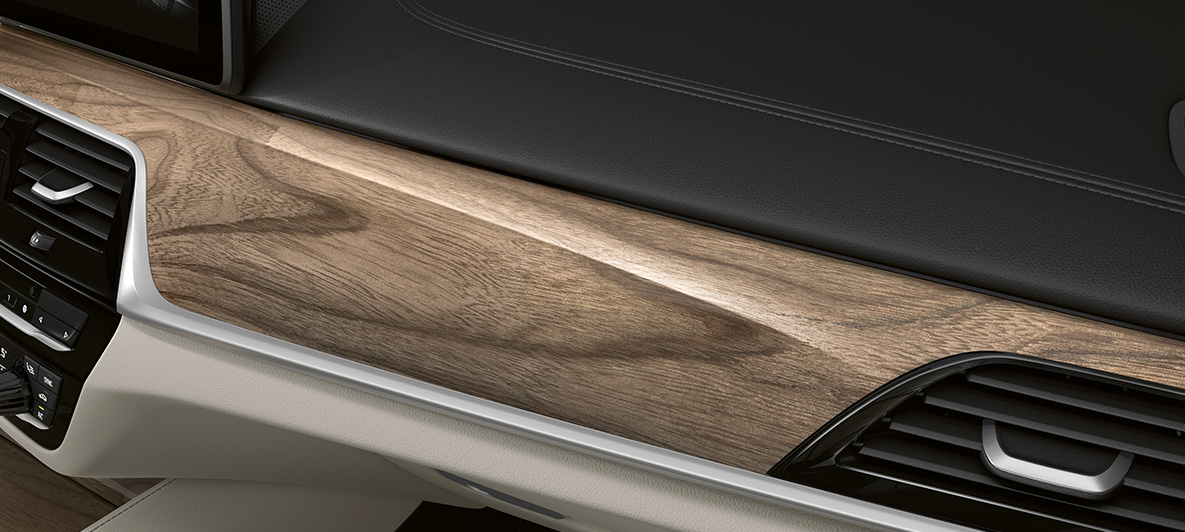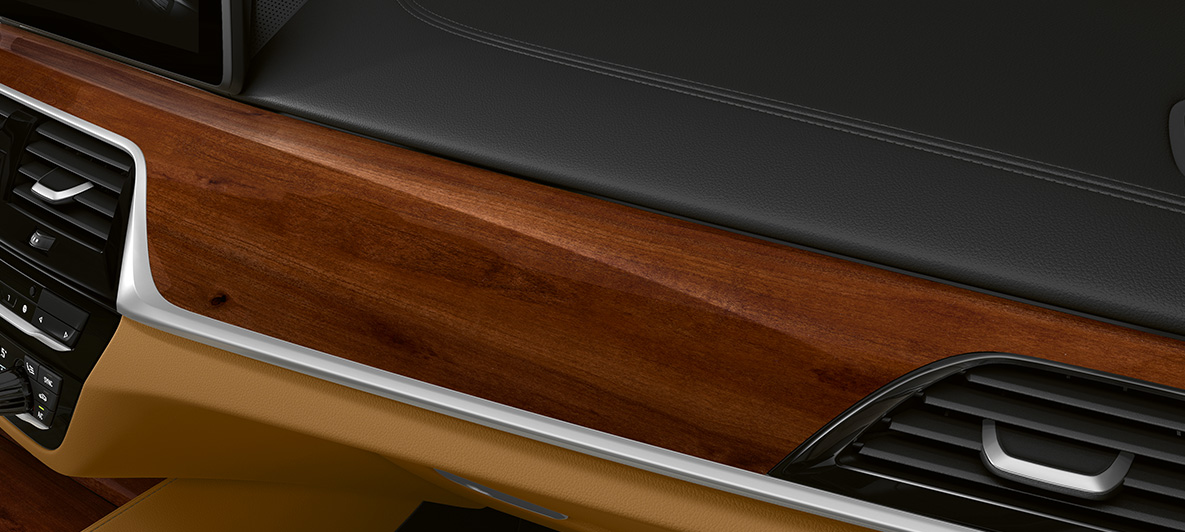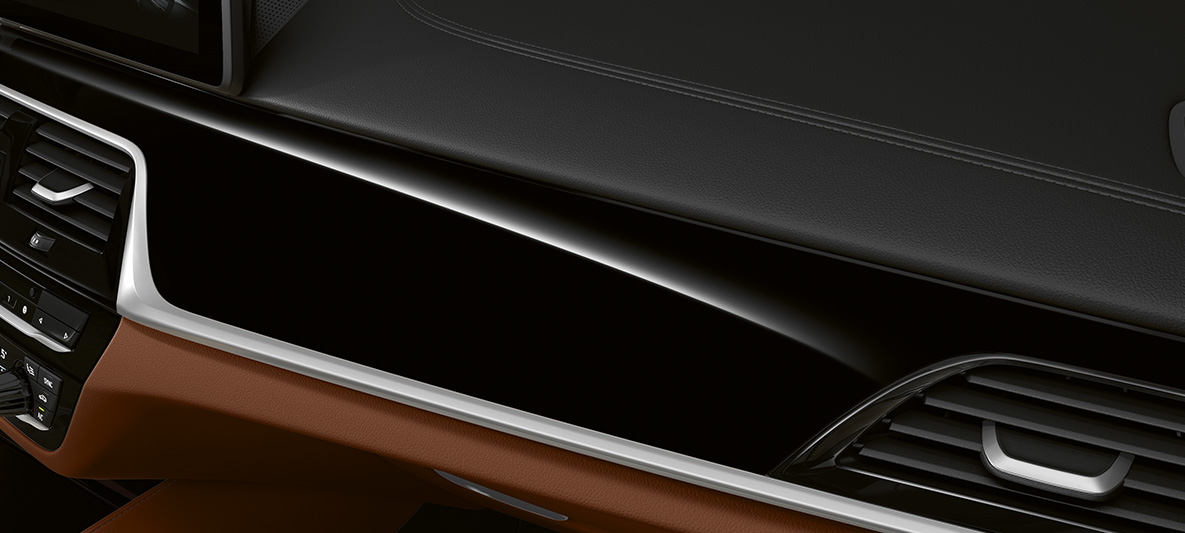 THE BMW INDIVIDUAL COLLECTION OF THE BMW 5 SERIES SEDAN.
Nothing is more authoritative than individuality. This is why the BMW 5 Series Sedan offers exclusive and high-quality BMW Individual features such as the impressive BMW Individual aerodynamic wheels style 1001 I in the range of options. The elegant paint finishes of Tanzanite Blue, Alvit Grey and Dravit Grey allow you to ideally match the sporty exterior to your preferences while the elegant full leather upholstery in the colours, Caramel, Tartufo or Smoke White give the interior that special something.

THE TECHNOLOGIES OF THE BMW 5 SERIES SEDAN.
Digital services and intelligent driver assistance systems.
In the fast lane, heading to the future: state-of-the-art assistance systems and connectivity features guarantee a maximum level of safety and comfort while innovative business and entertainment functions fascinate and inform. And thanks to the clever digital services, you remain ideally connected throughout your journey – for carefree and relaxed mobility.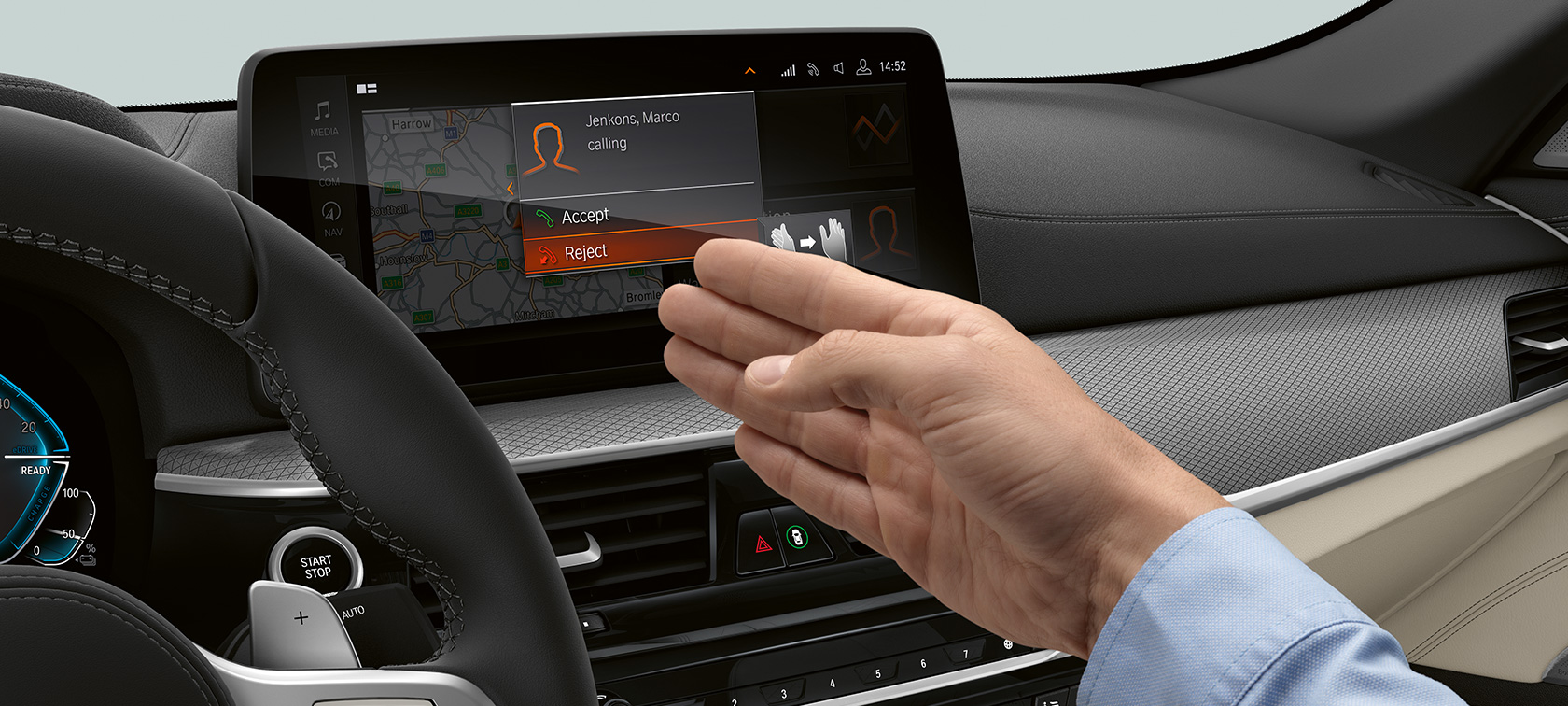 Entertainment and business features
Connectivity and driver assistance
BMW Live Cockpit Professional.
The BMW Live Cockpit Professional with navigation function includes two high-quality displays consisting of a high-resolution 12.3" Control Display that can be operated by touch and a fully digital 12.3" instrument display. The BMW Operating System 7 can also be operated via the iDrive Touch Controller.
Connected Package Professional.
Concierge Service, Remote Services, BMW Maps, smartphone integration or In-Car Experiences? Why order individual options when you can have everything? With the Connected Package Professional, you can get these services from BMW ConnectedDrive.
BMW Maps – Connected Navigation.
BMW Maps – Connected Navigation impresses with high accuracy of the predicted arrival time, extremely fast route calculation and simplified destination entry. This is possible through free text input. The cloud-based dynamic route calculation immediately adapts the route recommendation to any changes in the traffic situation.
Smartphone Integration.
Why go without the features of your smartphone in your BMW when you can continue operating it as usual? With smartphone integration, your vehicle supports Apple CarPlay® and Android Auto® by means of a wireless connection between your smartphone and the vehicle. This allows you to conveniently use familiar functions and various apps in the vehicle.
Connected Music.
Listen to your favourite music wherever you are. Classical on the motorway, jazz during rush hour and pop when you're cruising. With Connected Music, you can directly stream as many as 30 million songs without any limits, courtesy of BMW's music partners Spotify, using the SIM card installed in your vehicle.
Bowers & Wilkins Diamond Surround Sound System.
The Bowers & Wilkins Diamond surround sound system with two diamond tweeters features outstanding studio-quality sound for every seat in the vehicle. 16 carefully positioned speakers ensure a mesmerising sound experience. The speakers are illuminated, visually emphasising the system's outstanding sound quality.
BMW Digital Key.
Why take your key with you if you have your smartphone with you? You can lock and unlock your BMW and even start it with the Digital Key. You can also authorise up to five people with an iPhone – if compatible – to use your BMW. Among other things, drive power and maximum speed can be limited, e.g. for novice drivers.*
Reversing assistant.
The Reversing Assistant stores the last 50 m of the driven path in forward travel up to 35 km/h, so that it can be retracted if required. You are relieved of the steering work and can concentrate on monitoring the vehicle environment.
BMW Intelligent Personal Assistant.
'Hey BMW. Who are you?' Wouldn't it be incredible if your BMW was also your personal assistant? Communicate with your vehicle using the BMW Intelligent Personal Assistant. It knows you, gets better every day and helps out whatever the situation. You also can assign your own personal activation word. It can explain everything about your vehicle and helps you to get to know your BMW even better.
Remote Software Upgrade.
Do you want your BMW to be up to date with the latest software? With Remote Software Upgrade, your BMW will always be like new. Upgrades are installed over-the-air, just as they are for your smartphone. In this way, other functions in your vehicle can also be activated.
Driving Assistant Professional.
Driving Assistant Professional offers optimum comfort and safety during critical or monotonous traffic situations. Apart from the contents of the Driving Assistant, it also includes Steering and Lane Control Assistant with extended functions, Lane Change and Emergency Stop Assistant and Lane Keeping Assistant with active side collision protection.
​
FUEL CONSUMPTION AND CO2 EMISSIONS.
BMW 530e Sedan:
Fuel consumption in l/100 km (combined): 2.0
CO2 emissions in g/km (combined): 46

The values of fuel consumptions, CO2 emissions and energy consumptions shown were determined according to the European Regulation (EC) 715/2007 in the version applicable at the time of type approval. The figures refer to a vehicle with basic configuration in Germany and the range shown considers optional equipment and the different size of wheels and tires available on the selected model.

The CO2 efficiency specifications are determined according to Directive 1999/94/EC and the European Regulation in its current version applicable. The values shown are based on the fuel consumption, CO2 values and energy consumptions according to the NEDC cycle for the classification.

Further information about the official fuel consumption and the specific CO2 emission of new passenger cars can be taken out of the "handbook of fuel consumption, the CO2 emission and power consumption of new passenger cars", which is available at all selling points and at https://www.dat.de/angebote/verlagsprodukte/leitfaden-kraftstoffverbrauch.html.

Information provided and images displayed on this site include overseas models and features not available in New Zealand. Please contact an authorised BMW dealer for specific information on vehicles and features available in New Zealand. Product changes may have been made since production of this content.