Barely on the road and the BMW 3 Series Sedan is already leaving everything behind it, including conventions and expectations. Once again the icon displays how to reinvent itself. After all, with the pioneering design language, it stands for the dawning of a new era. Propelling the ultimate sports sedan are even more powerful and efficient engines. And a new force – simply say "Hey BMW" and the BMW 3 Series recognises your voice and heeds your every word.
Read more
THE DESIGN OF THE BMW 3 SERIES SEDAN.
The BMW 3 Series has always been the leader. Through the new design language, the sports saloon is connecting the successful history with the future. An appearance that meets the wish for sheer driving pleasure with every detail.
Read more
EXPERIENCE THE DESIGN OF THE BMW 3 SERIES SEDAN.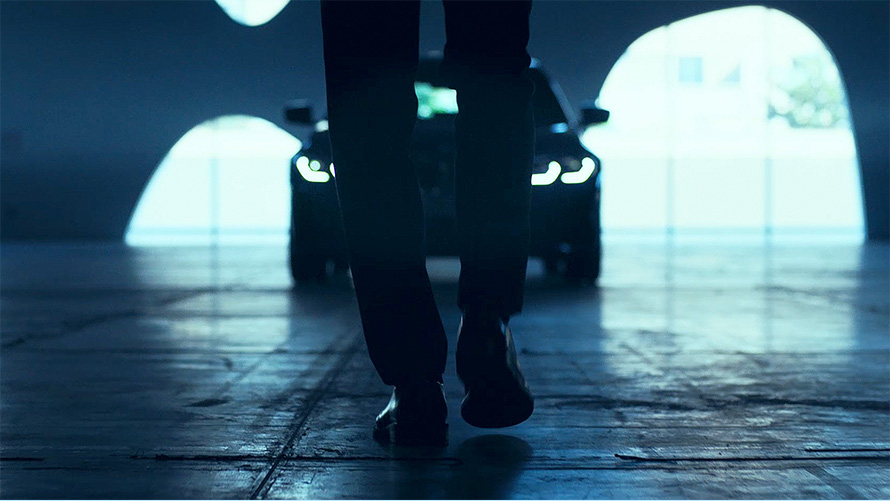 BMW 3 SERIES SEDAN DESIGN.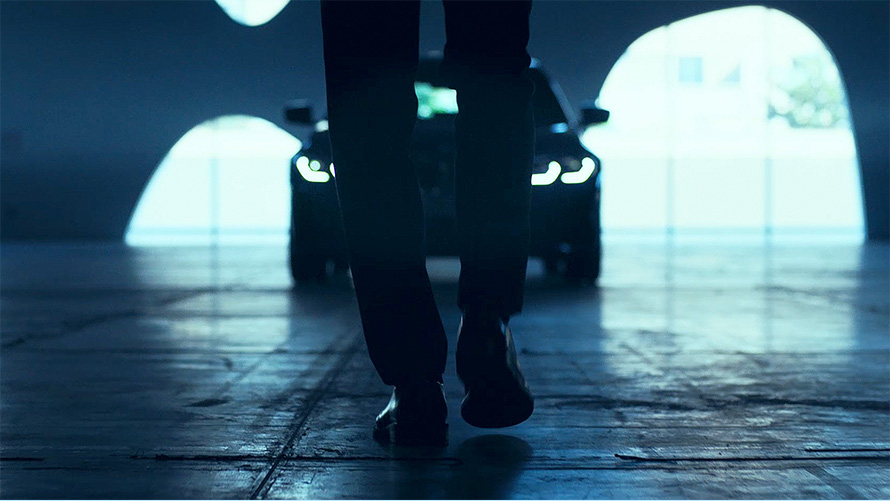 BMW 3 Series Sedan (G20), double kidney grille.
BMW 3 Series Sedan (G20), BMW Live Cockpit Professional.
BMW 3 Series Sedan (G20), side rear shot.
BMW 3 Series Sedan (G20) during the day in front of building made of glass.
BMW 3 Series Sedan (G20), light alloy wheels 791 M.
BMW 3 Series Sedan (G20), BMW Laserlight.
COMFORT IN THE BMW 3 SERIES SEDAN.
Reaches a new level.
In matters of comfort, too, the BMW 3 Series appears even more generously proportioned and practical. Be it access to the vehicle via smartphone, acoustic glazing or the intelligent through-loading system – every detail makes life easier and offers a high level of ride comfort.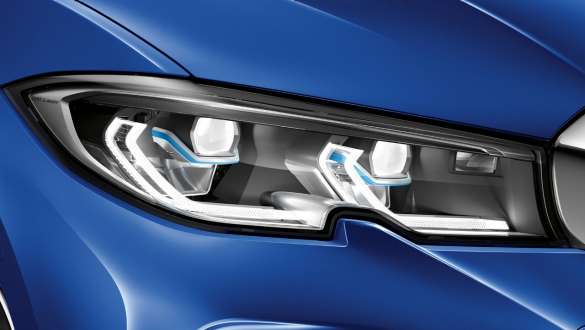 BMW Laserlight.
In laser high-beam mode, the Adaptive BMW Laserlight illuminates a range of up to 530 m, nearly twice as far as that of conventional headlights. Better visibility in the dark significantly increases safety. Blue accents and the lettering "BMW Laser" in the headlight also underline the technological standards and the sportiness of the vehicle.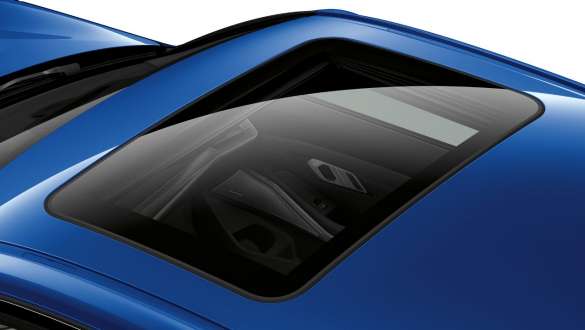 Glass roof.
The Glass roof with slide and lift function, including an electric sliding interior roof, anti-trap protection, as well as comfort opening and closing, allows the airflow to be individually regulated to create a pleasant interior climate. The integrated wind deflector prevents draughts from developing in the interior and ensures a lower level of wind noise.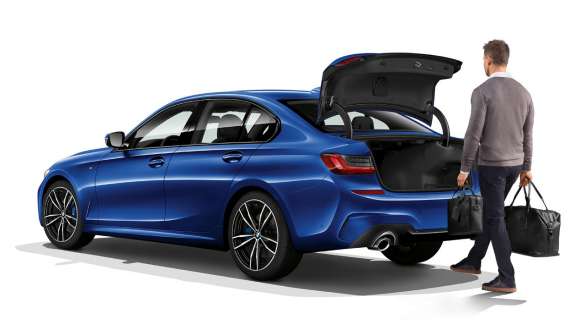 Automatic tailgate operation.
Automatic tailgate operation allows the convenient opening and closing of the tailgate by simply pressing the button located in easy reach in the door panelling or on the car key. The tailgate can also be opened in the conventional manner, using the outside handle, and closed pressing a button on the inside of the tailgate.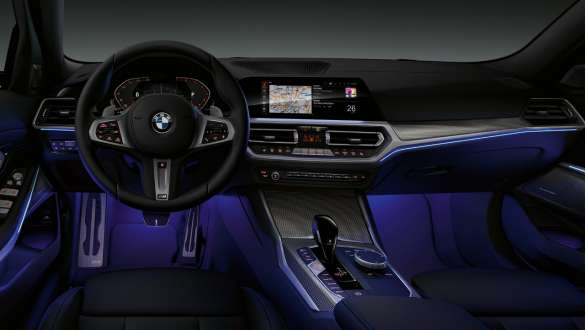 Ambient light.
Ambient light, including Ambient contour lighting in the front and rear doors, creates a relaxed, cosy lighting atmosphere in the interior. The six dimmable lighting designs also include a dynamic function in four applications. The Welcome Light Carpet illuminates the area in front of the vehicle doors when getting in and out.
THE BMW 3 SERIES SEDAN PLUG-IN HYBRID MODELS.
Discover the BMW 3 Series Sedan 330e with innovative hybrid drive.
The best of both worlds: with the BMW 3 Series Sedan plug-in hybrid model BMW 330e, you experience sustained mobility and efficient driving dynamics. Explore the numerous benefits of this innovative BMW hybrid vehicle and find out more about drive concept, driving dynamics, BMW Charging and practical digital services from BMW ConnectedDrive.

ASSISTANCE SYSTEMS AND CONNECTIVITY IN THE BMW 3 SERIES SEDAN.
Innovation as your equal.
The BMW 3 Series offers a large number of intelligent assistance systems and innovative technologies that make your journey even safer and more comfortable. Whether for traffic jam assistant, parking assistant or gesture control – with the BMW Live Cockpit Professional and the fully digital 12.3'' instrument display, you obtain all the information at a glance.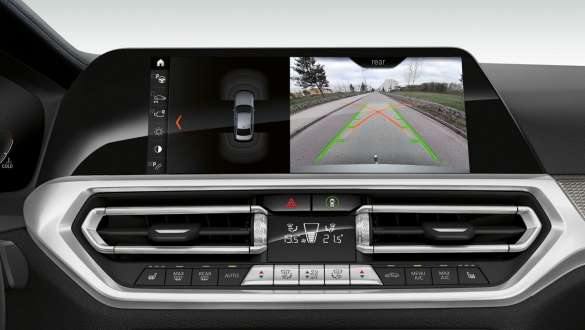 Parking Assistant Plus.
Parking Assistant Plus makes parking and manoeuvring the vehicle easier. It features among others the Surround View system including Top View, Panorama View, RemoteView 3D, as well as a lateral parking aid, the emergency braking function Active Park Distance Control, Parking Assistant with longitudinal and lateral guidance and Reversing Assistant.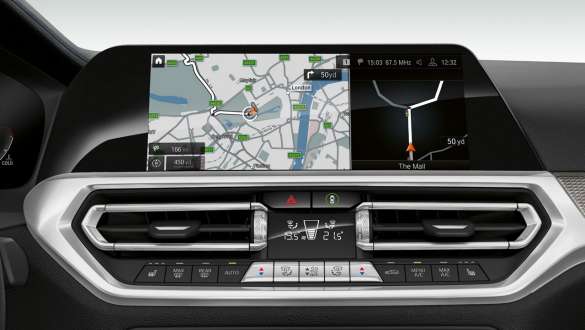 BMW Live Cockpit Professional.
The BMW Live Cockpit Professional with navigation function includes atwo high-quality displays consisting of a high-resolution 10.25" Control Display that can be operated by touch and a fully digital 12.3" instrument display. The BMW Operating System 7 can also be operated via the iDrive Touch Controller.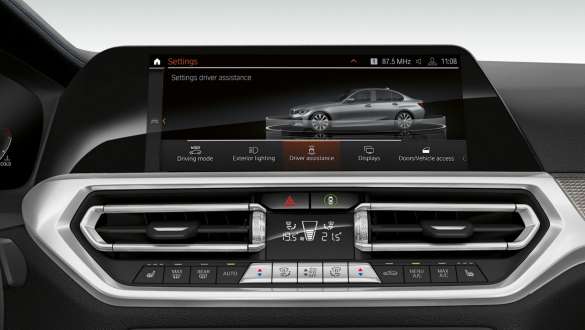 Driving Assistant Professional.
Driving Assistant Professional offers optimum comfort and safety during critical or monotonous traffic situations. Apart from the contents of the Driving Assistant, it also includes Steering and Lane Control Assistant with extended functions, Lane Change and Emergency Stop Assistant and Lane Keeping Assistant with active side collision protection.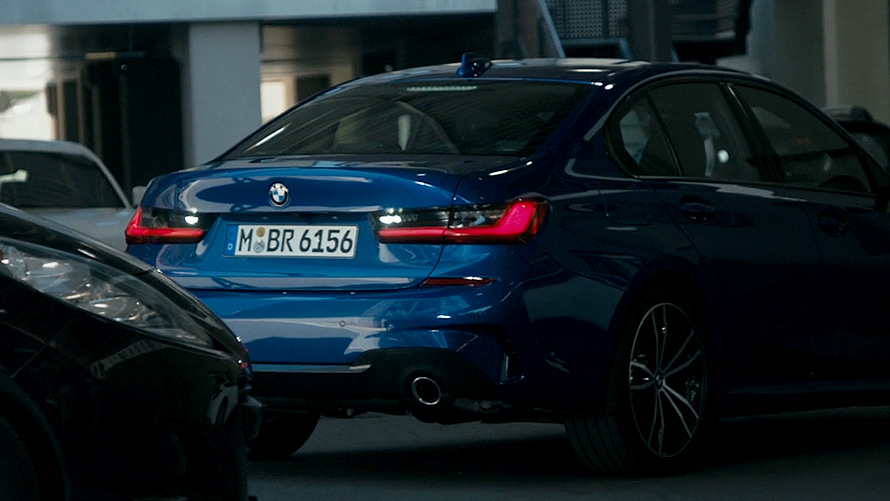 THE BEST ASSISTANTS WORK BEHIND THE SCENES.
The BMW 3 Series Sedan with Reversing Assistant.
BMW INTELLIGENT PERSONAL ASSISTANT.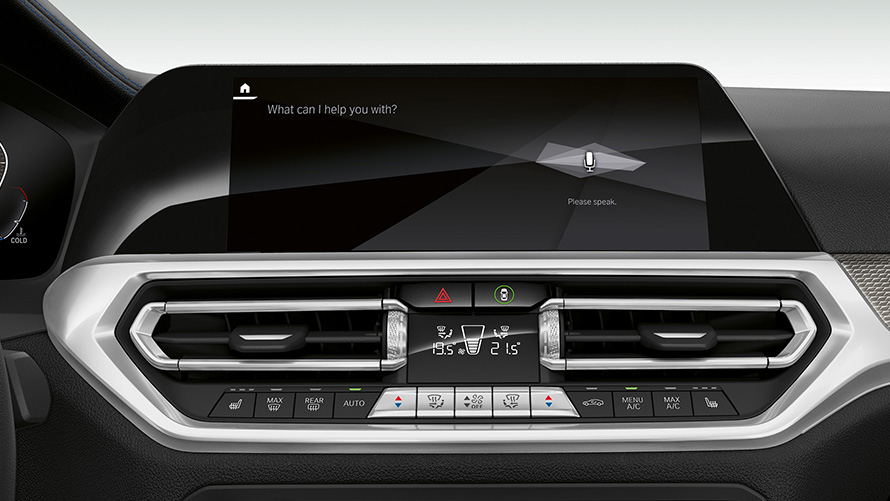 Wouldn't it be incredible if your BMW was also your personal vehicle expert? Communicate with your vehicle using the BMW Intelligent Personal Assistant. Say natural commands to operate numerous vehicle functions. It can also explain topics about your vehicle and helps you to get to know your BMW even better.
'HELLO BMW': THE BMW INTELLIGENT PERSONAL ASSISTANT IN THE BMW 3 SERIES SEDAN.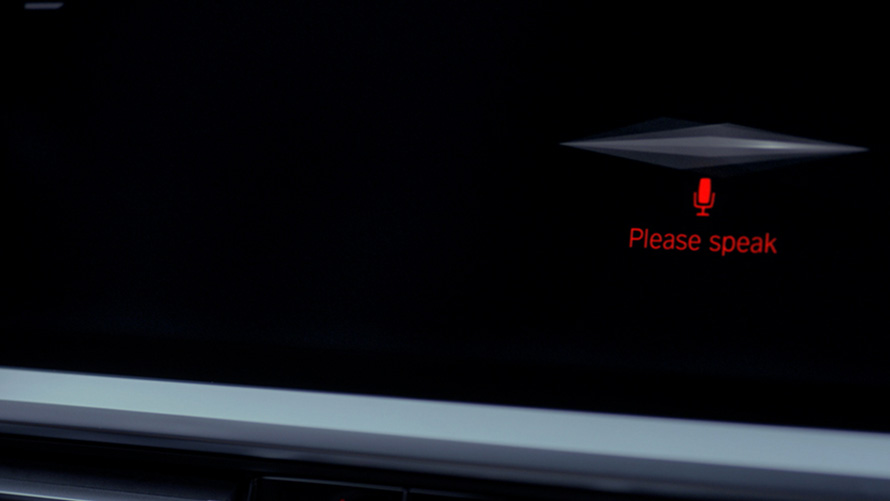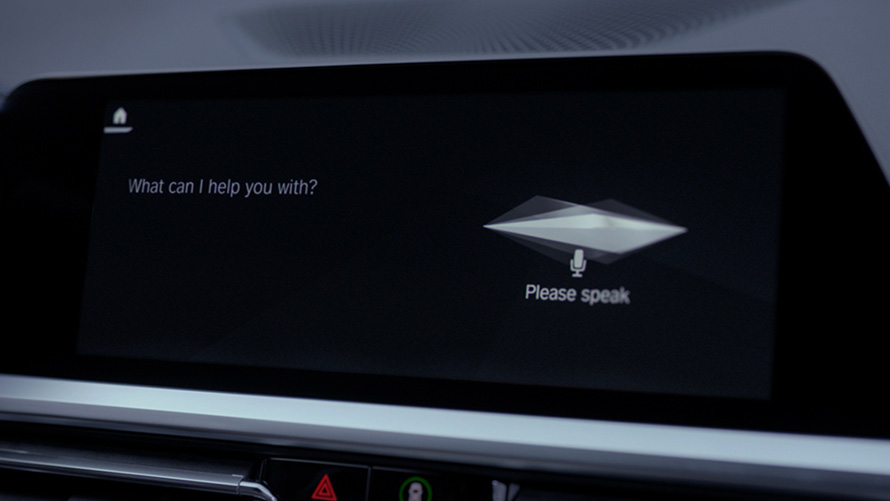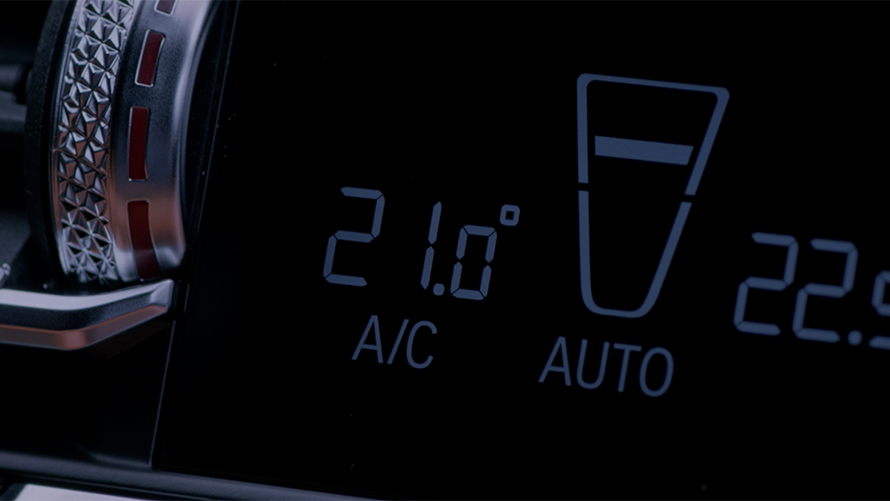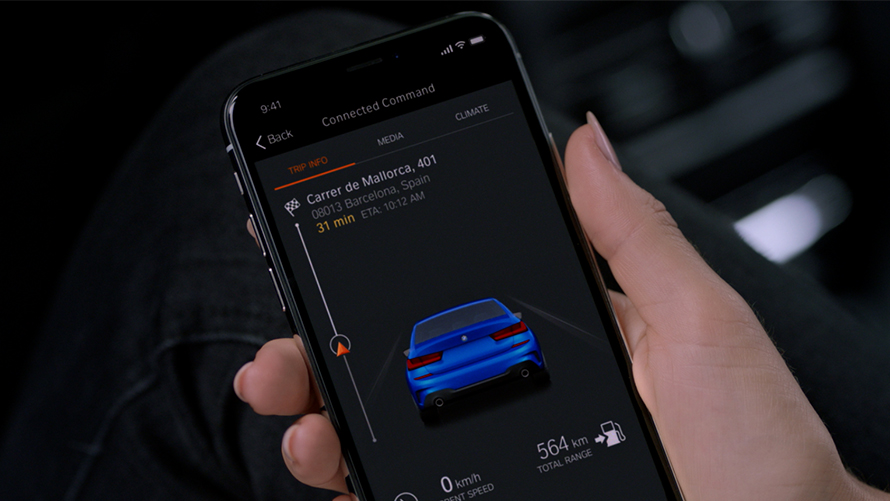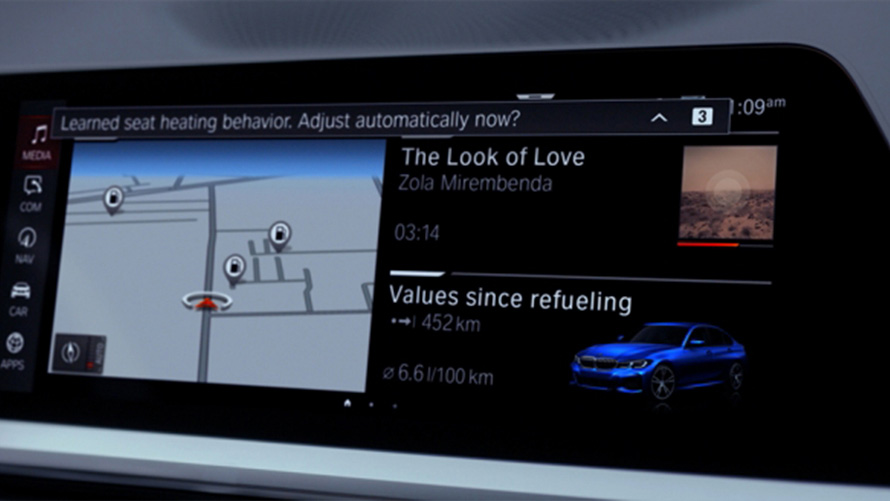 BMW Intelligent Personal Assistant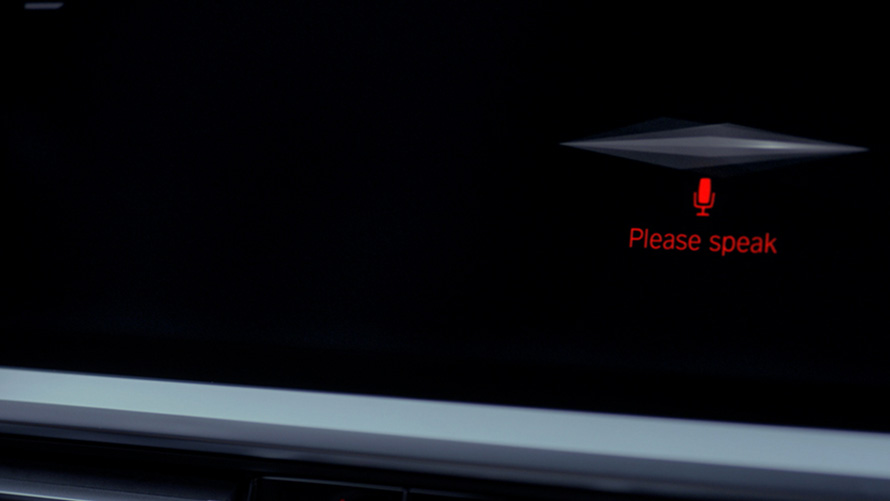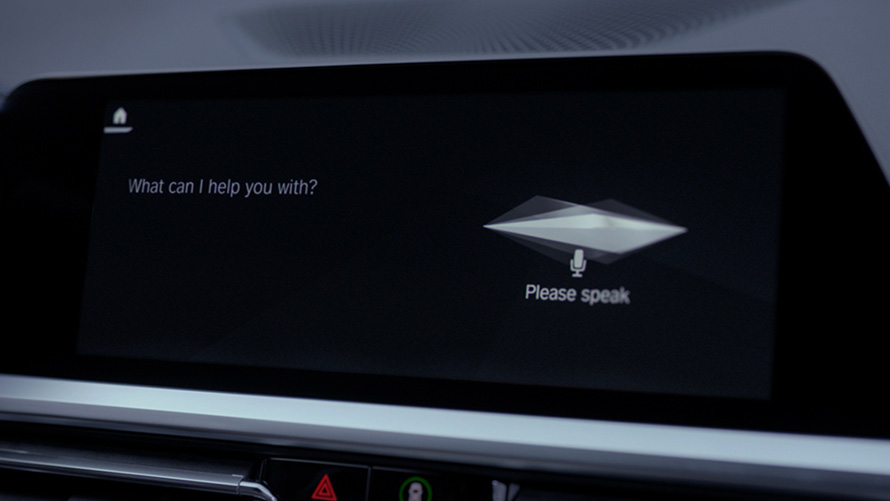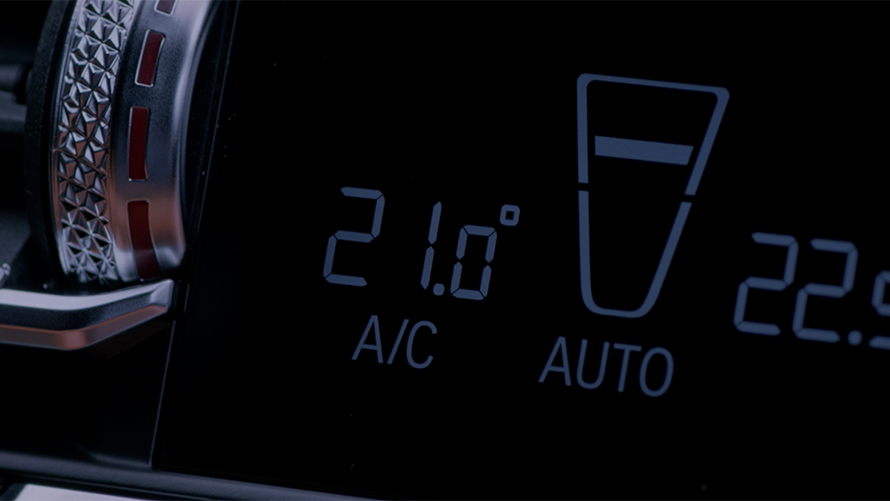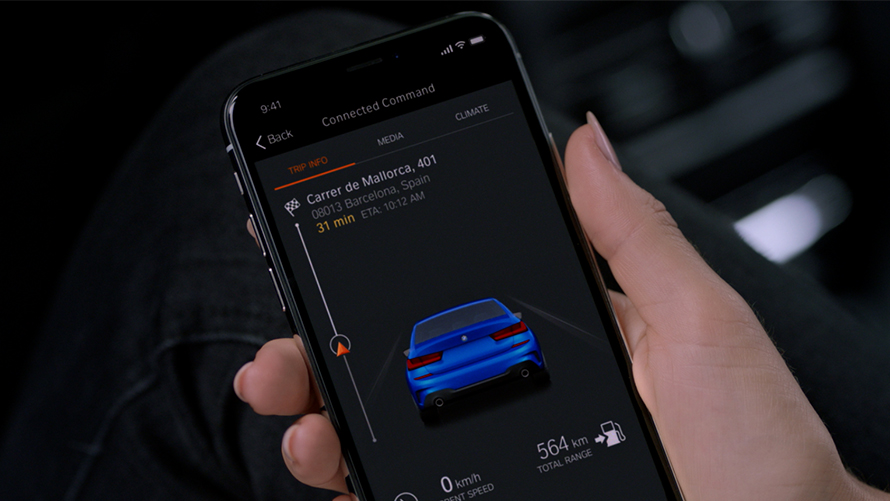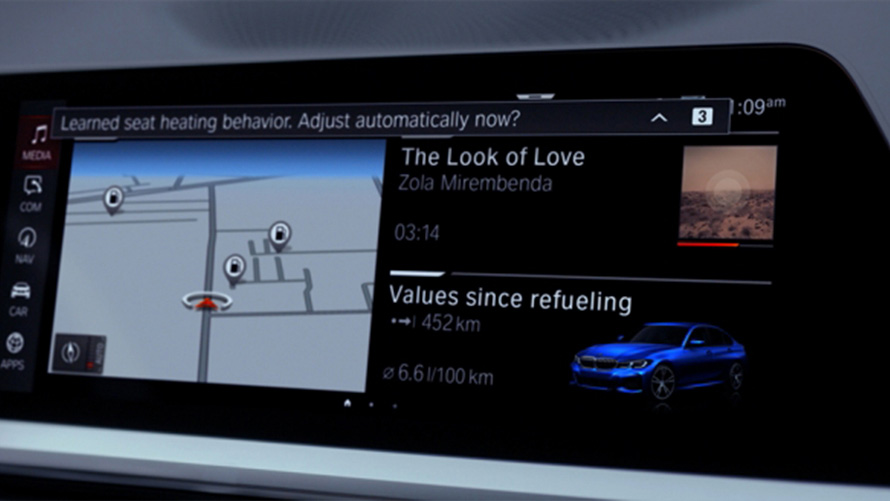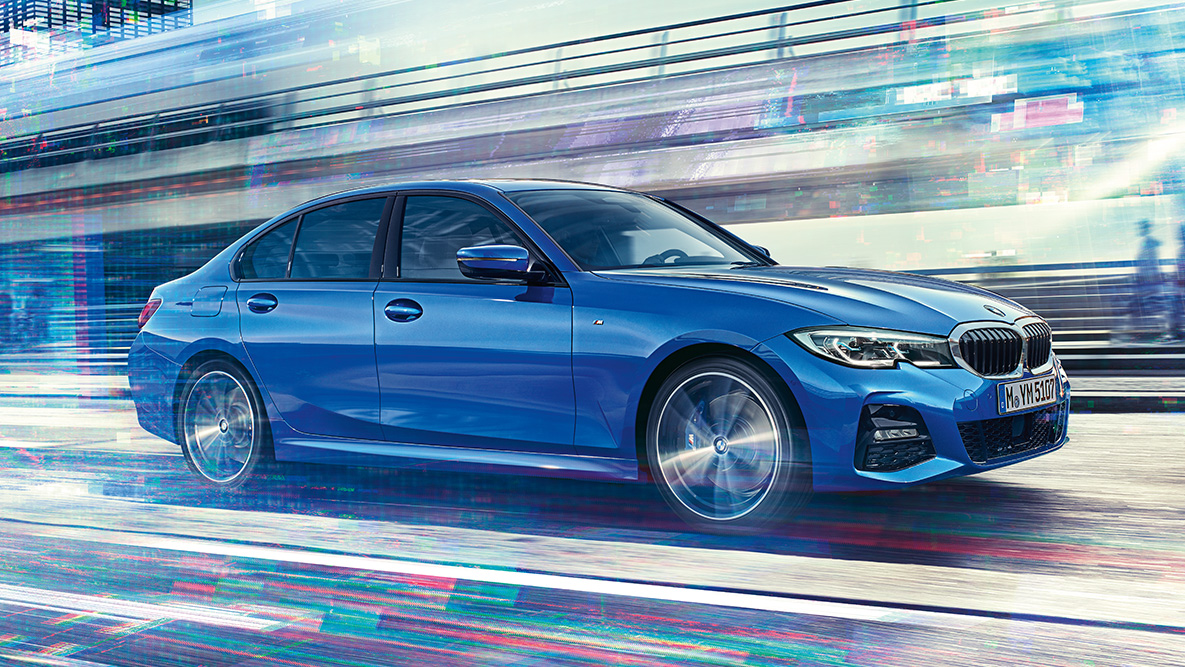 FOR ALL THE BENDS THAT LIE AHEAD OF YOU.
Driving dynamics of the BMW 3 Series Sedan.
THE DRIVING DYNAMICS OF THE BMW 3 SERIES SEDAN.
Perfection in action.
Excellent roadholding, sporty handling and high agility: the BMW 3 Series Sedan takes driving dynamics to a new level. With advanced and even more powerful engines, perfectly tuned suspension components and an optimised weight distribution, it precedes it's reputation as the ultimate sports sedan.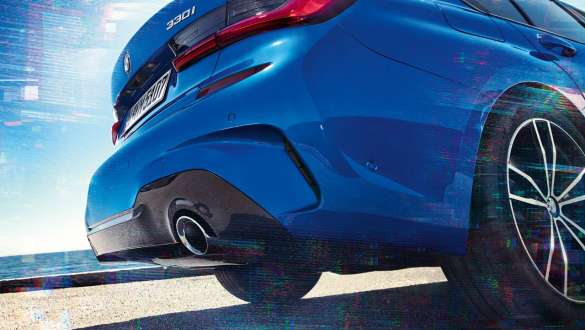 M Sport differential.
The M sport differential optimises traction and driving stability when changing lanes or accelerating out of a bend, when taking bends at high speeds or on different road surfaces. Traction is optimised with the help of an electronically operated device that reduces the difference in revolution speed between the rear wheels.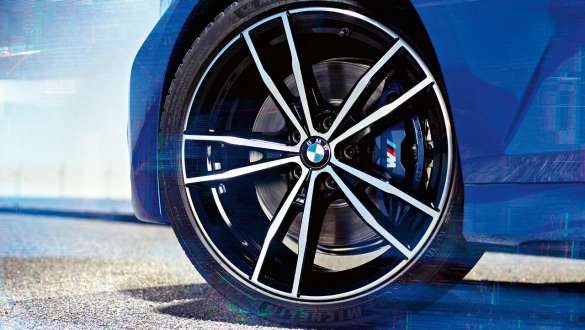 M Sport brake.
The M Sport brake has four-piston fixed callipers at the front and single-piston floating callipers at the rear in blue with the M designation and features large brake discs to ensure an outstanding braking performance.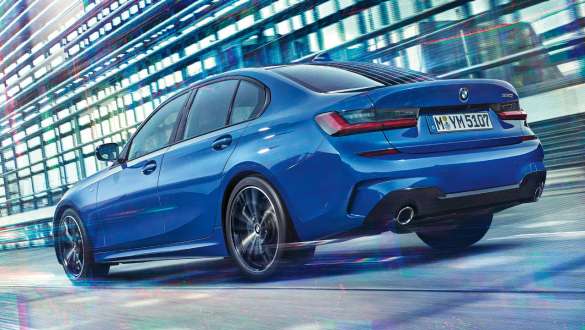 Adaptive M suspension.
The 10 millimetre lowered Adaptive M suspension can be electrically adjusted at any time to suit the road and driving conditions. Drivers can also adjust the suspension characteristics via the Driving Experience Control to enable their preferred driving style at the time – from comfortable to extremely athletic with markedly agile handling.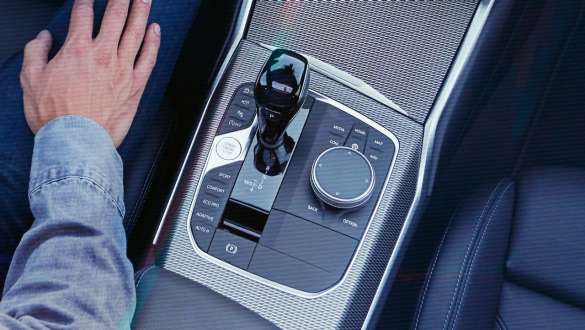 Steptronic Sport transmission.
The 8-speed Steptronic Sport transmission offers incredibly sporty gear changes. Whether automatic or manual using gearshift paddles or gear lever – for comfortable coasting or incredibly dynamic driving. In SPORT mode and with the gear lever in the left-hand S/M position, the gear shifts are configured for the best performance.
BMW 3 SERIES SEDAN MODELS.
Model Advantage
Model Sport Line
Model Luxury Line
Model M Sport
ORIGINAL BMW ACCESSORIES AND M PERFORMANCE PARTS FOR THE 3 SERIES SEDAN.
Feeling good, feeling familiar.
BMW M Performance Parts allow you to give your BMW 3 Series Sedan the maximum amount of motor racing character. Choose from optically enhanced design features for the exterior as well as attractive forged and light alloy wheels. With Original BMW Accessories, you adapt your BMW to your personal wishes: the products are perfectly matched to the BMW 3 Series Sedan in terms of quality, design and performance.
Original BMW Accessories
BMW M Performance Parts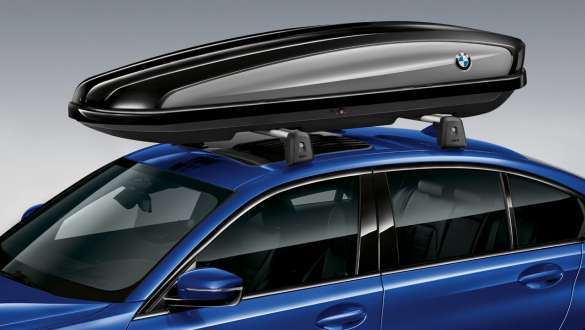 BMW Roof box.
The modern BMW roof box in black with titanium silver side panels has a storage capacity of 420 litres and is compatible with all BMW roof rack systems. Due to the fact that it can be opened from both sides and has triple central locking on each side it is convenient to load and lock for theft protection.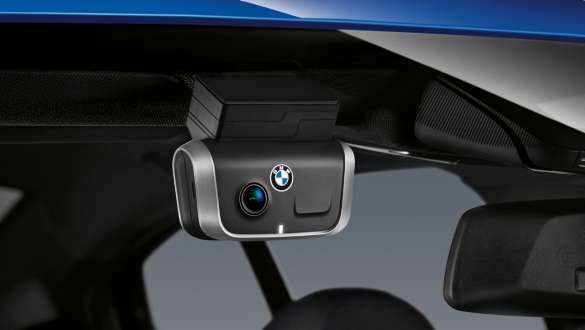 BMW Advanced Car Eye 2.0.
The BMW Advanced Car Eye 2.0 is a highly sensitive full-HD camera that captures events in front of and behind the car, even when it is parked. In the event of disturbances and extraordinary movement outside the vehicle, the camera automatically records the situation in order to document possible accidents or (attempted) break-ins.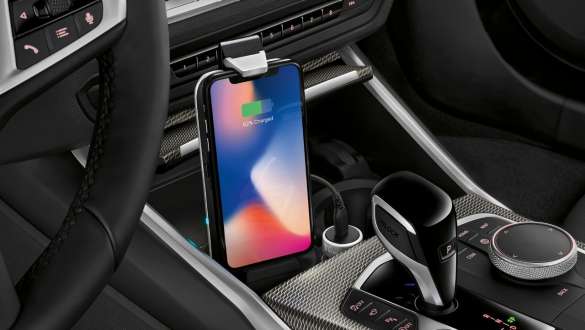 BMW wirless charging stattion universal.
Wireless charging, any time and anywhere: Thanks to the BMW wireless charging station universal the smartphone can be charged comfortably and efficiently without a cable in the vehicle. The mobile phone is saved in a stable and safe way. Especially smart: The integrated powerbank can be removed and enables wireless charging outside the vehicle.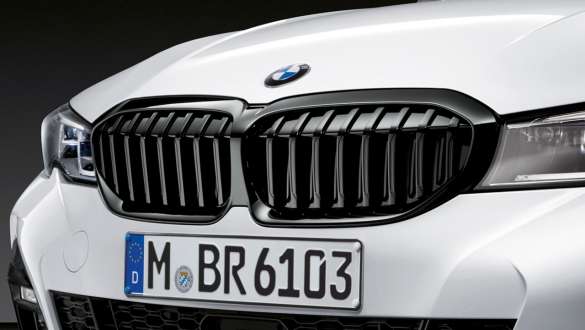 M Performance kidney grille black high-gloss.
Strong character: The kidney slats and surrounds in black high-gloss exude power and dynamism. For a unique appearance that makes a clear impression.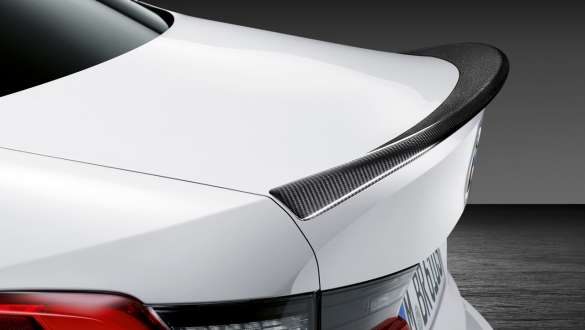 M Performance rear spoiler, carbon fibre.
Even more impressive: The M Performance carbon fibre rear spoiler emphasises the premium-quality, dynamic appearance of the car. The high-tech material carbon fibre makes it extremely lightweight, and at the same time very sturdy. The rear spoiler optimises aerodynamics and enables even more athletic driving characteristics.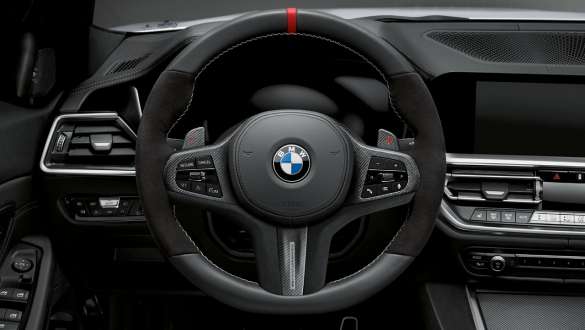 M Performance steering wheel.
Gripping facts: Thanks to its Alcantara-lined grip area the M Performance steering wheel provides excellent feel and grip – for a sportier steering feel. Its distinctive design and centre band made of red leather underscore its motorsport style. In addition: M Performance steering wheel trim, carbon fibre/Alcantara and M Performance gearshift paddles carbon fibre.
TECHNICAL DATA OF THE BMW 3 SERIES SEDAN.
The BMW 320i Sedan.
BMW SERVICES.
SERVICE AND ASSISTANCE FOR THE BMW 3 SERIES SEDAN.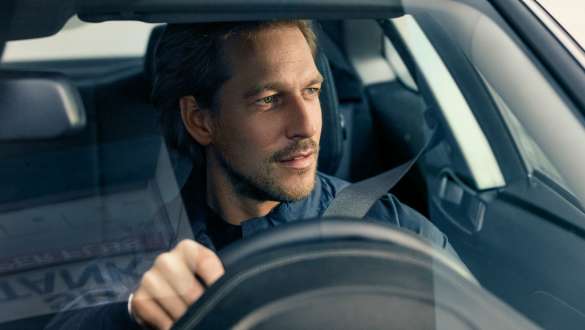 BMW Service Inclusive.
#whateverhappens: All-round carefree travelling for electric vehicles: this package offers you 100% transparency and convenient ease of planning. You select the term of either 4 or 6 years yourself – or a term of 3 years as a leasing customer. The contents of the service package:
Vehicle check service
Microfilter service
Brake fluid service
Find out more about BMW Service Inclusive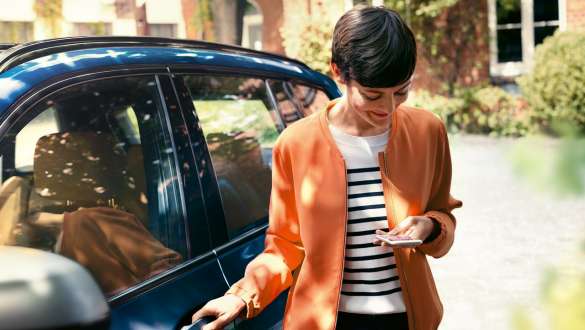 BMW Teleservices.
With the innovative Teleservices of BMW ConnectedDrive your BMW helps you to keep a clear head: when maintenance is needed or in case of a malfunction it provides your preferred BMW Service Partner with all relevant vehicle data. Your Service Partner will then contact you to arrange an appointment. So you can rely on a fast and straightforward service and don't have to think of everything yourself. The only requirement: you have registered your vehicle online in the BMW ConnectedDrive Portal and have selected a Service Partner. Discover now how BMW Teleservices can bring more convenience to your life.
Find out more about BMW Teleservices
BMW Roadside Assistance.
The free BMW Roadside Assistance service is available to all BMW drivers around the clock, 365 days a year. A single call – and our experts are at your service, either on the phone or on the scene if required.
Find out more about BMW Roadside Assistance
FUEL CONSUMPTION AND CO2 EMISSIONS.
BMW 330i Sedan:
Fuel consumption in l/100 km (combined): 7.3–6.4
CO2 emissions in g/km (combined): 166–147
Official figures for fuel consumption, CO2 emissions, electricity consumption and electric range were determined in accordance with the prescribed measurement procedure and comply with Regulation (EU) 715/2007 as amended. WLTP figures take into account any optional equipment in the case of ranges. For vehicles newly type-approved since 01.01.2021, the official specifications exist only according to WLTP. Further information on the NEDC and WLTP measurement methods can be found at www.bmw.de/wltp
Read more
​
Fuel consumption and CO2 emissions.
The values of fuel consumptions, CO2 emissions and energy consumptions shown were determined according to the European Regulation (EC) 715/2007 in the version applicable at the time of type approval. The figures refer to a vehicle with basic configuration in Germany and the range shown considers optional equipment and the different size of wheels and tires available on the selected model.

The CO2 efficiency specifications are determined according to Directive 1999/94/EC and the European Regulation in its current version applicable. The values shown are based on the fuel consumption, CO2 values and energy consumptions according to the NEDC cycle for the classification.

When charging times are shown they can be affected by a number of factors such as type of charger, voltage supplied to the charger/car and type of current (AC or DC) supplied to the charger/car. The car also plays a role in charging times as it can be set by the driver to accept various different amperage and should preconditioning be used to heat or cool the vehicle while charging this will also affect the charging time.

The basis for the calculation of the charging times for 100 km range is the electric consumption of the vehicle based on the use of a high-Powered Charging station (HPC) or charging type and current as indicted in the literature above. The testing procedure measures are based on a 23 degrees Celsius battery start and ambient temperature with certification values excluding additional auxiliary consuming devices and systems within the vehicle such as seat heating, displays, air conditioning.

Individual consumption (fuel economy) may differ due to driving profile, vehicle load profile, auxiliary consumer usage, temperature, and ambient conditions. Consumption is based on WLTP or NEDC (whichever is indicated) best case conditions and is independently tested for BMW Group. If you are comparing this range with other models or brands make sure they are stating the same WLTP or NEDC testing regime. These results can be used to compare vehicles on a close to "like for like" basis but are unlikely to be achieved in real world conditions for reasons including temperature variation, driving conditions and the use of the auxiliary systems referred to above.

Information provided and images displayed on this site include overseas models and may show some features not available in New Zealand. Please contact an authorised BMW dealer for specific information on vehicles and features available in New Zealand. Product changes may have been made since production of this content.

Note: To obtain NZ CO2 figures for vehicles imported by BMW Group NZ in relation to the NZ Clean Car discount or "FeeBate" you will need to contact your preferred dealer. The Clean Car discount figures sourced from your dealer will differ from those listed in the BMW owner's handbook and reported figures as they have been converted by the NZ government to WLTP3 from figures derived through one of the following testing procedures: WLTP4 or NEDC or Japanese JC08 mode or Japanese 10-15 mode or CAFE test cycle.

For all vehicles not imported by BMW NZ (Used vehicle imports) you will need to contact the source market for these CO2 figures as BMW Group NZ has no access to and cannot source this CO2 data.

For more information on the New Zealand Clean Car Programme, please visit https://www.nzta.govt.nz/vehicles/clean-car-programme/