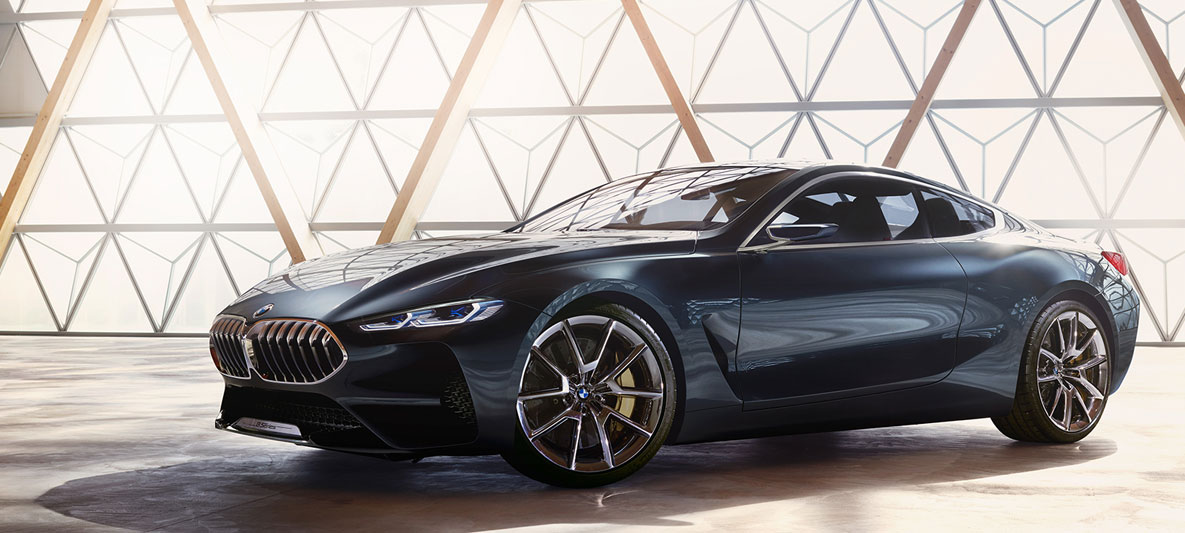 RETURN TO A NEW ERA.
THE NEW BMW CONCEPT 8 SERIES.
Get ready for a performance car that redefines the entire category. The totally new BMW Concept 8 Series represents the essence of a modern-day coupe wrapped up in a groundbreaking design.
The idea behind the BMW Concept 8 Series is to combine the agility of a sports car with effortless style and luxury. Every design decision has been taken with this in mind. Within the car's silhouette, the refreshingly clean yet dramatic arrangement of surfaces and forms catches the eye and creates a crisp, modern look.
First impressions confirm the revolutionary nature of this design. The front is irresistibly sporty, low-slung and visually striking with a large kidney grille and slim headlights. The side air intakes dramatically intensify the car's wide, sporting stance on the road and promise a dynamic experience. This is a car that's designed to thrill, even before you step inside.
The interior has a laser-like focus on the task of driving. Once behind the wheel you'll be wrapped in the tightly enclosed ambience that's symbolic of a sports car. The exclusive sports seats are slim in design, with the carbon-fibre shell providing the basic structure and the fine leather textures making them supremely comfortable. The steering wheel continues the sporting theme with red-anodised shift paddles that bring the racetrack to mind.
This exciting new BMW concept car was unveiled recently at the Concorso d'Eleganza Villa d'Este on the shores of Lake Como. The first production models are scheduled to appear in 2018. If it looks this good in the showroom, imagine the impression it will make on the road.
Will you be amongst the first New Zealanders to drive the BMW 8 Series? Watch this space.
Read more