01

Athletic exterior with distinctive coupé shape

02

Exceptional performance thanks to 265 kW and 500 Nm

03

Sporty and elegant interior with Sensatec dashboard

04

Has one of the most intelligent driver assistance systems in the Driving Assistant Plus

05

Always punctual and ideally connected thanks to innovative digital services
"

The new BMW X4 combines the robustness of an X vehicle with the muscular power of a sports car.

"

Adrian van Hooydonk, Head of BMW Group Design.
"

The exterior design continues the distinctive character of the first generation in a clear, modern surface design.

"

Marc Michael Markefka, Head of Design midsize class BMW Automobiles
ALSO PERFORMS ONLINE.
The digital services and driver assistance systems of the BMW X4.
The best performance of the BMW X4 continues systematically from the road through to the World Wide Web. State-of-the-art assistance systems guarantee a maximum level of safety and comfort while at the same time the innovative infotainment system entertains and informs. And with the clever digital services from BMW ConnectedDrive, you enjoy optimum connectivity at all times when on the road – for simple and relaxed daily mobility.

Read more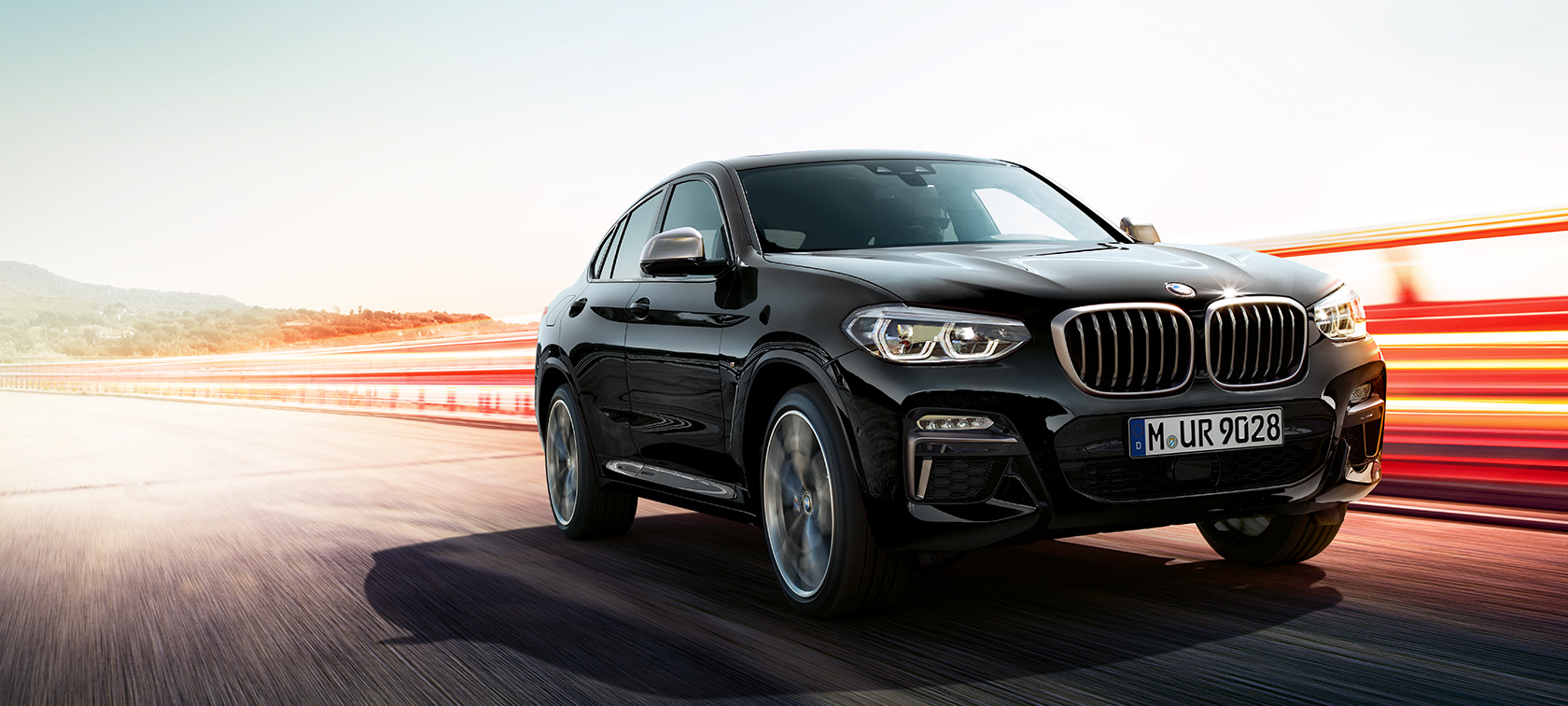 IT DOESN'T JUST WANT TO PLAY.
IT DOESN'T JUST WANT TO PLAY.
X WAYS OF ACHIEVING YOUR AIMS.
Original BMW Accessories.
Why choose one option when you have them all. BMW Original Accessories offer you all the available means to not only master your challenges but also to enjoy them even more.

Read more
​
Fuel consumption and CO2 emissions.
The values of fuel consumptions, CO2 emissions and energy consumptions shown were determined according to the European Regulation (EC) 715/2007 in the version applicable at the time of type approval. The figures refer to a vehicle with basic configuration in Germany and the range shown considers optional equipment and the different size of wheels and tires available on the selected model.

The values of the vehicles labeled with (2), are preliminary.

The values of the vehicles labeled with (3), are already based on the new WLTP regulation and are translated back into NEDC-equivalent values in order to ensure the comparison between the vehicles. [With respect to these vehicles, for vehicle related taxes or other duties based (at least inter alia) on CO2-emissions the CO2 values may differ to the values stated here.]

The CO2 efficiency specifications are determined according to Directive 1999/94/EC and the European Regulation in its current version applicable. The values shown are based on the fuel consumption, CO2 values and energy consumptions according to the NEDC cycle for the classification.

Information provided and images displayed on this site include overseas models and features not available in New Zealand. Please contact an authorised BMW dealer for specific information on vehicles and features available in New Zealand. Product changes may have been made since production of this content.